In the rapidly evolving world of online therapy, choosing the right platform can be challenging. Two popular options in the market today are Calmerry and BetterHelp. This article aims to provide a brief overview and comparison of these two platforms, assisting potential users in deciding which service best suits their needs.
Calmerry and BetterHelp are dedicated to providing convenient, affordable, and professional mental health support. They offer various services, including individual therapy, couples therapy, and group counseling sessions. Both platforms connect users with licensed therapists who specialize in various areas, such as depression, anxiety, stress, relationship issues, and more.
However, differences between the two platforms exist in terms of pricing, availability of services, and additional features. By taking a closer look at these factors, individuals can better understand the unique offerings of Calmerry and BetterHelp, ultimately leading them to choose the platform that aligns with their specific requirements and preferences.
Overview of Calmerry and Betterhelp
Services Provided
Calmerry and Betterhelp offer online therapy services to cater to various mental health needs. These services include:
Messaging: Both platforms provide text therapy options for clients, allowing them to message their therapists in a secure and confidential environment.
Live video sessions: Clients can schedule video therapy sessions with their assigned therapists on both platforms.
Phone calls: Both Calmerry and Betterhelp offer phone call therapy sessions for clients who prefer audio-only communication.
Video therapy: Besides live video sessions, both platforms provide pre-recorded video content from professionals covering various mental health topics.
Background and History
Calmerry is a relatively new online therapy platform founded in 2020. Since its inception, the platform has gained a significant user base and has worked with numerous licensed therapists to provide mental health services.
Betterhelp, on the other hand, was founded in 2013 and has become one of the leading online therapy platforms. Betterhelp has established a strong presence in the mental healthcare industry with thousands of licensed therapists and millions of users worldwide.
Both platforms aim to make professional mental health services accessible and affordable to everyone without the limitations of traditional in-person therapy. They continue to innovate and improve their platforms to provide better mental health support for their clients.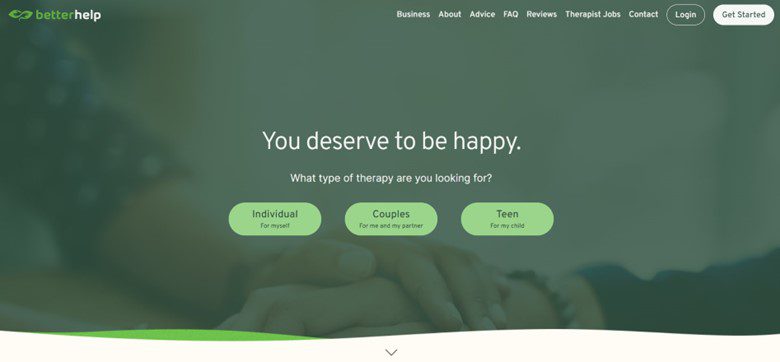 Click here to save 15% off your first month
Therapist Credentials and Specialties
Calmerry and BetterHelp both provide access to licensed therapists with various specialties. These platforms ensure their therapists are experienced professionals qualified to offer mental health support.
Calmerry's team consists of:
Marriage and Family Therapists (MFTs)
Licensed Clinical Social Workers (LCSWs)
Licensed Professional Counselors (LPCs)
Similarly, BetterHelp offers:
Licensed Psychologists (PhD or PsyD)
Marriage and Family Therapists (MFTs)
Licensed Clinical Social Workers (LCSWs)
Licensed Professional Counselors (LPCs)
Both companies focus on providing their clients with high-quality, professional services. Calmerry and BetterHelp require their therapists to have at least 3 years and 2,000 hours of hands-on experience. They also have strict rules for hiring, such as background checks and verification of credentials.
Some common areas of specialty offered by therapists on both platforms include:
Anxiety
Depression
Stress
Relationship issues
Trauma and abuse
Substance abuse
Parenting
Grief
In summary, both Calmerry and BetterHelp maintain high standards for their therapists' credentials and specialties. Clients can expect support from licensed professionals well-versed in various mental health areas.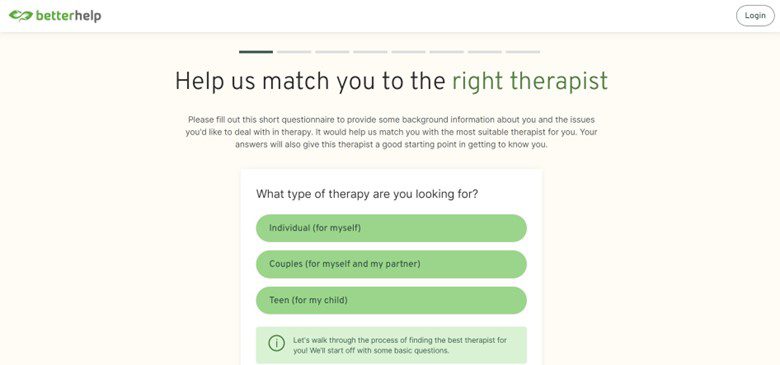 Click here to save 15% off your first month
Treatment Approaches
Calmerry and BetterHelp both offer various treatment approaches to cater to the diverse needs of their clients. Both platforms have licensed therapists specializing in Cognitive Behavioral Therapy (CBT), which effectively treats a range of mental health issues such as OCD, PTSD, stress, anxiety, and depression.
In addition to CBT, Calmerry therapists provide other evidence-based treatment approaches that include:
Dialectical Behavioral Therapy (DBT)
Acceptance and Commitment Therapy (ACT)
Interpersonal Psychotherapy (IPT)
Similarly, BetterHelp also offers various therapy modalities, such as:
Psychodynamic therapy
Humanistic therapy
Gestalt therapy
Both platforms prioritize matching clients with a therapist specializing in their concerns. This ensures that individuals receive tailored treatment plans addressing their unique needs. Moreover, Calmerry and BetterHelp allow clients to switch therapists if they feel their current therapist does not meet their requirements.
It is essential to note that while both platforms provide therapy for a wide range of mental health issues, they may not cater to more severe or complex mental health conditions. Individuals should seek in-person therapy or consult a healthcare professional for appropriate guidance in such cases.
Pricing and Affordability
Subscription-Based Model
Calmerry and BetterHelp both operate on a subscription-based model. This means clients pay a fixed price for a specific duration, usually weekly, monthly, or annually. The subscription fee provides clients access to a licensed therapist and various other resources such as messaging, video sessions, and group therapy.
Comparing Prices
Calmerry and BetterHelp offer different pricing plans based on the level of services provided. Here is a comparison of their pricing:
| Service Provider | Weekly Subscription | Monthly Subscription | Annual Subscription |
| --- | --- | --- | --- |
| Calmerry | $59 | $228 | $2,736 |
| BetterHelp | $80 | $320 | $3,840 |
Calmerry: In terms of affordable pricing, Calmerry offers a competitive advantage. Its weekly subscription starts at $59, making it an attractive option for those seeking therapy without breaking the bank. Clients can save even more by choosing a longer subscription plan, with monthly and annual subscriptions priced at $228 and $2,736, respectively.
BetterHelp: BetterHelp's pricing is slightly higher. The weekly subscription begins at $80, and the monthly and annual subscriptions come in at $320 and $3,840, respectively. BetterHelp's pricing can still be considered affordable, especially considering the range of services offered and the convenience of online access.
Both Calmerry and BetterHelp strive to provide affordable pricing for their clients. When deciding between the two, it is important to consider individual preferences, available resources, and specific therapeutic needs.
Areas of Support
Calmerry and BetterHelp both offer support for a variety of mental health concerns. Their areas of support include relationship problems, abuse, grief, trauma, anger management, chronic illness, emotional abuse, and enhancing self-esteem.
Calmerry's Areas of Support:
Relationship problems
Abuse
Grief
Trauma
Anger management
Chronic illness
Emotional abuse
Enhancing self-esteem
BetterHelp's Areas of Support:
Relationship problems
Abuse
Grief
Trauma
Anger management
Chronic illness
Emotional abuse
Enhancing self-esteem
Both platforms provide licensed therapists who specialize in the mentioned areas. They offer individualized treatment plans based on each client's needs. Calmerry and BetterHelp allow clients to work with therapists on specific goals and objectives, such as improving communication, managing emotions, or processing past experiences.
Calmerry prides itself on its tailored approach, aiming to match clients with therapists with experience and expertise in their particular areas of concern. They continually monitor progress and seek feedback to ensure the most productive therapeutic relationship possible.
On the other hand, BetterHelp has many therapists with diverse backgrounds and specializations. This vast network allows clients to find a therapist who matches their requirements and preferences. BetterHelp also offers group sessions and workshops, which can benefit those seeking support within specific areas.
In conclusion, Calmerry and BetterHelp provide comprehensive support across various mental health concerns. Clients can expect professional and personalized service from both platforms, ensuring they receive the necessary help for their mental health needs.
Ease of Use and Flexibility
Calmerry and BetterHelp are two reputable online mental therapy platforms that offer clients a convenient and accessible way to connect with professional therapists. These platforms provide virtual therapy services through different communication methods such as messaging, audio, and video calls.
One of the advantages of using Calmerry or BetterHelp is the flexibility they offer. Clients are not bound by traditional office hours or locations, allowing them to communicate with their online therapists at times that suit them best. This makes accessing mental health support easier for people with busy schedules, social anxiety, or mobility limitations.
Both platforms also emphasize user experience, providing easy-to-use interfaces for clients to explore and navigate. Signing up, completing assessments, and being matched with a suitable therapist are streamlined and user-friendly. Key features such as appointment scheduling, progress tracking, and accessing personalized resources are readily available.
In terms of communication options, Calmerry and BetterHelp offer several choices to suit individual preferences:
Messaging: Clients can exchange secure messages with their therapists anytime, allowing them to express thoughts and concerns at their own pace.
Live chat: Real-time text-based conversations enable clients to interact more with their therapists.
Phone calls: Clients can schedule a voice call for a more personal and direct conversation.
Video calls: Video conferencing offers the closest experience to in-person therapy, allowing clients to observe visual cues and body language.
Despite the similarities, there are differences in the pricing structure and subscription plans between Calmerry and BetterHelp. Calmerry offers a more affordable solution with a fixed weekly rate, while BetterHelp provides tiered pricing options based on specific services and duration. Clients should consider their financial constraints and the desired level of support when deciding.
To summarize, Calmerry and BetterHelp provide flexible and user-friendly platforms for online mental therapy. Clients can choose the communication method that suits their needs best and access support from licensed therapists whenever and wherever they are. The primary distinction between these two platforms lies in their pricing structures and available subscription plans.
Customer Reviews and Trustworthiness
Calmerry and BetterHelp maintain a presence on review platforms like TrustPilot, allowing clients to provide feedback on their experience with each platform's online therapy services.
Calmerry has received positive reviews on Trustpilot, with clients highlighting the platform's responsive customer service, professionalism, and therapist-matching process. They appreciate the support and guidance provided by the therapists, which has helped them cope with various mental health issues.
Trustpilot Rating: 4.7 out of 5 stars (based on 161 reviews)
BetterHelp, on the other hand, has a slightly lower TrustPilot rating with mixed reviews. Some customers have praised the service for its easy-to-use platform and knowledgeable therapists. However, others have expressed dissatisfaction with customer service and the therapist matching process.
Trustpilot Rating: 3.6 out of 5 stars (based on 2,459 reviews)
Regarding customer service, both platforms strive to offer support and assistance to their clients. Calmerry has an edge in this department, as evidenced by its higher TrustPilot rating, while BetterHelp could use some improvements in meeting clients' needs more efficiently.
When considering online therapy reviews, it is crucial to recognize that individual experiences with therapists and platforms can vary. It's worth exploring both Calmerry and BetterHelp offerings to determine which platform best aligns with one's therapeutic preferences and goals.
Alternatives
Calmerry and BetterHelp are two popular online therapy platforms, but individuals seeking mental health support also have other options to consider. A few alternatives include:
Talkspace: Talkspace offers therapy, psychiatry, and specialized support for specific populations, such as the LGBTQ+ community and teens. It is similar in approach and cost to BetterHelp, and even offers a selection of interactive courses to help clients better understand their mental health.
7 Cups: 7 Cups offers a combination of professional therapists and trained volunteer listeners but at a significantly lower cost than most other platforms. Peer-support chatrooms and community forums are also available for free, providing emotional support in a more informal setting.
Amwell: Amwell provides primary healthcare and mental health services, making it a solid option for those seeking an integrated approach to their well-being. It connects users with licensed therapists and psychiatrists through video calls.
Some factors to consider when choosing a therapy platform include:
Cost: Compare the subscription or per-session pricing of each platform. Some may offer sliding scales based on income or special promotions.
Types of therapy: Look for a platform that specializes in your specific mental health needs, whether it's anxiety, depression, relationship issues, or something else.
Communication methods: Consider your preferred method of interaction, such as text, audio, video, or a combination of all.
Therapist qualifications: Research the backgrounds and credentials of the therapists on each platform to ensure they meet your needs and expectations.
Conclusion
In the realm of online therapy platforms, Calmerry and BetterHelp offer valuable services to those seeking assistance with mental health. While each possesses multiple features that cater to different preferences, examining these offerings for an informed decision is essential.
Calmerry emphasizes creating a personalized treatment plan for each client, focusing on matching clients with therapists who specialize in their specific needs. Furthermore, Calmerry also offers a lower-cost option for those on a budget.
On the other hand, BetterHelp is known for its large network of therapists and an extensive array of mental health resources. Their application process is user-friendly and clients can switch counselors more easily, providing more flexibility in finding the right therapist.
In terms of communication, both platforms offer various channels, such as:
Text messaging
Video calls
Phone calls
Live chat sessions
These options cater to different styles and preferences, making it convenient for clients to connect with their therapists.
To aid users in their decision-making process, the following table compares the key features of Calmerry and BetterHelp:
| Feature | Calmerry | BetterHelp |
| --- | --- | --- |
| Cost | Lower | Higher |
| Therapist Match | Personalized | More Flexible |
| Communication | Multiple Options | Multiple Options |
| Availability | International | International |
| Accessible Help | Limited Resources | Extensive Resources |
In conclusion, the choice between Calmerry and BetterHelp ultimately depends on individual preferences, budget, and desired level of therapist specialization.

FAQs
How do Calmerry and BetterHelp differ in their therapy services?
Calmerry and BetterHelp offer online therapy services but differ in several ways. Calmerry focuses on providing therapy for individuals and couples, while BetterHelp offers therapy for individuals, couples, and teenagers. Both platforms provide access to licensed therapists, but BetterHelp has a larger therapist pool.
What are the costs for each service?
The pricing of both platforms varies depending on the plan chosen:
Calmerry offers a weekly plan at $53 and a monthly plan at $198.
BetterHelp plans are billed monthly between $60 and $120 per week.
It's important to note that both platforms offer financial aid options for those who qualify.
Are there trials or refunds available?
Calmerry does not offer a trial period but provides a 14-day money-back guarantee. BetterHelp does not have an official trial, but you can request a full refund any time during the first week of using their services.
How do clients communicate with therapists on each platform?
Calmerry and BetterHelp both offer multiple communication methods, including:
Text messaging
Live chat
Voice calls
Video calls
Communication preferences depend on the client's specific needs and can be chosen during the therapy signup process.
Can clients choose their own therapists on Calmerry and BetterHelp?
Calmerry allows clients to submit preferences when signing up, and a matching agent assigns a therapist based on those preferences. On BetterHelp, clients fill out a questionnaire during sign-up, and an algorithm matches them with a therapist. However, clients can request a different therapist if unsatisfied with the initial match on both platforms.
Is it easy to switch therapists?
Both Calmerry and BetterHelp allow clients to switch therapists if they feel the current therapist isn't the right fit. The straightforward process can be completed in a few steps, ensuring a better therapeutic experience.