Finding the perfect gift for a bride-to-be can be both exciting and challenging. With the numerous options available, she must select a thoughtful and unique present that she'll cherish for years. Whether it's a personalized keepsake, something sentimental from her loved ones, or an elegant piece to complement her wedding day attire, a well-chosen bride gift can make her special day even more memorable.
Etsy and Amazon have a vast collection of bride gifts ranging from custom leather wallets for the bride's father to beautifully crafted bracelets for the bride's mother. These platforms provide convenient shopping experiences, a wide array of options, and an opportunity to discover creative, heartfelt presents that cater to the bride's taste and personality.
This article will explore various bride gift ideas that suit different preferences and budgets. From meaningful jewelry to personalized accessories, selecting the ideal gift for the soon-to-be, Mrs. has never been easier. Keep reading as we delve into the world of bride gifts, ensuring that you find the perfect token of love and appreciation for the bride's special day.
Popular Online Marketplaces for Bride Gifts
Etsy
Etsy is a well-known online marketplace for unique and handmade items, making it a popular destination for people shopping for the bride and bridal party gifts. Offering a vast array of products from small business brands, shoppers can find thoughtful and personalized gifts for brides, bridesmaids, and other wedding party members. Some examples of bridal gifts available on Etsy include bridal bags, personalized totes, and wedding keepsake cards. Most items can be customized, adding a personal touch to your gift. Buyers may also find special deals or coupons, offering discounts on select items or shops within the platform.
Amazon
Amazon is another popular online marketplace where shoppers can find various bridal gifts. With a vast selection of items from various brands, including Amazon's private brands and top-rated 4+ star styles, there is something for every budget and preference. Amazon's wedding gift registry feature allows couples to curate their wishlist and allows guests to shop for gifts that the couple will cherish easily.
By shopping on Amazon, customers have the convenience and trust of ordering from an established marketplace. Various brands partner with Amazon to sell their products, empowering them to reach a large consumer base. When shopping for bridal gifts, customers may find special offers or promotions on certain items, such as a 5% coupon applied at checkout.
As a buyer, it is worth exploring both Etsy and Amazon for bridal gifts, as each platform offers unique gift options catering to different preferences and budgets.
Name Change Services
Name change services can be an excellent gift for brides looking to easily and effortlessly update their last name after marriage.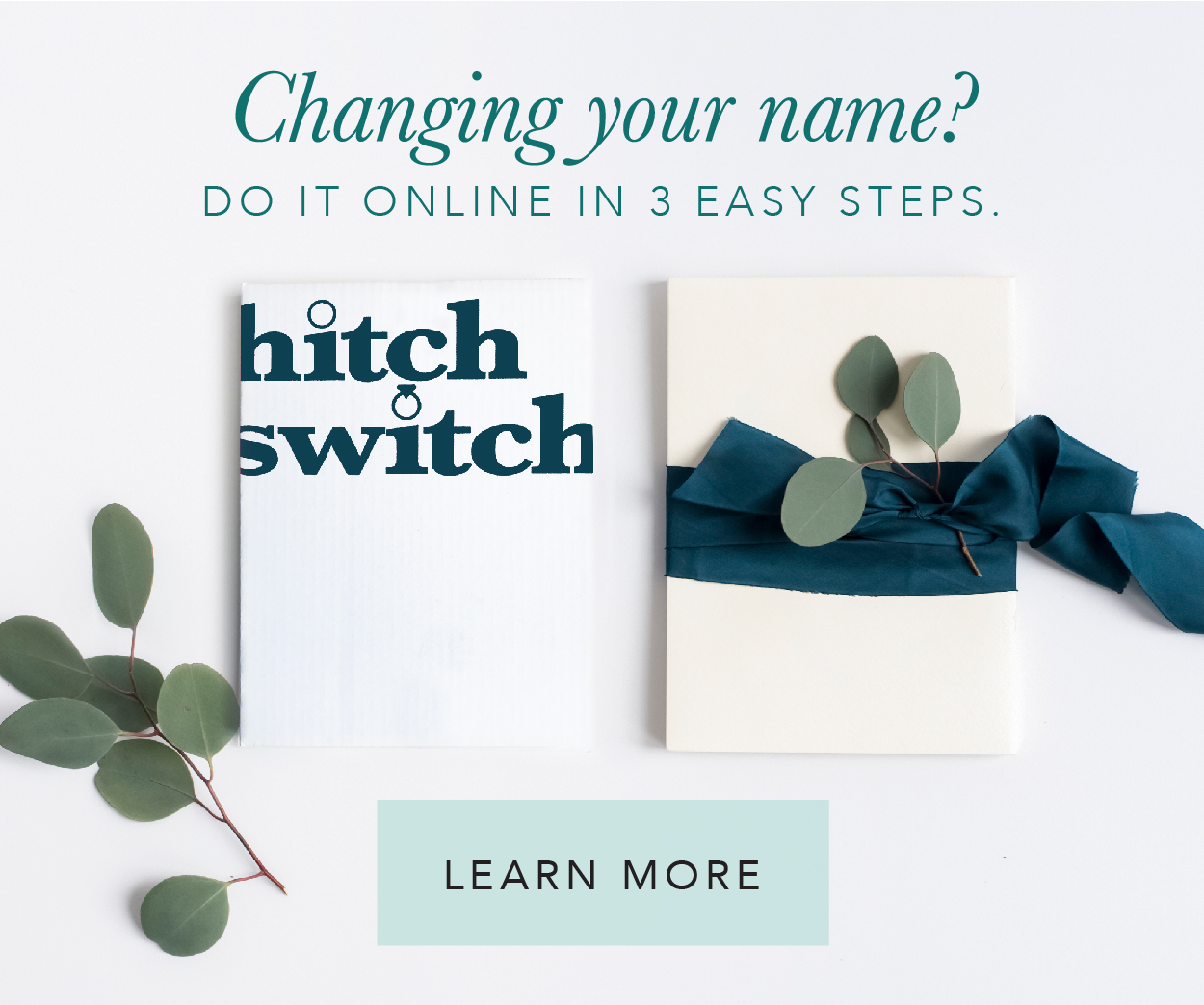 Change your name in minutes with ZERO stress
HitchSwitch
HitchSwitch offers a simple and stress-free way for brides to deal with the name change process. They provide three different name change packages to suit various needs:
Print at Home Package ($39.99): This package provides customers with all the necessary forms and instructions for filling them out, which can then be printed at home.
Full-Service Package ($69.99): This package covers everything in the Print at Home Package but includes the convenience of pre-filled, ready-to-sign forms mailed to the customer.
Platinum Concierge Package ($99.99): The full-service platinum concierge-level package offers personalized assistance with every step of the name change process, providing the ultimate experience in convenience.
Easy Name Change

Create your Easy Name Change kit in just 10 minutes!
Easy Name Change is another great option for name change services, offering two packages to suit brides' needs:
Print at Home Kit ($39): This option provides customers with a personalized name change kit that includes all necessary forms and step-by-step instructions on completing them. The kit is available for download and printing at home.
Printed and Posted Kit ($79): This package includes everything in the Print at Home Kit but with the added convenience of having the forms professionally printed and mailed directly to the customer.
With these name change services, brides can easily navigate the otherwise time-consuming and complex process of updating their last name after marriage. This thoughtful gift allows them to focus on the joy of their newlywed life while the service ensures a seamless transition to their new name.
Unique Gift Ideas
Personalized Gifts
Personalized gifts are always special for the bride-to-be as they add a touch of thoughtfulness and customization to the present. Monogrammed items such as makeup bags, cloth napkins, or customized jewelry are great options. Here are some ideas:
Personalized monogram makeup bag
Customized initial necklaces or bracelets
Calendar with the couple's engagement and wedding dates
Bridal Shower Gifts
Bridal showers are perfect for friends and family to present unique gifts to the bride-to-be. These gifts can range from practical items to something more sentimental. Some bridal shower gift ideas include:
A wedding planner to help her stay organized throughout the planning process
A beautiful rose bouquet or arrangement
A gift box filled with her favorite self-care products
A customized recipe cookbook of family favorites
In addition to the gifts, consider creating a memorable experience by incorporating color-themed decorations or a fun activity for the guests.
Gifts Based on Interests
Another way to present a unique gift is by focusing on the bride's interests and passions. Whether she loves cooking, traveling, or fashion, there is a perfect gift that aligns with her hobbies. Here are some suggestions:
For the avid cook: A one-of-a-kind apron, a high-quality set of cookware, or a specialty cookbook tailored to her interests
For the fashion-forward bride: A subscription to a stylish clothing rental service, a statement piece of jewelry, or a designer clutch
For the travel enthusiast: A scratch-off world map to showcase her previous and future adventures, a custom-made luggage tag, or a destination-specific travel guidebook
To stay informed about unique gift ideas and receive exclusive offers, consider signing up for newsletters related to your interests. Always check your email address to ensure you receive the desired updates, and remember to whitelist emails from trusted sources. Disable adblockers and log in to your preferred browser for an optimal browsing experience.
Creating a Budget for Bride Gifts
Comparing Prices
When purchasing bride gifts, comparing prices across different stores is essential to find the best deals. Doing so can ensure they stay within their budget while still finding a thoughtful and unique gift for the bride. Research various online shopping websites and local stores, taking note of any price differences for the desired items.
Consider the following tips while comparing prices:
Look for sales or discounts that may be available during certain times of the year
Browse websites and stores that specialize in wedding gifts, as they might offer more competitive prices
Be aware of shipping costs and delivery times when purchasing online
Using Coupons
Another effective strategy for staying within the budget is utilizing coupons and promotional codes. Many online retailers and stores offer discounts through these means, allowing customers to reduce the price of their purchases. One can find coupons through various channels, including:
Signing up for store newsletters that often contain exclusive deals and coupon codes
Online coupon websites providing promotional codes for multiple retailers
Social media pages of different stores, where they sometimes share special offers
| Sources for Coupons | Pros | Cons |
| --- | --- | --- |
| Store newsletters | Exclusive deals and coupon codes | Might increase email clutter |
| Online coupon websites | Wide range of coupon codes for many retailers | Limited availability of codes |
| Social media pages | Easy to follow and share deals with friends | Some offers might only be limited to social media followers |
Remember always to read each coupon's terms and conditions and ensure they are still valid before making a purchase. Using these strategies, one can effectively establish a budget for bride gifts, ensuring they find the perfect item at an affordable price.
Personalized Keepsakes
Personalized keepsakes are a thoughtful and unique way to celebrate the bride and create lasting memories. This section will explore options for customizing champagne flutes and monogrammed gifts, adding a personal touch to these items.
Champagne Flutes
Personalized champagne flutes are a great way to commemorate the big day and make a lasting impression. Consider engraving the bride and groom's initials, wedding date, or a special message on the flutes for an added sentimental touch. Some popular options for personalization include:
Etching initials or names
Adding a meaningful quote or phrase
Incorporating wedding date or venue information
Here are some ideas to consider for personalizing champagne flutes:
| Idea | Description |
| --- | --- |
| Monogram | Use the bride and groom's initials |
| Date | Add the wedding date |
| Venue | Incorporate the name or location of the wedding venue |
| Quote | Include a meaningful or romantic quote |
Monogrammed Gifts
Monogrammed gifts offer a variety of opportunities for personalization, making them perfect keepsakes for the bride. From tote bags and robes to jewelry and home decor, a monogrammed gift is practical and sentimental.
When selecting a monogrammed gift, consider the bride's preferences and style. Some ideas for monogrammed gifts include:
Robes or towels
Tote bags or purses
Jewelry boxes or trays
Home decor items (e.g., pillows or frames)
Remember to select the appropriate monogram style, such as single-letter, three-letter, or full names. Consider the following options for monogram styles:
| Style | Examples |
| --- | --- |
| Single-letter | First letter of bride's first name |
| Three-letter | Bride's first, middle, and last initials |
| Full name | Bride's full name or new married name |
By customizing keepsakes like champagne flutes and monogrammed gifts, you can create lasting mementos for the bride that celebrate her special day and the memories it brings.
Home Items
Kitchen Essentials
When it comes to bride gifts, providing useful items for the couple's new home is always appreciated. Kitchen essentials can make perfect presents for newlyweds setting up their homes together. Consider giving the following kitchen items:
Vacuum: A high-quality vacuum cleaner is essential for keeping a home clean and well-maintained. Gift the bride a reliable, powerful vacuum to help her simplify her household cleaning routines.
Cookware set: A durable, high-quality cookware set can greatly improve the newlywed's cooking experience by providing them with the necessary tools to create delicious meals.
Dinnerware: A complete dinnerware set, including plates, bowls, cups, and saucers, is an essential home item for any couple starting their life together.
Bedroom Essentials
In addition to kitchen items, bedroom essentials make thoughtful and practical gifts for brides. With these home items, you can help the couple create a comfortable and inviting bedroom environment:
Silk pillowcase: Gifting a luxurious silk pillowcase can promote better sleep and add a touch of elegance to the bridal couple's bedroom. Silk pillowcases are known for their benefits to hair and skin, making them a thoughtful addition to any bedroom.
Bedding set: Complete the couple's bedroom with a cozy and stylish bedding set, including bed sheets, pillowcases, and a comforter. High-quality bedding set adds comfort and enhances the room's overall aesthetics.
Home decor: Thoughtful pieces like scented candles, picture frames, and decorative pillows can personalize and enrich the bride's living space, making her new home feel welcoming and cohesive.
Travel-Themed Gifts
Carry-on Luggage
One perfect gift for brides who love to travel is quality carry-on luggage. When choosing the right carry-on, consider the bride's style and needs. Many brands offer well-designed and functional luggage perfect for weekend getaways or as a companion bag for long trips. A carry-on is a practical and stylish gift that will excite the bride for her next adventure.
Some popular carry-on luggage options include:
Hardshell bags for durability and protection of belongings
Soft-shell bags for flexibility and expandability
Four-wheeled luggage that glides effortlessly through airports
Two-wheeled luggage for better maneuverability on rough surfaces
Tech Gadgets
In today's tech-driven world, brides who enjoy traveling will appreciate gadgets that make their trips easier and more enjoyable. Some examples of tech gadgets as gifts are:
iPads
An iPad can be an ideal travel companion for brides who like to stay entertained, informed, and organized during their trips. With an iPad, they can watch movies, read books, communicate with friends and family, and access travel apps that help them plan their adventures. To make this gift more personal and special, consider adding a sleek and protective case customized to match the bride's taste.
Portable Chargers
A portable charger ensures the bride's devices are always powered up during her trips. It can be a lifesaver when her phone or tablet's battery runs low, and no outlet is available. Portable chargers come in various sizes and capacities, so choose one that suits her needs best.
Noise-Canceling Headphones
A pair of noise-canceling headphones can give the bride a more pleasant and relaxing travel experience. These headphones block out ambient noise, allowing her to listen to her favorite tunes, podcasts, or audiobooks without distractions. There are many noise-canceling headphone options on the market, so consider her preferences in style and features when selecting the perfect pair.
Wedding Day Essentials
Bridal Robe
A bridal robe is essential for every bride-to-be, providing comfort and style while getting ready on the big day. Various options are available, from luxurious silk robes to cozy cotton. When selecting a bridal robe, consider the bride's style, the wedding theme, and the climate. A personalized or monogrammed robe adds a special touch and can be cherished by the bride as a keepsake from her wedding day.
Makeup Bag
Another wedding day essential is a well-stocked makeup bag. This should include foundation, concealer, blush, eyeshadow, mascara, lipstick, and setting powder or spray. In addition to the makeup products, include essential tools like brushes, sponges, and tweezers. Consider a customized bag featuring the bride's name or initials to make the makeup bag more memorable.
Additionally, including some emergency items in the makeup bag can greatly help in unexpected situations. Some suggested items include are:
Makeup remover wipes
Blotting papers
Cotton swabs
Safety pins
Hair ties and bobby pins
Mini sewing kit
Nail file
Tissues
Providing the bride with these wedding day essentials makes her feel confident and stress-free as she prepares to walk down the aisle. The thoughtful gift of a bridal robe and a well-stocked makeup bag will make her feel pampered and allow her to focus on enjoying the special moments of her big day.
FAQs
What are some thoughtful gifts for a bride?
Some thoughtful gifts for a bride include:
A silk pillowcase, which is gentler on hair and can help her wake up with perfect wedding day hair. (source: Martha Stewart)
A hand-blown glass wishing ball comes with 52 slips of paper for the bride to write and store her wishes in the ball. (source: Uncommon Goods)
Personalized items, such as a candle with the couple's last name and wedding date or a custom denim jacket with "Bride" embroidered on it. (source: WeddingWire)
What is the etiquette for bridal shower gifts?
When attending a bridal shower, you should bring a gift that fits the event's theme or the bride's taste. Choosing something practical, meaningful, or personal is always a good idea. Consult the wedding registry for guidance, or get creative with a unique or personalized gift.
How can I find the couple's wedding registry?
The couple's wedding registry can typically be found on their wedding website. If you need assistance or cannot locate the website, you may ask the bride, groom, or wedding party member for the registry link. This will provide you with a list of items the couple has selected as their preferred gifts.