On your wedding day, everyone's attention will be drawn to your makeup, wedding gown, hairstyle, and hands, especially your wedding ring and manicure. Your hands will get a lot of attention between signing your marriage certificate, detailed shots from your photographer, and requests to see your new wedding ring. So, as a bride, what should you do? Of course, you should be sporting a stunning manicure.
You'd think that after selecting a wedding gown, shoes, and hairstyle, picking a color of nail polish for the big day would be simple? But the sheer quantity of options can be overwhelming. That's why we've gathered the finest of the best for you.
The wedding manicure ideas below are perfect for any bride, ranging from basic bridal neutrals to bolder hues and nail art.
1. Pink Wedding Nails
Pink is a delicate color that works well for wedding nails. Consider long or short coffin nails in a delicious pink ombre that begins pink but gradually fades into transparent or white. This is an ultra-feminine aesthetic that works well on both short and long nails.
2. Gentle Gradient Nails
Consider an ombre design if you want a gradient in the color of your nails. You might go with a French ombre or regular gel nails. Additionally, you can add one accent nail to each hand for a Sophisticated look. This would be one lighter-colored nail with crystals lined around the cuticle. More so, this is all the nail design you'll need for the most ideal-looking bridal nails that would appear great in photos.
3. Trendy Taupe
If you want to add some drama to your appearance but don't want to go overboard, go with a soft taupe. The smokey color lends a lot of edge without being too overbearing. Significantly, warm gold metals also look fantastic with it.
4. Unique Wedding Nails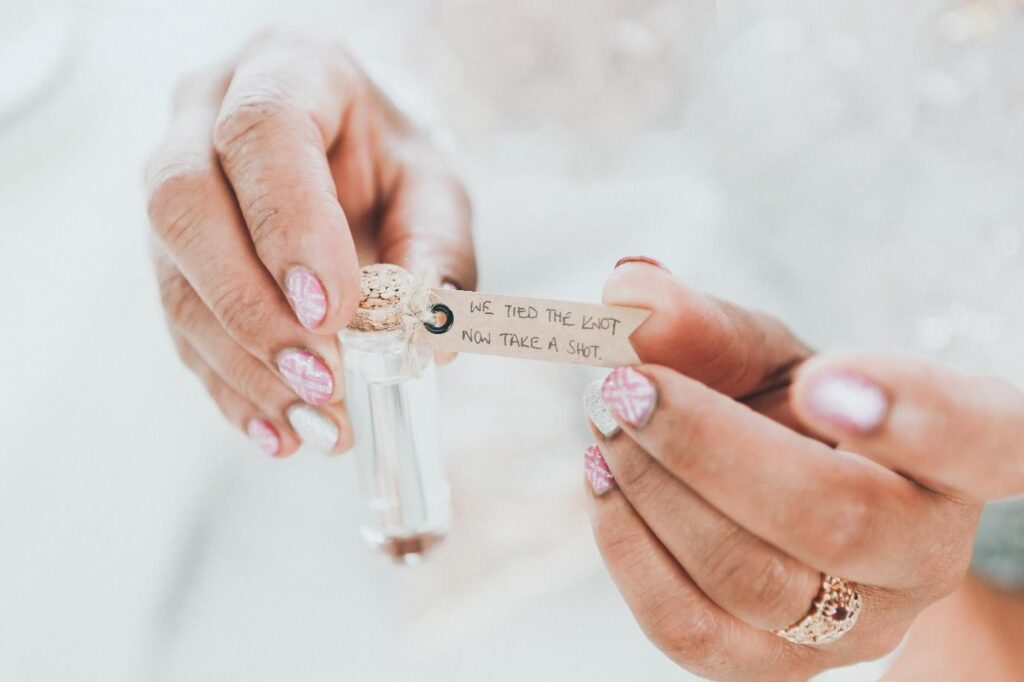 You might like something distinct from the traditional looks. Long stiletto nails may be appropriate for this. This is undoubtedly a design that will stand out from the crowd, and not only because of its name. Combine long stiletto nails with a traditional ombre polish. Design with some added glitter, such as rhinestones, and you'll have one-of-a-kind wedding nails, perfect for the bride who wants to stand out.
5. French Manicure Nail Design Ideas for the Bride
For elegant brides, sticking with an updated classic manicure design is always a good idea. Add a touch of sparkle or diamonds to a classic French manicure. This nail design will never go out of style, so it's a safe bet if you're unsure.
6. Rhinestones Nail Art
Rhinestones are ideal for wedding manicures, especially if you want to add shine. Wedding manicures for brides can be simple, elegant, ornate, fancy, cute, or whatever else you like. And if you want rhinestones, go ahead and get them. Consider white nails, long or short, with one sparkling crystal-accented on each nail.
7. Patterned Nails
Patterned nails are the perfect option for brides unsure which type of nail art is appropriate for a wedding. You are free to paint your nails in any design or style you like. Significantly, a professional manicurist can adorn your nails in various ways to make them look stunning for the big day.
8. White Nails with Silver Glitter Stripes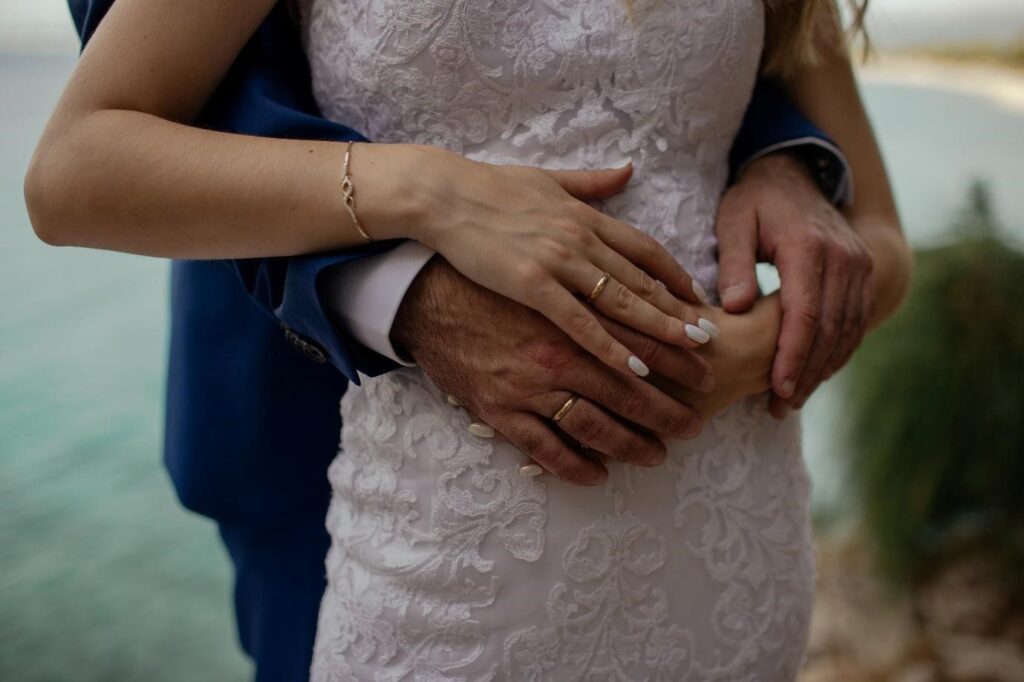 Are you trying to find an attractive yet easy wedding nail design? Then you should use these. The nails have one silver stripe on each and are of a classy shade. The silver line gives the nails some oomph and makes the neutral shade pop. Even though the design is straightforward, it has an impact. Use nail tape to create stripes. Additionally, choose glam gold or silver stripes for a fashionable appearance. In either case, your nails will look fantastic.
9. Long, Ombre Wedding Nails
Do you want to seem trendy and stylish on your wedding day? Then consider this suggestion. These nails have a French ombre design with one accent nail. The accent nail is light in color and has crystals along the cuticle. Additionally, this nail design includes everything you need for a bridal manicure. You can do this on any length and shape of the nail.
10. Classy Wedding Nails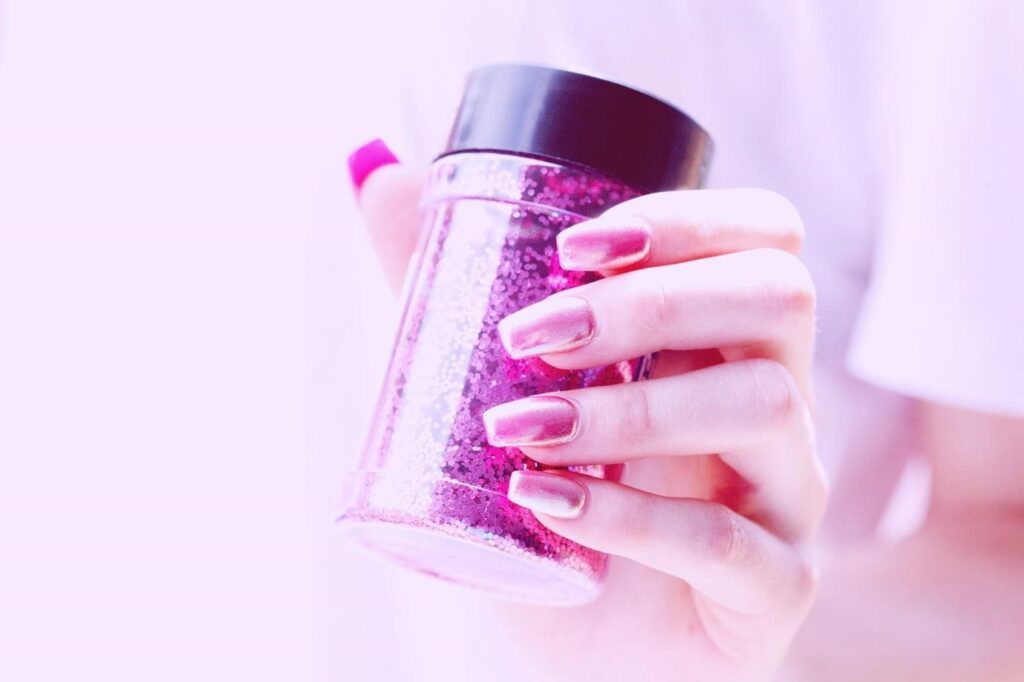 Elegant and classic wedding manicure ideas are some of the most fabulous nails for a wedding. A subtle ombre in the hue of your choice with some extra sparkle would be a stunning pattern for short nails. For a dazzling effect, place tiny rhinestones around the cuticle of one or more nails. Significantly, this design is not limited to short nails; you may also use it on longer nails. That slight shimmer will undoubtedly make all the difference.
11. Wedding Nails With glitter
Consider sparkling nail accessories to make a statement and entirely steal the stage. You can apply gold or silver glitter stripes to each nail after selecting a plain and opaque hue for the manicure paint. This will transform your nails and add the shine required for such an occasion. Get the most stunning manicures, with a hint of glitter to enliven daily.
Bottomline
A wedding takes a long time to plan and prepare for. Remember, however, that your wedding manicures are just as important as the rest of the wedding process, such as selecting the wedding cake. To complete your look, choose one of these wedding nail design ideas that best compliments your personality, outfit, and overall wedding look.