Introduction 
During the present technological age, providing outstanding customer service is a must for businesses believing to forge long-lasting relationships with their clients. Live chat software is becoming more and more popular, and businesses are using it regularly to provide real-time support and raise ratings with clients. Modern live chat software Mokachat offers seamless Microsoft Teams unity, helping businesses to improve their customer service skills. In this essay, we'll look into Mokachat's features and advantages as well as the advantages of live chat. Applying the power of mokachat .Businesses may boost profitability, improve customer support methods, and deliver excellent customer experiences on Microsoft Teams.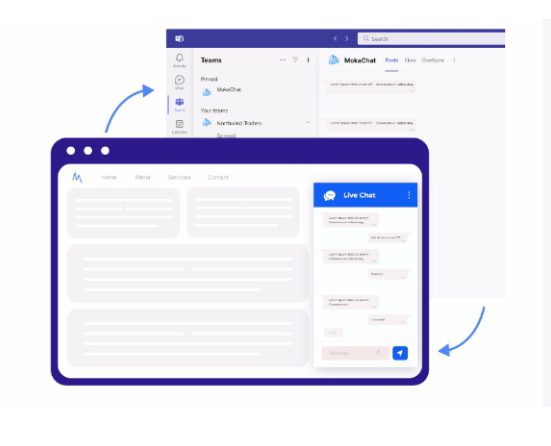 Benefits of Mokachat
Improved Communication Efficiency
Mokachat improves client and support people relationships, leading to improved communication efficiency and fast resolution of problems. Its integration into Microsoft Teams makes it simple for agents to work together, share information, and respond to customer inquiries quickly. Mokachat improves efficiency and lowers response times by doing away with the need for lengthy phone calls or email exchanges.
Enhanced Customer Experience
Mokachat's ability to bring fun and happiness into client interactions is one of its strongest qualities. It provides a variety of informative and playful chatbot responses, giving users an enjoyable and memorable experience. By making people smile, Mokachat creates a connection, lowers their annoyance, and leaves a lasting impression—all of which lead to increased loyalty to the business.
Streamlined Communication for Seamless Interactions
Mokachat changes customer service by working smoothly with Microsoft Teams, enabling simpler communication for soft engagements. Mokachat prevents the requirement for new software installations by using the existing Teams facilities enabling agents to communicate with clients without problems. Through a more planned process, timely responses are guaranteed, waiting times for customers reduce, and every aspect of their experience is better.
Real-Time Chat for Instant Problem Resolution
Businesses can offer clients right away with Mokachat's real-time chat feature. Agents are able to have interactive conversations with customers when asking questions, resolving problems, and helping them through difficult assignments. Businesses may build great brand experiences while increasing consumer customer loyalty and satisfaction through fast responses.
Multi-Channel Support for Omni-Channel Engagement
Mokachat going beyond standard live chat platforms by providing multi-channel support, allowing all channels engagement. Businesses can be reached by customers via a variety of methods, such as web chat, social media, email, and more. Agents are able to integrate all of these forms of contact into Teams by Microsoft, allowing them the ability to manage demands quickly and keep a strong support system.
Proactive Customer Engagement
 Mokachat allows companies to communicate with customers in a proactive way, personalising support discussions. Agents may assess browsing trends, spot possible problems, and start proactive conversations through real-time tracking. Businesses can foster long-term connections with customers and avoid future problems by replying to issues before they become more serious.
Advanced Reporting and Analytics
 Organisations can find out a lot about their customer support operations by using Mokachat's strong reporting and analytics capabilities. Response times, customer satisfaction ratings, and agent The efficacy are just a few examples of particular metrics that help firms identify their weak points and improve their support methods. Businesses may make better choices and improve overall customer support efficiency thanks to these insights based on information.
How to Work with Mokachat  
Connectivity with Microsoft 
Teams is required to use Mokachat. Using Microsoft Teams' powerful interaction and teamwork tools, Mokachat designs with it without any issues. The new features of Mokachat can be used by support staff to improve customer service while utilising existing team arrangements and operations.
Creating Chat Responses
Businesses can set up established responses, such as amazing and smart transfers, using Mokachat's chatbot feature. Businesses could provide their customers a nice and engaging assistance experience by setting up the chatbot in order to sound like their brand.
Fee and functions
Mokachat is a top-tier live chat software solution for businesses looking to improve their customer support skills thanks to its simple compatibility with Microsoft Teams and a wide range of features. With limitless operators, 1000 monthly discussions, a white label widget, triggers, and automessages, as well as unlimited bandwidth and domains, the 30-day free trial and $29 monthly in charge offer outstanding value. Apply Mokachat's live chat system right away to provide top-notch customer service and grow your company.
Unlimited Operators
The price model for Mokachat allows for a limitless quantity of operators. In order to conduct live chat chats with customers, organisations could hire as many team members as needed. With this advantage, businesses am certain rapid and efficient responses, reducing down on customer wait times and improving customer satisfaction.
1000 Conversations per Month
Mokachat's price plan provides for up to 1000 talks per month for enterprises of different sizes. This generous cap means that businesses may communicate with a sizable number of clients without worrying about running over their quota. It enables businesses to effectively deal with a substantial volume of customer inquiries and support requests.
White Label Widget
 Branding is necessary to creating an united, expert image for your company. With the help of Mokachat's white label widget capacity, businesses can alter the live chat interface to better reflect their corporate identity. With the help of this function, companies can deliver a streamlined and consistent customer experience, increasing their image all along the customer journey.
Automessages and Triggers
The key to reducing customer support procedures is automation. Businesses may automate responses and engage with customers in a proactive manner by using Mokachat's triggers and automessages, that are based on specific regulations. When certain criteria are satisfied, triggers can be set to start a chat session, and automessages let organisations send personalised messages at key touchpoints to increase customer engagement and happiness.
Conclusion
Mokachat, a game-changing live chat software that taps into the power of Microsoft Teams, stands out in today's busy business the environment. Businesses may improve their customer service by using Mokachat, which facilitates communication, enables real-time connections, offers multi-channel help, promotes active engagement, and offers advanced reporting and analytics. Unlock Mokachat's potential to provide amazing customer experiences, create brand loyalty, and achieve a competitive advantage in the market. Put money in Mokachat right away to use Microsoft Teams to transform your customer proper care approach. For more details about Mokachat's with Microsoft Teams, please visit mokachat and  explore the information available on the website