Bitcoin traders and investors are anxiously monitoring bitcoin price, which has been dragged down from its highest of $13,854 by the weakening traditional markets. The stock markets continue to drop as rising coronavirus infections and newly-imposed lockdown loom over investors, sparking the worries of potential scare sell-offs. 
Hedge asset gold is not immune from the markets' grim mood. Gold price sank to a 3-week low beneath $1,880 per ounce, in tandem with commodity prices and WTI. Although there have been discussions that Bitcoin is decoupling with the stock markets and gold, Bitcoin remains vulnerable against scare sell-off. 
Now, Bitcoin has to cross a hurdle worth of 60,000 bitcoin first. 60,000 bitcoin options are about to expire on Friday, October 30. This could send a new bout of volatility to the already unstable market. 
"Some momentum technical indicators are still flagging the bitcoin price as being somewhat overbought," Simon Peters, bitcoin and crypto analyst at brokerage eToro, said via email. "I wouldn't be surprised to see a pullback, hopefully staying above $13,000. If bitcoin dipped below the $12,000 resistance level we saw previously, I would be happy to see it hold as support."
While the 14-day RSI signaled that bitcoin is overbought, many believe the recent rally is backed by increased institutional buy and adoption. Technical indicators suggest bitcoin has formed a support around $13,000, but the road to $14,000 could be rocky and traders are suggested to closely watch their positions. 
Bexplus is a Bitcoin-based trading platform offering 100X leverage trading that allows traders to take advantage of both the ups and downs of the markets. Registration is free and requires no KYC, and enables access to advanced trading tools, a risk-free trading simulator, long and short positions, and so much more. 
Bexplus is one of the few exchanges that offer a free demo account, which puts you through its rules and trading widgets. Inside the demo account is 10 BTC for traders to practice and try out strategies as much as they like. 
BTC Wallet: up to 30% Annualized Interest Without Any Risks
Bexplus users can gain profits not only from trading. Join the Bexplus wallet to earn up to 30% annualized interest without taking risks. With up to 30% annualized interests, it is no doubt one of the most profitable rates in the industry. While most lending platforms require traders to deposit at least 1 BTC, traders can make a deposit starting from 0.05 BTC on Bexplus.
Trade Freely on Android & iOS
The top-ranking Bexplus app integrates all the necessary functions and tools (real-time charts, a variety of indicators, news alerts and etc.) while keeping a minimalist and intuitive interface. With the Bexplus app, you can manage your account anywhere and anytime you want. Furthermore, the 24/7 notification could keep you updated with big price movements, making it easier to secure your positions.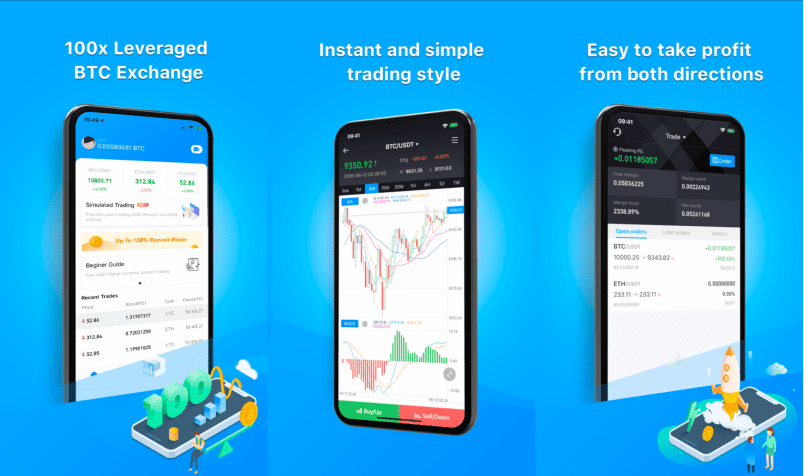 Deposit Activity to Earn 100% BTC Cashback
Deposit BTC in the Bexplus account and you can earn a 100% BTC bonus, which can also be used to trade futures contracts. Plus, more margins reduce the likelihood of forced liquidation. The more deposit, the more bonus you will get. Up to 10 BTC is available for each deposit. 
A successful trader always diversifies his/her strategies and adapts to the market changes. Bexplus offers you infinite opportunities to earn profits. Don't hesitate to join Bexplus and claim your bonuses!