Wednesday will bring directional moves to the market as the Fed meeting will see Powell give a speech where he is expected to drop hints as to how the Fed plans to deliver the denouement of this aggressive rate hike cycle.
In our interpretation of the developments that have taken place over the past few months, we are left with two potential outcomes of this Fed meeting.
This final phase of the hawkish policy period is the most difficult, exiting this narrative needs to be treated with care as the market is fragile. CPI data has fallen favorably in response to the 4 consecutive 75 basis point rate hikes which hit the US economy last year.
Now, the first outcome is the Fed releasing its grip by presenting a more dovish or "less hawkish" tone by validating how effective high rates have been to treat inflation. This will spur activity in equities and more risk-on investments such as crypto.
The issue with this is that inflation is still far away from the target of 2% and GDP in recession territory is worrisome coupled with supply chain issues that have not been fully resolved. This could lead to a premature spike in the market followed by a continued bear market.
The second outcome would be the Fed maintaining control by reinforcing a hawkish tone on market participants. Powell is well aware of the recent rise of equities with the S&P 500 breaking out of its downward trend.
One could translate these gains as a bullish future for the market. The Fed has clearly stated they intend to slow down growth and these moves are contradictory to its long-term goal. An aggressive stance at today's meeting will provide for a more patient and sustainable end to this fight against inflation.
In today's DIFX Analytics, we're going to look into the following assets:
Bitcoin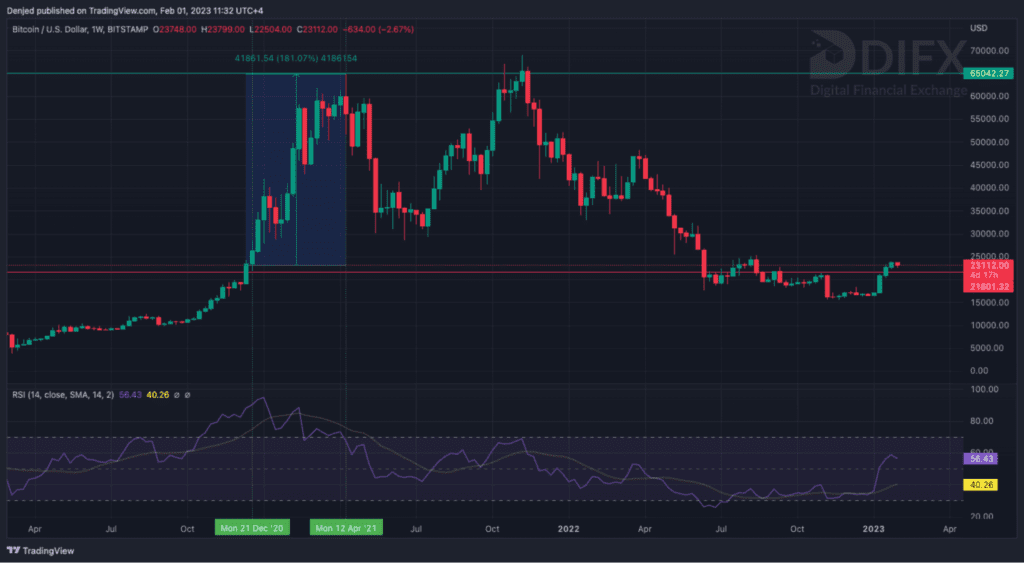 The last time we saw Bitcoin break this level with bullish intent, the market experienced a continuous rise of 181% to hit $65,000.
The bull run to this new All-Time-High lasted almost 4 months from December to early April before we saw a considerable pullback. RSI is over 50 which is a positive signal for the asset.
We should pay attention to Jerome Powell's speech later today for any indication of how the Fed plans to negotiate policy with interest rates toward the end of this hiking period.
Ethereum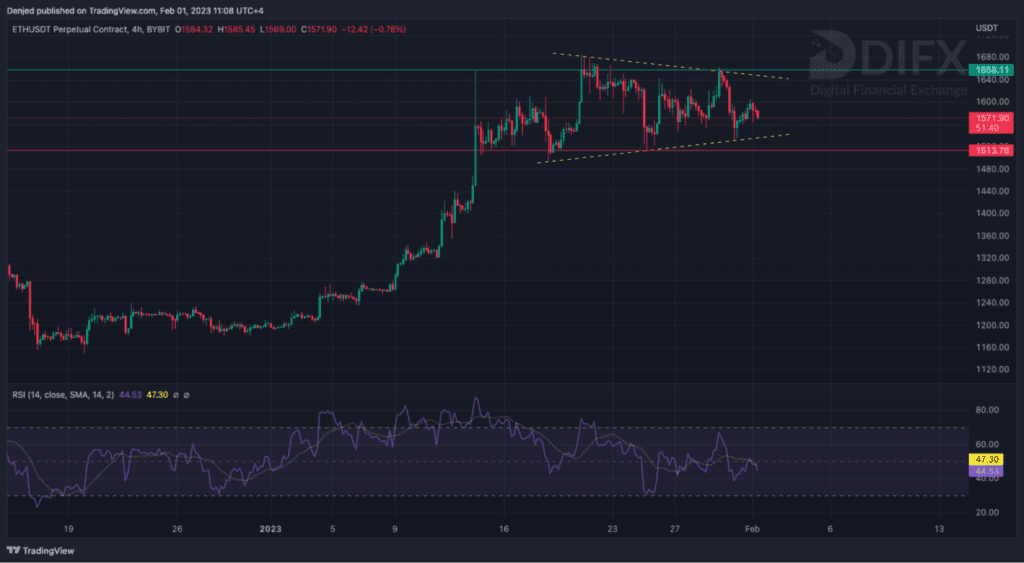 Ethereum is training in a symmetrical triangle on the 4-hour chart. RSI is trending downwards with a bearish divergence trend against price action.
Traders can expect consolidation to occur as we await tonight's interest rate decision from the Fed followed by the FOMC meeting.
RSI is overbought at this level and we can expect some pullback from this area toward $146. We are near a pivot area for Tesla in anticipation of the interest rate decision on Wednesday.
$100 – $135 presents a good area for long-term investors.
Apple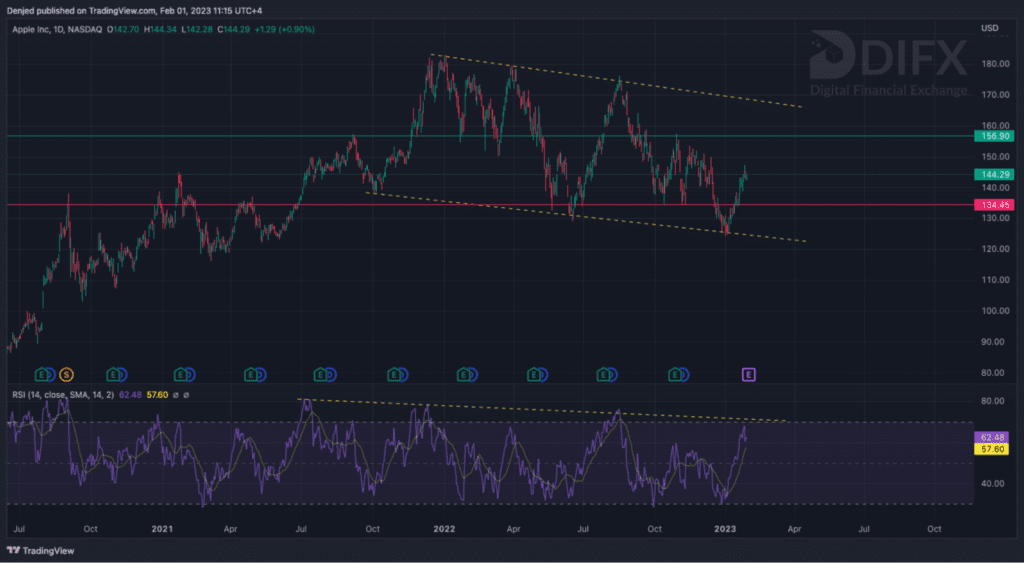 Apple has followed a bearish trend for the past year as high-interest rates hit the US economy. RSI on the 4-hour is nearing its ceiling of around 70 which has acted as a support in recent times.
We have seen some resistance at the current price. Many analysts argue this bull run will be short-lived and they predict the bear market is not over.
Gold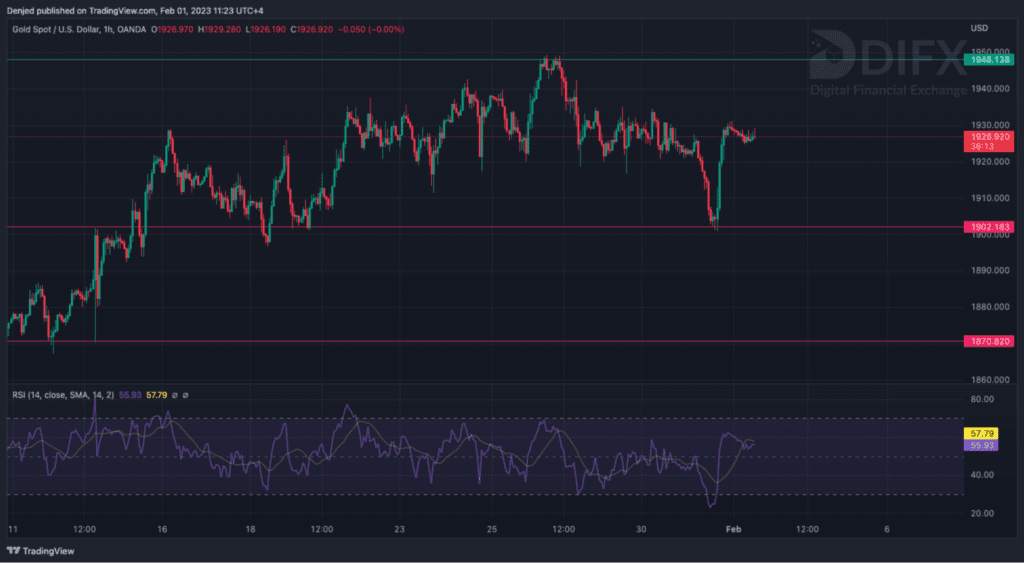 Yesterday, we saw the price action slide to support at $1902 and reject this area with a bounce back up. Price action is trading sideways at $1930 as the anticipation of the FOMC meeting kicks in.
Sentiment on the technicals is more bearish and we expect the price to fall back to test $1902 again.
*****
To learn more about the markets and start your trading journey, sign up now on Digital Financial Exchange (DIFX) to create your diverse portfolio of assets.
About Digital Financial Exchange
Digital Financial Exchange (DIFX) is a centralized cross-asset crypto exchange that allows users to trade between multiple asset classes that include indices, forex, crypto, metals, and commodities, just to name a few. The DIFX fully-insured crypto wallet comes from a partnership with Fireblocks, one of the leading crypto custodians in the world.
To begin your journey with Endless Possibilities, download the app now from the iOS or Google Play Store, or visit us at www.difx.com
Trading Disclaimer
DIFX shall not be responsible for any loss arising from any investment based on any recommendation, forecast, or other information herein contained. The contents of this publication should not be construed as an express or implied promise, guarantee, or implication by DIFX that the forecast information will eventuate, that clients will profit from the strategies herein, or that losses in connection therewith can or will be limited. Trades by the recommendations in an analysis, especially leveraged investments such as foreign exchange trading and investment in derivatives, can be very speculative and may result in losses in particular if the conditions or assumptions used for the forecast or mentioned in the analysis do not eventuate as anticipated and the forecast is not realized.