Digital assets trading platform BiKi.com has ventured into western markets a second time; the first was two-and-a-half months ago when BiKi CEO of Southeast Asia, Ethan Ng, spoke at Futurist in Toronto and declared globalization for the young exchange.
Since then, it has been a non-stop city-hop for the platform – Toronto to Singapore, then London, Seoul, Osaka, Tokyo, Malta and Moscow.
Currently among the Top 10 rankings on CoinMarketCap, BiKi has implemented what it calls fourth generation exchange roles, which include carving out mutually beneficial relationships with its listed projects and acting as a bridge into Chinese markets amongst others.  
Over the past week, the BiKi team headed west, stopping first at Global Digital Assets Summit in Vancouver, followed by San Francisco Blockchain Week. 
The present focus on western markets is part of the exchange's global expansion journey. Well aware that collaborations with local partners all over the world are critical to implementing successful globalization of its brand, the young exchange is eager to continue its BiKi Partner Nodes program. Partner nodes are especially important in regions furthest away from the Asian exchange as they are essentially the "eyes and ears" of BiKi – referring high quality projects to the exchange for listing and extending BiKi's reach into local communities, influencers and media globally.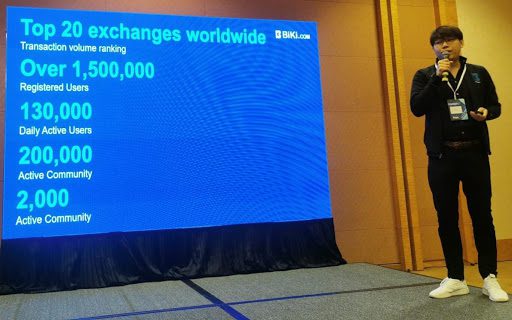 After the San Francisco Blockchain Week, BiKi will head off to the Malta AI and Blockchain Summit. A massive industry gathering, Ethan will join in on the panel discussion, "Data is the new oil, but what do we do with it?" 
Malta has become a major nexus for disruptive new financial technologies and a hub of blockchain activity, This marks BiKi's second time in Malta, evidence of the exchange's keen interest in fostering strong and lasting ties in the bustling fintech space. 
Meeting with the BiKi team during the last Malta trip, German crypto research firm Blockfyre signed a partnership with BiKi, expressing optimism about the partnership as well as the future of the exchange. 
Jonathan Habicht, founder of Blockfyre, said, "We are delighted about our partnership with BiKi exchange. We had the pleasure to meet the team during our last business trip to Malta, where we were immediately convinced of their capabilities and attitude to execute on their vision to become one of the leading exchanges in the Asian market."
Indeed, BiKi's continuous and focused globalization endeavours have been instrumental in securing many valuable partners and quality project listings in different parts of the world. The young exchange seems well on the way to fulfilling its vision of ultimate internationalization and cementing a leading global positioning in the crypto-exchange space. 
About BiKi.com
Headquartered in Singapore, BiKi.com is a global cryptocurrency exchange ranked Top 20 on CoinMarketCap. BiKi.com provides a digital assets platform for trading more than 150 cryptocurrencies and 250 trading pairs. BiKi.com is focused on providing the safest, most stable and most effective cryptocurrency trading platform. 100% of the transaction fees are used in buyback and burning of platform token, BIKI. Since its official opening in August 2018, BiKi.com is considered one of the fastest-growing cryptocurrency exchanges in the world with an accumulated 1.5 million registered users, 130,000 daily active users, over 2,000 community partners and 200,000 community members. BiKi.com has received investments from Huobi co-founder Du Jun, Genesis Capital Zhu Huai Yang, FBG Capital, ChainUP and others totaling approximately 10 million USD.