2nd September, 2019, Singapore – BiKi.com is the one-year-old fast-growing trading platform that has set its sights on globalization. Seemingly branding itself along the lines of HSBC's "The World's Local Bank", the young exchange has launched the "BiKi Partner Nodes Program".  Blockchain networking agency Coinsby has recently jumped on the bandwagon, joining the likes of top ICO Bench Advisor Ong Jun Hao.
Well-aware that global expansion can be expedited by forming long-lasting relationships with local partners all around the world, the Top 20 exchange is keen to utilize these relationships to extend its reach into local communities, influencers and media everywhere. 
New BiKi Partner Node, Coinsby, is a Romanian blockchain networking and service provider which guides projects through token development, white paper writing,  exchange listing, IEO and STO implementation and advisory services. Besides crypto custodian solutions, Coinsby also offers payment gateways through Simplex, Indacoin and Bitlocus.
CEO of Coinsby, Mihai Daniel has expressed his admiration for the young exchange, stating that BiKi was the first exchange that he has worked with, that had a strategy built around clients and not just money. He pointed out that a business that prioritizes its customers "has to win in the long run."
Calling BiKi a "quality partner [that] can make a difference in business", Daniel continued to compliment the platform. He gave a vote of confidence to the exchange, revealing that the reason Coinsby joined the partnership was because he noticed that BiKi was "different from the other exchanges on the market". Seeing enormous potential in BiKi, Daniel believed the partnership aligned with his plans and aspirations for the future and was certain that BiKi would "become one of the highest quality exchanges on the market."
Returning that vote of confidence, Ethan Ng, CEO of BiKi.com Southeast Asia, said, "We are excited to partner with an esteemed company like Coinsby who shares our vision that community comes first. Just as exchanges and projects are interdependent, the ecosystem that is built around them is equally as important and together we can all look forward to growing better, faster and stronger. Coinsby CEO Daniel's full dedication to any project he is involved in, together with his genuine happiness when connecting projects with suitable exchanges, speaks volumes. We strongly believe in the value he can bring as a partner to BiKi Exchange." 
What is the BiKi Partner Nodes Program?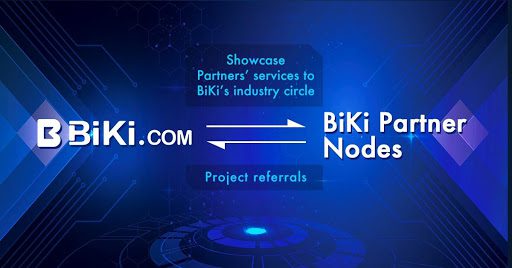 BiKi Partner Nodes basically refer quality projects to the exchange and receive referral incentives and other benefits in return. 
The projects referred by Partner Nodes are given priority listing considerations although final approval decisions still belong with the BiKi listing committee. If successfully listed, these projects will enjoy being a part of BiKi's growth program. This includes publicity perks like being featured in top news sites, getting handpicked community partners from BiKi who will lead and grow the projects' local communities and finally, active community members selected by BiKi to join the projects' local communities.
Understanding that successful partnerships are a two-way street, the platform offers its Partner Nodes pipelines to its resources and will include partner profiles in the BiKi menu of resources to industry players. Partners and listed projects will also be invited to exclusive BiKi-organized events and meetups with opportunities to join panel discussions or present keynotes. On their world tour events, the exchange intends to bring along promising projects, media and key influencers who can share industry knowledge and experiences to tackle specific geographic challenges. Partner logos will be featured at these events and opportunities available to co-host with BiKi and to leverage on the exchange's resources.
BiKi recognizes that each and every Partner Node is a unique identity who has the potential to contribute in different yet extremely valuable ways to the BiKi ecosystem. In addition to referral incentives, the exchange will also offer customized nameplates and unique gift packs as a token of their appreciation to their partner nodes, affable gestures that will go a long way in maintaining long-lasting partner relationships.
About BiKi.com
Headquartered in Singapore, BiKi.com is a global cryptocurrency exchange ranked Top 20 on CoinMarketCap. BiKi.com provides a digital assets platform for trading more than 150 cryptocurrencies and 220 trading pairs. BiKi.com is focused on providing the safest, most stable and most effective cryptocurrency trading platform. 100% of the transaction fees are used in buyback and burning of platform token, BIKI. Since its official opening in August 2018, BiKi.com is considered one of the fastest-growing cryptocurrency exchanges in the world with an accumulated 1.5 million registered users, 130,000 daily active users, over 2000 community partners and 200,000 community members. BiKi.com has received investments from Huobi co-founder Du Jun, Genesis Capital, FBG Capital, ChainUP and others totaling approximately 10 million USD.