Headquartered in Hong Kong, Bexplus is a popular crypto derivatives trading platform offering 100x leverage futures trading on a secure and professional platform. Established in 2017, it runs offices in Singapore, Japan, US and Brazil and is constantly expanding worldwide.
In this review, we'll be taking a look at what Bexplus has to offer and ultimately, whether it is an ideal platform for you to engage in leveraged trading. 
Bexplus Exchange: Facts
Features
The Bexplus platform is packed full of features to make trading easier and more profitable. It is famous for its intuitive trading interface and attentive 24/7 customer support. Bexplus is suitable for both beginners and veterans.
Privacy – No KYC required, registration only requires email confirmation
Flexibility – make profits on the ups and downs of the market
Profitability – 100x leverage enhances the profitability 100 times
Top ranking mobile apps – trade on the go with Bexplus's full-featured mobile apps
Contract type – perpetual contract with no expiry
Coin swap – swap cryptocurrencies with "Changelly" without having to register an account
Languages – English and 14 other languages
Support – 24/7 customer support
Intuitive Interface
On first glance, what Bexplus attracts me most are the user-friendly trading engine and demo account. I have tried several trading platforms but usually they don't provide a demo account, for those that do, I have to apply for one through the customer support. In the demo account are 10 BTC for practice and they are replenishable. You can try out different strategies and familiarize yourself with the trading engine. On the left sidebar are different analytical tools. Even if you are a beginner, you can learn to analyze the market with them.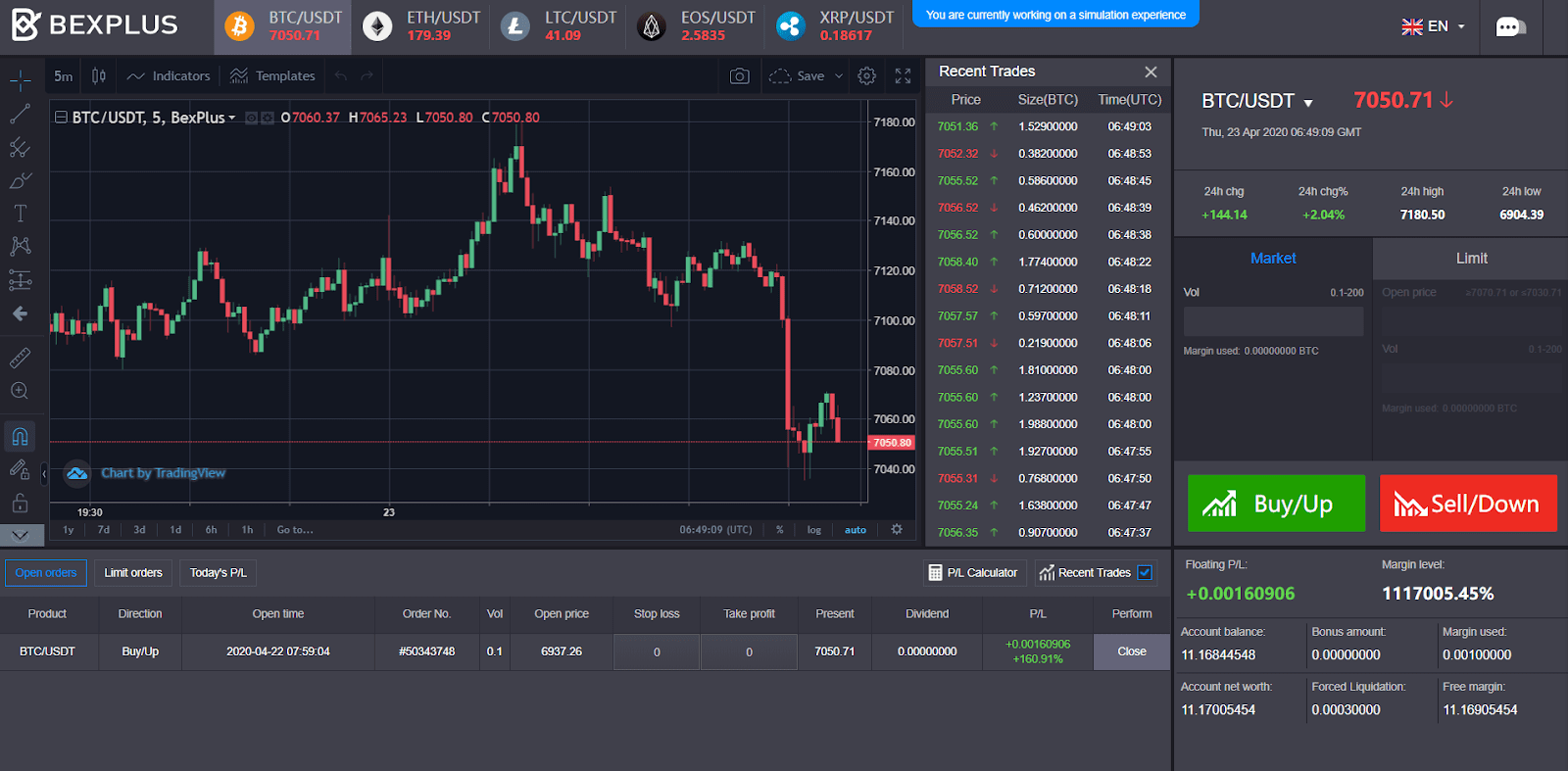 The trading interface is the most concise one I have ever tried, so you won't get lost in all the jumping figures and functions. Besides, on the lower right is the information about your account, including account balance, margin used and forced liquidation amount. You can know if your positions are approaching liquidation and take action accordingly. 
Fee
Fee is one of the biggest concerns for most traders. There is no fee for deposit. Bexplus charges a 0.075% service fee for 100x leverage. In addition to this, Bexplus has an overnight fee, that is, traders need to pay 0.1% of the contract value as loan interest if they open and hold a position at GMT 0:00. If they close it before GMT 0:00, no fee is required. Other platforms such as Phemex and BitMex will charge traders a dynamic funding fee every 8 hours, so I think the fee in Bexplus is more favorable.
Account: Register and Login
Registration is very simple and quick, all you need is to provide your email address.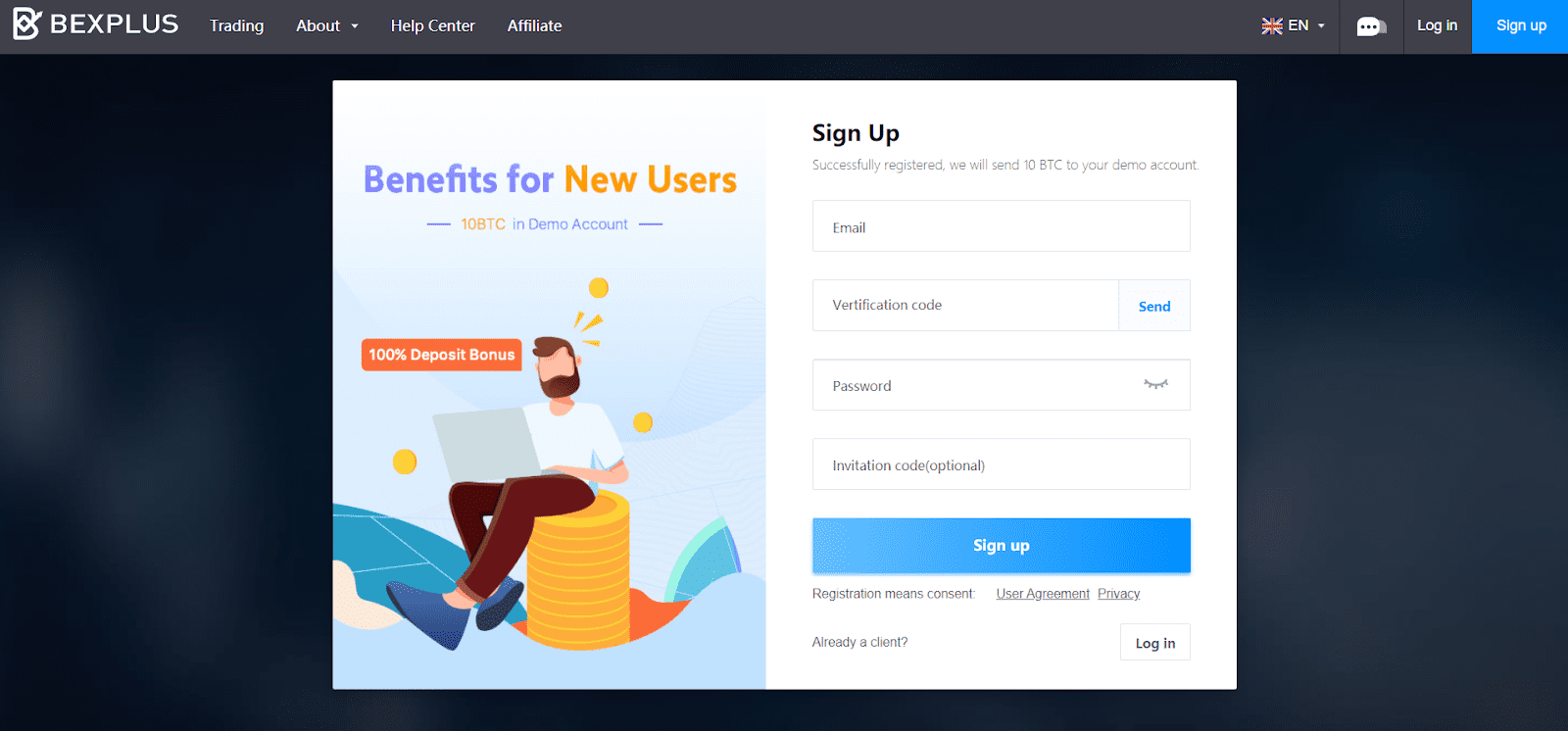 Deposit & Withdrawal
Traders can begin by depositing 0.001 BTC. Bexplus supports Bitcoin, ETH, and 11 other cryptocurrency deposits, as well as USD, EUR, and GBP deposits. With one Visa Card, you can start your journey of accumulating bitcoin.
There is no deposit fee and Bexplus will charge 0.0005 BTC for withdrawal. This is better than most platforms which charge 0.001 BTC. 
Traders can file withdrawal requests 24/7 and usually it takes less than an hour to receive your bitcoin during work hours.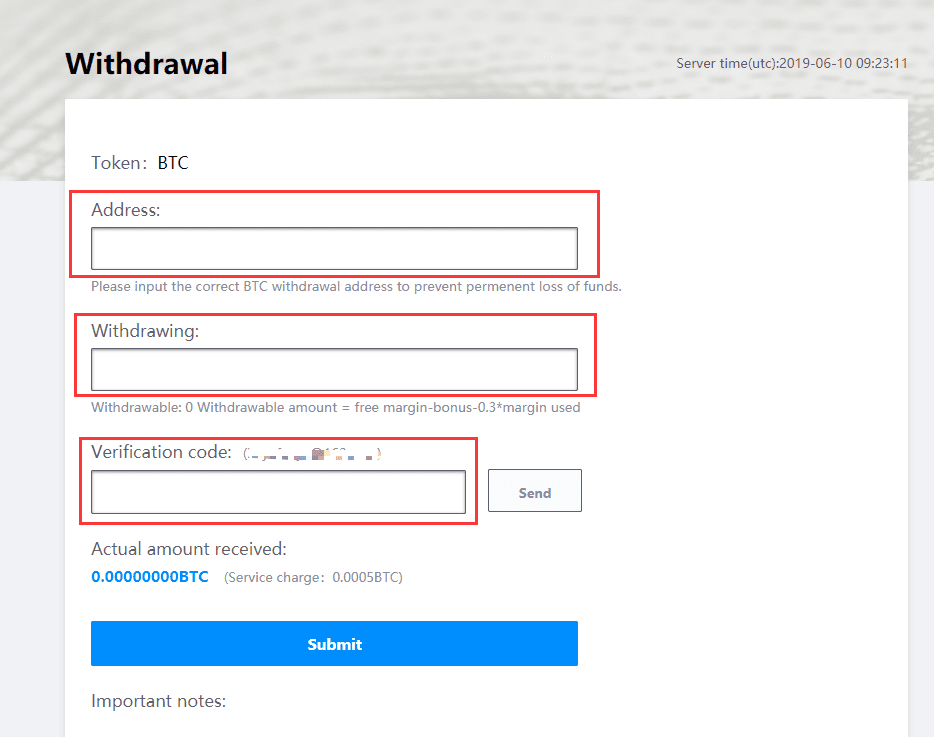 Once again, they didn't ask for my personal information, just my email confirmation. If you are sensitive to personal information, Bexplus could be the ideal platform for you. 
Security
2FA(provided by Google Auth) is adopted to ensure account security. Bexplus offers protection against DDoS attacks and is encrypted with SSL, multi-signature technology. Most of the bitcoin is stored in the offline storage system ("Cold Wallet").
Powerful Mobile Support
Bexplus apps rank at the top at App Annie. It is very easy to use and includes all the necessary functions. I like the 24/7 notification most, for it can keep me updated in times when I can't keep staring at the market.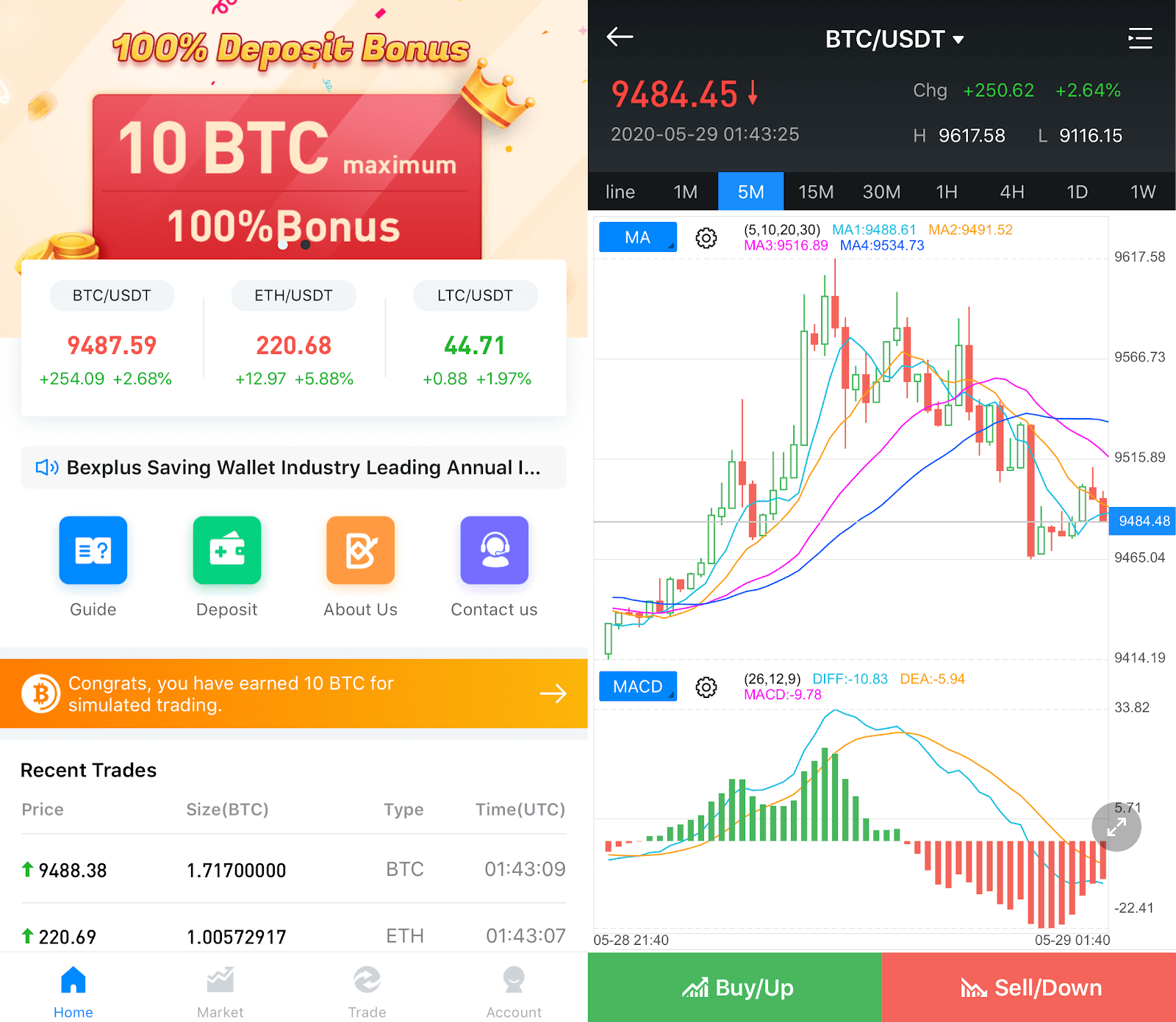 Special Offer – Up to 30% Annualized Interest BTC Wallet
The newly launched interest-bearing wallet offers annualized interests up to 30%. I must say this is the best rate in the industry. As long as traders fulfill the requirements, they can earn 30% passive income with their bitcoin.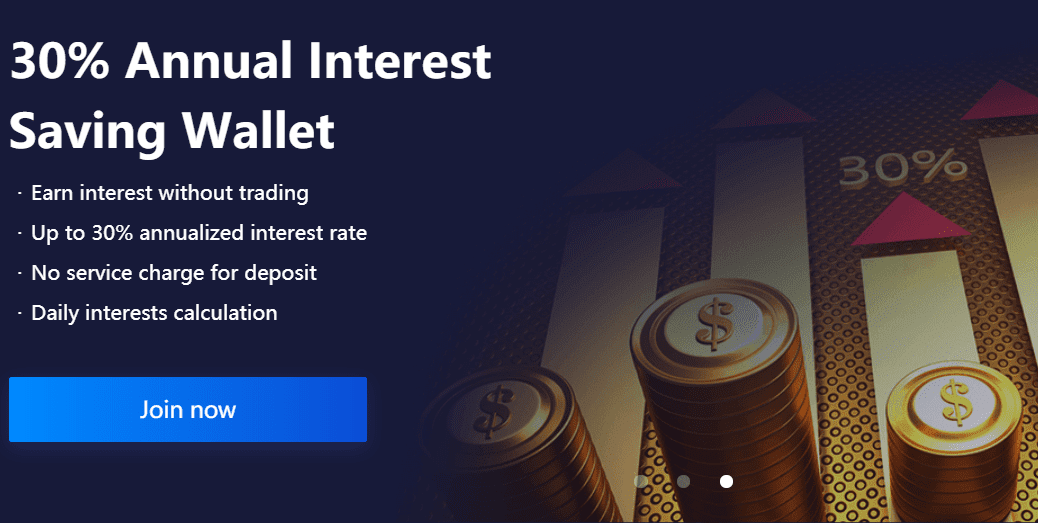 Revenue Settles Monthly
The monthly interest is calculated as (S*I/365*30)=MI. S represents the sum of the deposit, I stands for interest, and MI is the monthly interest.
If you deposit 10 BTC in your wallet, the monthly interest you would receive is (10*30%/365*30)=0.24 BTC. Traders can start by depositing 0.05 BTC.
No Penalties for Early Withdrawal
Withdrawal requests will be processed within 1 day with no penalties for early withdrawal. If you withdraw your deposit on the tenth day of the month, you can still receive the interests generated within this period. 
Independent to The Trading Account
The deposits can not be used for trading nor will it be calculated as margin. So even if your positions get liquidated during huge price swings, the deposits in the wallet will still be intact.  Transfer between the trading account and wallet is instant and free. 
Bonus – 100% Deposit Bonus
Bexplus is holding a 100% deposit bonus and it is quite a juicy offer. If you deposit 10 BTC, you will get 20 BTC in total. Although we can't withdraw the bonus, the profits made by it are withdrawable. With more BTC, I can open bigger positions and they are less likely to get liquidated.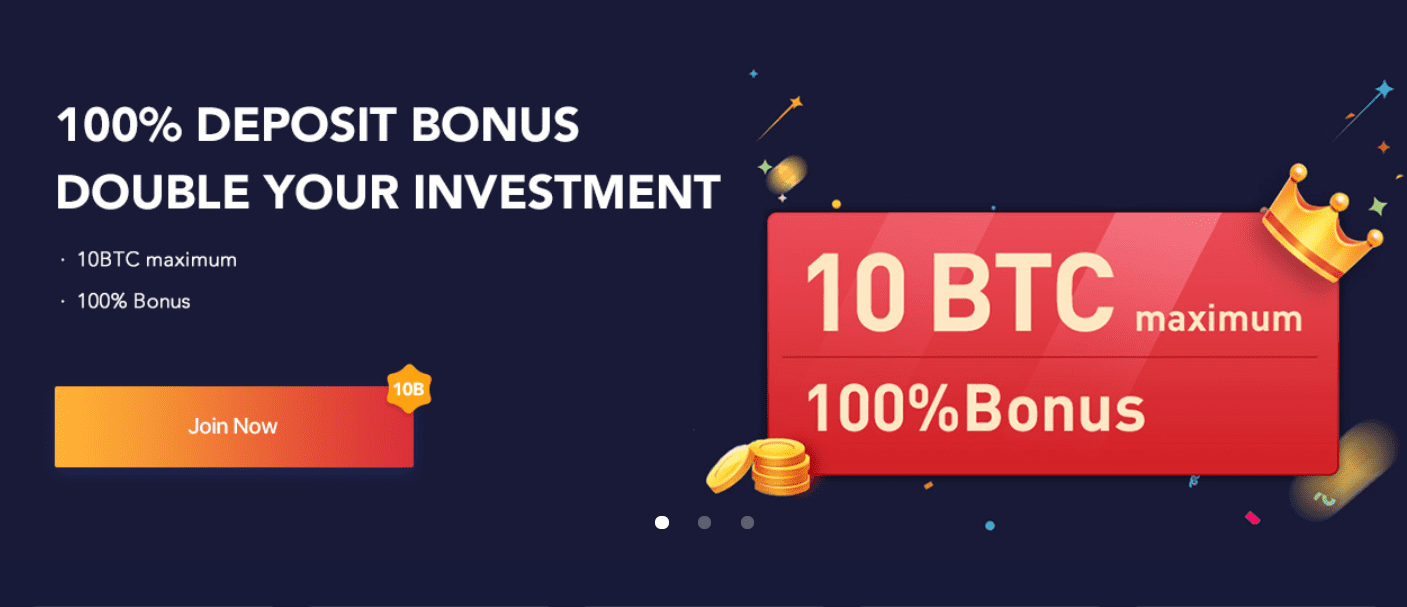 Conclusion
To summarise, Bexplus is a very user-friendly platform and I would recommend it to beginners or less experienced traders without hesitation. But since it only offers crypto leverage trading, you can try other platforms if you are more interested in spot trading or other trading pairs. 
Of course, there is room for improvement in some aspects. Mainly, it only accepts BTC deposits and I had to buy them in Changelly first. Not only did I have to pay a service fee, but the process was quite tiring if I wanted to buy bitcoin in small amounts for a few times. But all in all, it caters to most of my needs and I don't see myself going to other platforms anytime soon.