Are you looking for the best apps to find apartment rentals? Look no further! We will explore the top rental apps available, such as Zillow Rentals, Apartments.com Rental Finder, HotPads, and Zumper. These apps offer real-time listings, customized search filters, direct communication with landlords, and detailed property information.
Discover how these apps can simplify your apartment search with just a few taps on your smartphone. These are among the best apartment websites for renting. By utilizing sites specializing in apartment rentals, your search will go more smoothly.
Finding a site you're comfortable with is one of the best tips for first-time renters.
Let's dive in!
Apartments & Homes for Rent
When it comes to finding the perfect apartment or home for rent, there are various factors to consider. We will explore the different aspects of apartment hunting and rental options to help you make an informed decision.
Available Listings in Major Cities
Whether you're looking for a vibrant urban setting or a cozy suburban neighborhood, major cities across the US offer a wide range of rental options. Explore the available listings in these highly sought-after areas, from New York City to Los Angeles and everything in between.
Finding Your Next Home
Searching for an apartment or home can often be overwhelming. However, the process becomes more straightforward with the right tools and resources. From speaking to Realtors, learning about the best apps and websites is crucial. It's one of the best tips for finding a home to rent. These websites are dedicated to helping you find your next home with convenient search filters and personalized recommendations.
Pet-Friendly Rentals
Finding a rental that welcomes your furry friend is essential if you're a pet owner. Discover pet-friendly apartments and homes that offer amenities, such as nearby parks and pet care services, to ensure your pet's well-being is prioritized.
Long-Term Rentals
For those seeking a more permanent living arrangement, long-term rentals provide the stability and comfort you desire. Explore options for extended leases and gain insights into the benefits and considerations of choosing a long-term rental property.
Best Apps for Finding Apartment Rentals
The right tools can make all the difference when finding the perfect apartment. Here are some of the best apps available for finding apartment rentals in the US:
Zillow Rentals
Zillow Rentals is one of the most popular apps for apartment hunting. With its intuitive interface and extensive listings, you can browse various rental options easily. The app allows you to search for apartments in real-time, customize your search with additional filters, and communicate directly with property owners.
You can even receive notifications when new listings that match your preferences become available. In speaking with different real estate agents, Zillow is a top site for finding apartment rentals.
Apartments.com Rental Finder
Apartments.com Rental Finder is another top-rated app for apartment rentals. It offers a robust search function that allows you to specify your desired location, budget, and other preferences. You can quickly browse detailed listings with photos, amenities, and virtual tours.
Apartments.com lets you easily connect with property managers or landlords to schedule a viewing or ask questions.
HotPads
HotPads is known for its user-friendly interface and extensive database of rental listings. This app allows you to search for apartments based on your desired location, price range, and specific amenities. Along with detailed property information, HotPads provides insights into the rental market, including trends and average prices in different areas.
You can save your favorite listings and receive alerts for new rentals that match your criteria.
Zumper
Zumper is another fantastic option for apartment hunters. With its sleek design and user-friendly features, Zumper make it easy to find your dream rental. You can filter your search by location, price range, and property type, allowing you to narrow down your options.
Along with detailed property descriptions, Zumper offers real-time availability and the opportunity to contact landlords directly. The app even provides a map view feature to help you visualize the rental locations.
These apps provide a convenient and efficient way to find apartment rentals in the US. Whether you're looking for a pet-friendly apartment, a long-term rental, or just exploring available listings in major cities, these apps have covered you.
With their user-friendly interfaces, extensive search filters, and direct communication capabilities with landlords, finding your next home has never been easier.
Features and Benefits of Rental Apps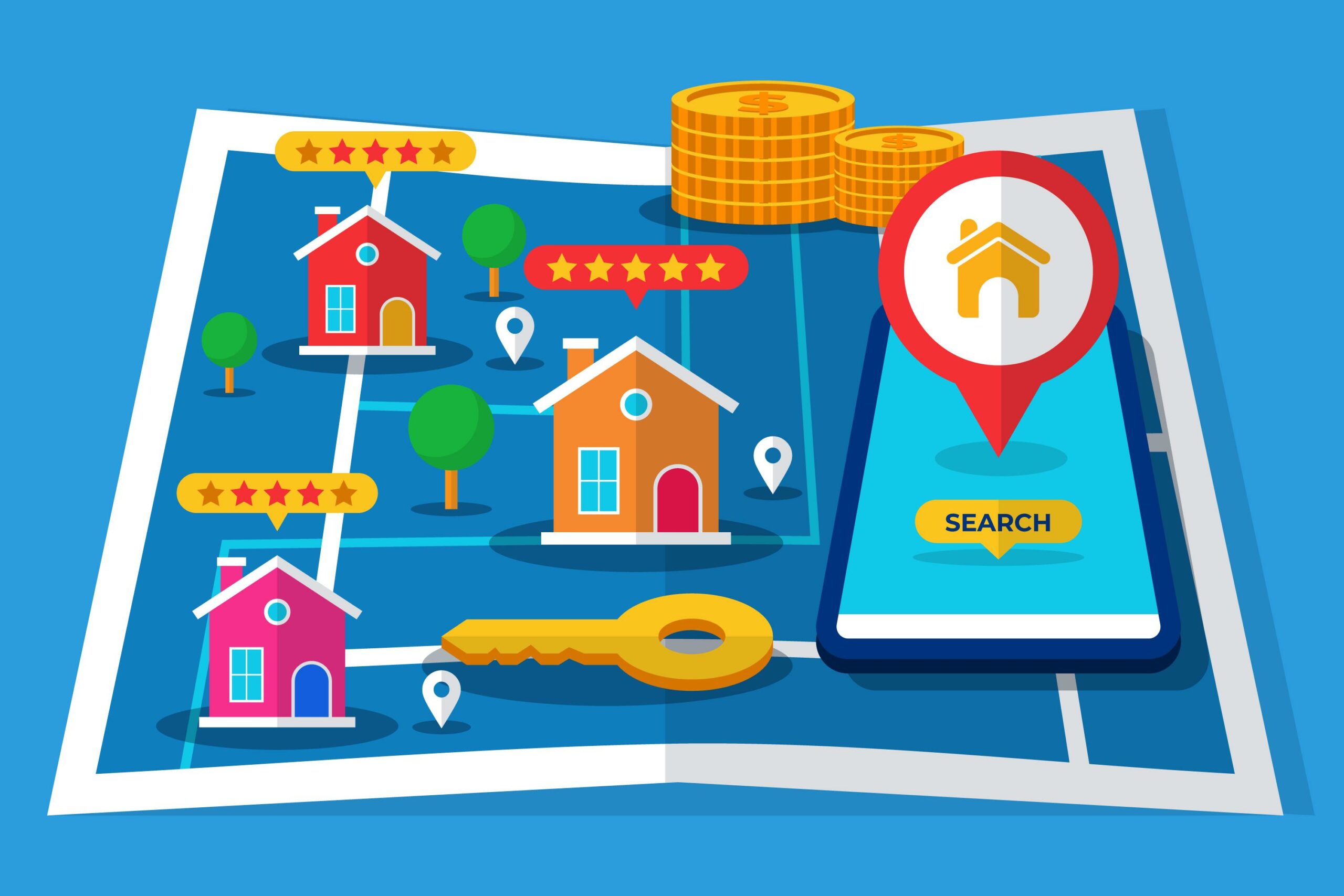 Rental apps offer a range of features that make the apartment search process more efficient and convenient. These apps provide numerous benefits for users, including:
Real-Time Listings and Notifications
Rental apps like Zillow Rentals, Apartments.com Rental Finder, HotPads, and Zumper offer real-time listings, ensuring you can access the most up-to-date apartment options. With notifications, you can stay informed about new listings that match your search criteria, allowing you to act quickly and secure your desired rental.
Customized Search Filters
These rental apps allow you to customize your search based on specific criteria. You can filter your search by price range, desired number of bedrooms and bathrooms, location, and amenities. This feature helps you narrow your options and find apartments that meet your requirements.
You may want to rent a condo vs. an apartment. Filters help you make search adjustments.
Direct Communication with Landlords
Rental apps facilitate direct communication between renters and landlords, making scheduling viewings and asking questions more seamless. Through these apps, you can directly message property owners and managers to gather more information about the rental and expedite the application process.
Renter Profiles and Application Process
Many rental apps offer the option to create renter profiles, which provide a comprehensive overview of your rental history, income, and other relevant information. These profiles can be shared with multiple landlords, simplifying the application process and reducing the need to fill out extensive forms for each rental.
You can utilize rental apps to take advantage of these features and benefits that enhance your apartment search experience. Whether it's accessing real-time listings, customizing search filters, communicating directly with landlords, or streamlining the application process, these apps offer valuable tools to help you find your next home.
Information and Resources Provided by Apps
When finding the perfect apartment, having access to detailed property listings and a wealth of additional information is essential. The best rental apps offer a range of features that provide users with valuable resources for making informed decisions.
Detailed Property Listings
With the top rental apps, such as Zillow Rentals, Apartments.com Rental Finder, HotPads, and Zumper, users can expect extensive information about each property. Detailed property listings include square footage, bedrooms and bathrooms, amenities, and rental prices.
Users also have access to high-quality photos and virtual tours, allowing them to comprehensively understand the apartment before scheduling a visit.
Local Amenity and Neighborhood Information
Understanding the neighborhood and its amenities is crucial when choosing an apartment. Rental apps provide information about nearby grocery stores, restaurants, parks, and public transportation options. This allows users to evaluate the convenience of the location and assess whether it aligns with their daily needs and preferences.
Nearby Schools and Services
For families or individuals with specific educational requirements, rental apps can provide details about nearby schools and their ratings. This information is beneficial when determining the best location for families with children or individuals who prioritize proximity to educational facilities.
Legal Protections and Rental Trends
The top rental apps also inform users about legal protections and rental trends in their desired areas. This includes information on tenant rights, local regulations, and rental market trends. Staying current with legal protections ensures that renters understand their rights and can make informed decisions. At the same time, knowledge of rental trends helps users gauge the competitiveness of rental prices and availability in a given area.
By providing comprehensive and up-to-date information, rental apps empower users to choose the ideal apartment that meets their needs and preferences. Whether it's detailed property listings, neighborhood insights, information on nearby schools and services, or knowledge of legal protections and rental trends, these apps offer valuable resources to apartment hunters.
Making the Most of Rental Apps
When utilizing rental apps, knowing how to maximize their features and get the most out of your apartment search is essential. Here are some tips to help you navigate and optimize your experience:
Setting Budget and Price Filters
Begin by setting your budget and price filters in the app's search settings. Specify the maximum rent you're willing to pay and any other financial preferences you have. This will help narrow down the listings to fit your budget.
Exploring Available Floor Plans
Take advantage of the app's ability to provide detailed information on floor plans. Explore the available options for each listing to ensure they meet your spatial requirements. Pay attention to the size and layout to help you envision your future living space.
Utilizing Favorites and Saved Searches
Most rental apps allow you to save listings as favorites or create saved searches based on your specific criteria. This feature can help you easily keep track of the properties you're interested in and receive updates whenever new listings match your preferences.
Managing Payments and Subscriptions
If applicable, use the rental app's payment and subscription management features. Some apps offer the convenience of online rent payments and subscription options to receive additional benefits. Stay organized by utilizing these features within the app.
By following these tips and utilizing the various features offered by rental apps, you can streamline your apartment search process and find the perfect rental that meets your needs and preferences.