Although athletic fields may suffer the problem of water accumulation, an effective
athletic field drainage system
with the core component ——"Geocellular Soakaway" can best help to solve the problem.
Analysis of the causes of water accumulation on athletic fields
There is always a lot of rain in the summer. However, it has been found that some rainwater accumulates on sports pitches and synthetic turf football pitches, which can render the pitches unusable for a short period of time. And it certainly destroys the plastic track in the long term. There are multiple reasons for water to build up in athletic fields.
According to professional workers in pitch construction, the main reason is unreasonable construction techniques. Some of the builders were too careless. The rush to complete construction can lead to ignorance of some details. Experienced workers should know that polyurethane plastic is afraid of water. There is a lot of work that needs to be done to ensure the flatness and slope of the plastic pavement, such as correction, filling with glue, etc.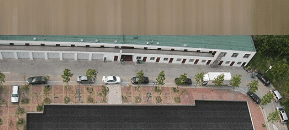 The quality of athletic fields cannot be guaranteed if workers do not follow technical standards. For example, the site should be cleaned and each layer dried before moving on to the next process. Moreover, the mixture of materials should be strictly in accordance with a specific ratio. Once this process is not followed, athletic fields are likely to suffer from water accumulation problems.
Materials, on the other hand, have a huge impact on the construction of athletic fields. Under normal circumstances, the material should be fine. But workers will run a sample test before construction. It is then ready for large-scale construction following testing. Each batch number should be tested one by one. If there is a problem, a second sample test should be done to find out what is wrong.
Finally, the ground should be of cement strength C25 or above and must be maintained according to maintenance standards. Sand-running foundations and those of insufficient strength are subject to special treatment, and construction can only be completed after the treatment has been qualified. In addition, it is necessary to ensure that the foundation is clean and free from dust and oil before construction. Dust will directly reduce the ability of the plastic track to scrape, and oil will affect the solidification of the material. The foundation should be dry and impervious to water.  Therefore, all workers should pay careful attention to every construction process and detail.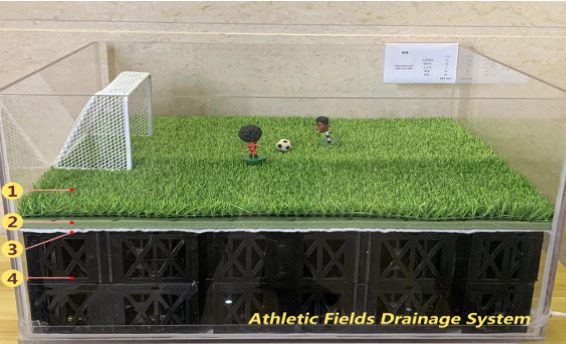 Method of Prevention:
To avoid water accumulation, designers need to pay attention to the process before formal construction, which means careful exploration of the actual site. For example, low terrain problems can be identified, so the design of drainage ditches is necessary prior to construction. In addition, the error in the flatness of the basement should be less than 3 mm. There must also be a slope for easy drainage of rainwater.
Athletic Fields Drainage System
Effective synthetic turf football pitch drainage and athletic field drainage systems are another way to alleviate the problem of water accumulation. HOENSOEY cellular soakaway is the core of the systems. It is a new type of rainwater storage cell unit with ultra-high compression strength and a unique buckle.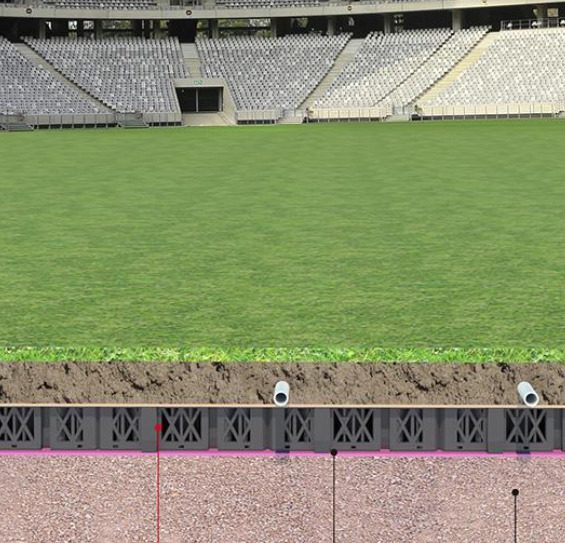 HOENSOEY Geocellular soakaway can greatly improve drainage efficiency in sports fields, such as synthetic turf soccer fields, especially for efficient base infiltration and drainage.
The technique shows that the honeycomb shape has a stable structure, and large geo-cellular tanks are beneficial for rainwater retention, detention, and drainage. The shallower profile helps to reduce the impact of construction on the ground, which is surely the ideal solution for water drainage.
Learn more about the innovative product – HOENSOEY Cells.