Dimitri Pletschette is a blogger, a product manager, and a technology enthusiast with more than ten years of experience in the industry. He has collaborated on various digital projects for some of the world's most exciting brands in the Consulting and Life Sciences sector. Recently he launched his new website: dimitripletschette.com. 
Dimitri's website has a modern and user-friendly design, helping visitors to navigate easily. 

The website also includes a professional timeline, some IT certification badges, links to various social networks, as well as a link to his new blog on Medium, where he shares his thoughts on various IT technology-related topics (Artificial Intelligence, Search Engine Optimization, Microsoft Teams, Technology, Web, Design, Ux.); offering insights into the latest technology trends and innovations in the industry.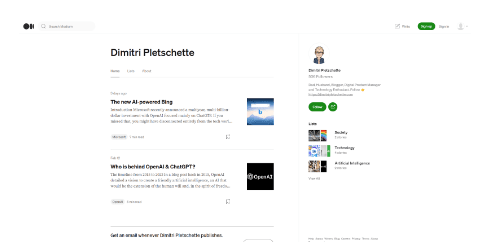 The website is a hub for Dimitri to stay in touch with professionals and showcase his discoveries. Dimitri's passion for technology has led him to work on projects, including web development, mobile applications, design, and marketing. 
The new Medium Technology Blog
With this recent launch and his new Tech blog, Dimitri hopes to connect in the future with more technology enthusiasts. So feel free to follow him on Twitter! 
What type of blogger is Dimitri Pletschette
Dimitri Pletschette is a successful blogger who has built a strong community through his writing and content creation on Medium and within the Microsoft Tech Community. In addition, he is known for his sharped tech expertise, entrepreneurship, and professional point of view linked to digital products, usage of artificial intelligence, and Microsoft products.
One of the main success factors helping Dimitri as a blogger is his ability to provide precious insights and quickly actionable tips to his readers (like his article "40 things you need to know on Medium"). On top of this, he uses his blog and social media to share the lessons learned and strategies that have helped him succeed in his digital endeavors with various companies.
Another important aspect of his success as a blogger is his ability to engage. When required, he interacts with his readers through comment sections, social media posts, and email responses. This allows him to build high-quality, trusted relationships with his readers and technology counterparts, understand their needs, and create content that resonates with them over time.
The blog from Dimitri Pletschette also stands out for its high-quality content. He writes clearly and concisely, and his posts are well-researched, informative, and engaging. Moreover, his writing style is easy to read and understand, making his content accessible to a wide range of readers (English native or not).
Moreover, Dimitri has successfully leveraged social media to grow his blogs. He uses various social media platforms to promote his content, like Twitter and LinkedIn, engage with his audience, and build his brand one day after another. 
More than a blogger 
Dimitri is a passionate digital product manager with experience managing and delivering digital products and projects within scope, budget, and timeline constraints. As a technology enthusiast, Dimitri has always been fascinated by the ever-evolving world of technology and its impact on our lives. In addition, he is keenly interested in emerging technologies and their potential to transform industries and life sciences, change daily lives, and work smarter. 
In addition to his professional achievements, Dimitri is also a dedicated family man. He takes great pride in being a loving husband and father to his family and cherishes the time he spends with them. Dimitri also founded a non-profit organization in Japan two years ago after the 2011 tsunami. Outside work, you can find him at tech conferences worldwide (such as Microsoft Ignite), in Europe, or in Japan.
For more information or to connect with Dimitri Pletschette, visit his website at www.dimitripletschette.com.