With every new business comes a certain level of risk, a risk that is multiplied when you're in Lebanon. The situation in Lebanon has been gradually deteriorating for a while now. Toward the fourth quarter of 2019, nationwide protests broke out as a result of the worsening economic conditions, and things continued to dwindle with no end in sight. Coincidently, many new businesses were beginning to launch in the face of a growing crisis.
HUMBLE BEGINNINGS
Presentail launched in December 2018 and was officially incorporated by the summer of 2019. The startup was hosted by Flat6Labs, a regional startup accelerator program with offices in Beirut, and the startup graduated from Cycle 4 in October 2019. The Central Bank of Lebanon launched a circular that would help fund venture capitalists, such as Lebanon Seed Fund, making low risk investments in a considerably risky industry.
Two Lebanese expatriates by the names of Adnan Ammache and Farah Ali Hassan faced difficulties sending gifts to their loved ones back home. As a result, they launched a platform that would ultimately help expatriates feel closer to home one gift at a time. Presentail is an online gift-giving platform catering to the needs of everyone who wants to send a gift to Lebanon from anywhere in the world. Lebanon has an estimated diaspora of about 14 million, while only about 4-5 million nationals reside in the country at present. 
The site hosts a wide variety of products sourced from local vendors. With each purchase made, the Lebanese are helping out a small business and improving the local economy all at once without even noticing. This has been our main purpose since the company's launch.
THE OBSTACLES
Doing business in Lebanon has become increasingly difficult for not only vulnerable startups but also established businesses. Collectively, business owners have gone through several tough events.
The devaluation of the local currency, the Lebanese pound, began as early as summer of 2019. It has been pegged at LBP1,507.5 per US Dollar since the 90's; however, the scenario began to change at money exchangers and eventually in a parallel black market. This posed as a problem for a nation that imports the majority of its goods that are paid in US Dollars. There is a possibility that this one event later created a domino effect leading to the subsequent misfortunes that the nation endured. Inflation paired with an increase in unemployment made matters worse, and the ability to import necessary goods became harder and harder. A nationwide revolution broke out in October 2019 as a result of the worsening economic conditions and a fragile political system that has been incapable of producing necessary reforms since the end of the civil war. Within a single year, two governments have entirely resigned which makes for an unstable socio-political situation.
In addition, people around the world felt the negative impacts of the novel coronavirus (COVID-19). In Lebanon, this led to additional losses for businesses on top of a collapsing economy. Managers were forced to adapt to this new normal and rethink how business can be done while dodging additional financial losses.
One of the most recent catastrophes to occur is the Beirut Blast that took place on the fourth of August. To add to the countless misfortunes, this blast caused widespread physical damage to not only businesses but also residences. With unbearable inflation and unemployment, the Lebanese can hope that the scenario won't get worse. At the time being, repairs are not affordable for most of the people, and government aid is nowhere to be seen.  
Below is a chart of how company performance was affected by the various events throughout time: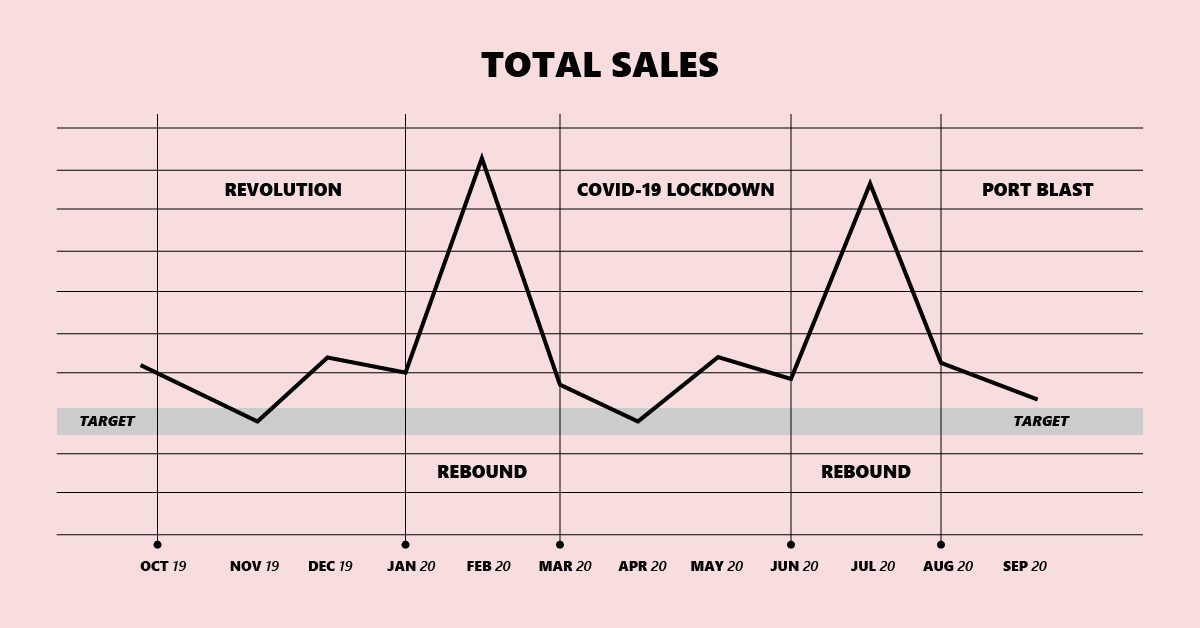 STAYING AFLOAT
Given the above, would you choose Lebanon as the home of your new startup? Many would confidently say that you are out of your mind. Despite all that, Presentail learned how to adapt to each situation and stay afloat no matter what.
Presentail's success is due primarily to the Lebanese expatriates. Without them, the company would've shut down months ago. The decreased purchasing power of citizens locally discourages local gift purchases, so cash inflow comes almost entirely from countries with more stability and generally higher purchasing power. Technically, the price of our items hasn't changed for those who pay in a foreign currency. The only difficulty is for those who want to pay in Lebanese pounds; most local salaries haven't been adjusted for inflation while the price of many goods has increased up to 8 times the original price.
On the other hand, success would not have been possible without outstanding talent at the company. It's the people behind Presentail who make it what it is today. The determination to continue to make an awesome platform is what drives the activity at the company every day. Together, with the mix of a strong business model and superior talent, the company has been able to sustain its operations despite all the hurdles.
Lebanese expatriates are more excited than ever to support local businesses and initiatives. Despite the coronavirus, gift orders are still coming in. After the blast, many people also showed their love and sent gifts to their loved ones back home.
To say that we are proud that Presentail has survived these crises one by one and has remained resilient is one thing. However, romanticizing the overall situation would undermine the severity of it and not lead to any change. The Lebanese cannot bear to handle anymore misfortunes, and frankly, business owners here deserve utmost respect for standing strong in the face of obstacles. Political, social, and economic stability are essential moving forward for these businesses to grow and flourish once again. Despite all the pitfalls, Presentail is committed to help others send love to Lebanon one gift at a time.
For more information, visit the website: https://www.presentail.com