2021 has been one of the best years in the history of cryptocurrency in terms of progress and adoption. As we look forward to 2022, it would be appropriate to look back to acknowledge how far we have come this past year. Following are the most significant developments in the space in 2021.
1. Bitcoin Futures ETF
The launch of Bitcoin Futures was one of the most monumental news in the crypto space for 2021. The Exchange-traded funded (ETF) was approved after 8 years of constant rejections from the Securities and Exchange Commission. ProShares Bitcoin Strategy ETF was the first approved ETF to launch in October and saw a record 1 billion trading volume on the first day of trading.
Since then, two more ETF's have appeared in the markets, with more in the pipeline. Although the ETF's monitor futures prices of Bitcoin, it still is an incremental step and exhibits positivity towards cryptocurrencies from the traditional markets and regulators.
2. Companies Adopting Cryptocurrencies
2021 has been a remarkable year in terms of the adoption of cryptocurrencies by institutions, as a large number of organisations have started to include it in their balance sheets. The torch was lit by MicroStrategy late last year and has had multiple organisations following in their footsteps this year. Publicly traded companies like Tesla and Square have allocated a percentage of their assets into Bitcoin and hold them in their balance sheets.
3. Countries Adopting Crypto & CBDC's
2021 has seen drastic interest and adoption of cryptocurrencies by countries. El Salvador became the first-ever country to recognise Bitcoin as a legal tender back in September. Although the thought of countries adopting cryptocurrency has been within the realm of possibility for individuals in the space, most never anticipated this development to occur this quickly. 2021 would be a year that would be placed as one of the paramount years to future adoption, as more countries follow suit.
Interest in Central Bank Digital Currencies (CBDC) have also been record high among countries. The surge in adoption and the massively growing market for stablecoins have exploded over the year, causing governments to rethink their approach to traditional cash payments and experiment with CBDC's.
4. DeFi Total Value Locked Growth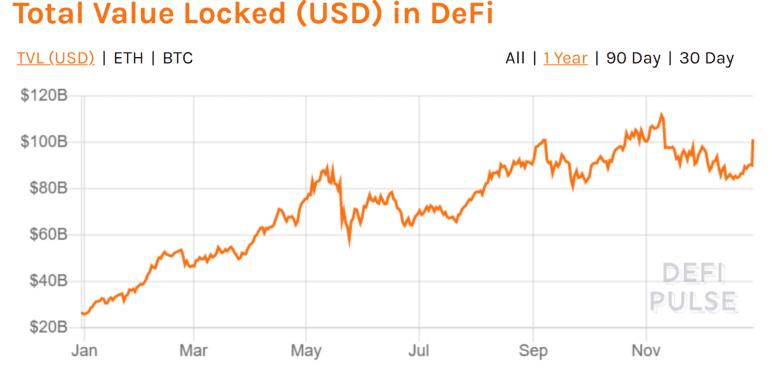 DeFi has cemented itself as a leading sector in the crypto space this year. Total Value locked in DeFi increased from $25 Billion in January to $100 billion by the end of this year. In addition, this year has seen a significant increase in Lending, DEX's, AMM's and derivatives from the introduction of new protocols and participants in the market.
5. NFT & Gaming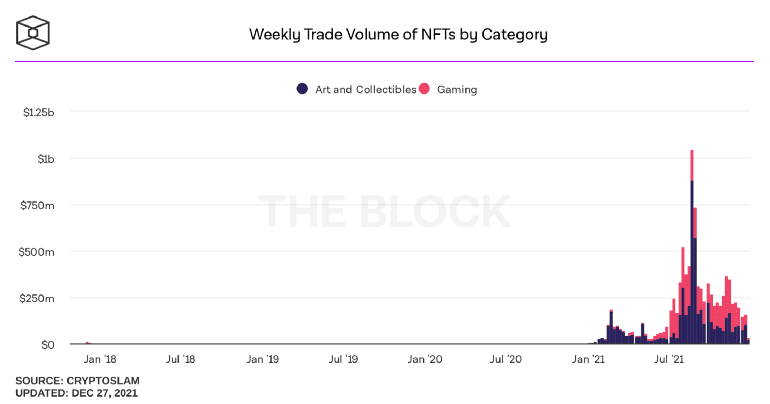 Although the DeFi value has exploded over the past year, 2021 has been in no doubt a year for NFT's as well. The increase in trading volume has been remarkable considering previous years. The rise in NFT's was initiated by the sale of Beeple's $69 million art piece at Christie's auction house in March this year — a purchase that has brought NFT's mainstream attention. Capital has also flowed into GameFi and Metaverse since. 2021 also saw the integrations and involvement of large corporations and organisations like Adidas, Nike and NBA joining the hype.
6. The Layer 1 Race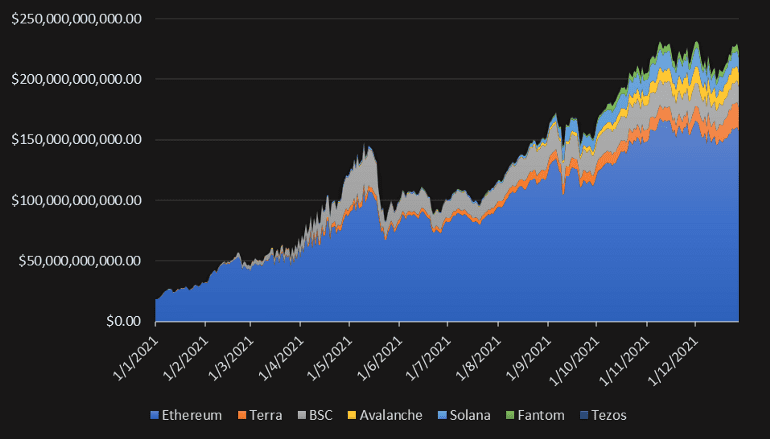 As high gas prices and scalability issues plagued Ethereum this year, we saw an increase in other layer 1 blockchain's aiming to compete against Ethereum. Total Value locked increased from $630 Million in January to a mindboggling $252 billion by the end of this year. Hundreds of millions of dollars of incentives combined with protocols building on the newer blockchains have together contributed to the increased total Value locked among the competitors. As a result, blockchains like Solana, Avalanche, Terra, Fantom have all taken a significant market share off of Ethereum, and the value of their respective tokens have increased exponentially.
7. Bitcoin Taproot & Ethereum EIP-1559 Upgrades
Bitcoin underwent the taproot upgrade, the first major upgrade in 4 years in November this year. It improved the bitcoin networks' privacy, transaction fees and allowed for more smart contracts on the blockchain.
Similarly, Ethereum, the second-largest cryptocurrency, also underwent the EIP-1559 London hard fork in August. The hard fork introduced better gas pricing and a new ETH burning mechanism. Since the inception of the hard fork, over 1.2 million ETH valued at $5 billion has been permanently burnt.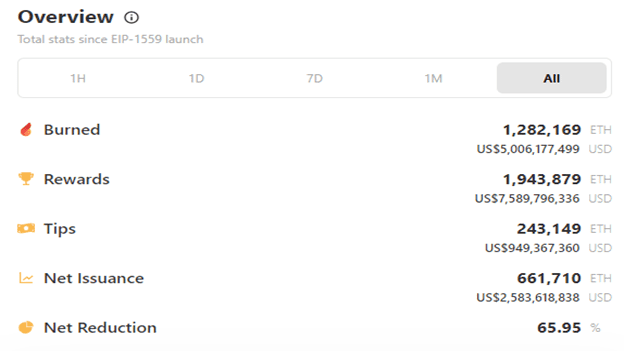 8. Top Gainers of the Year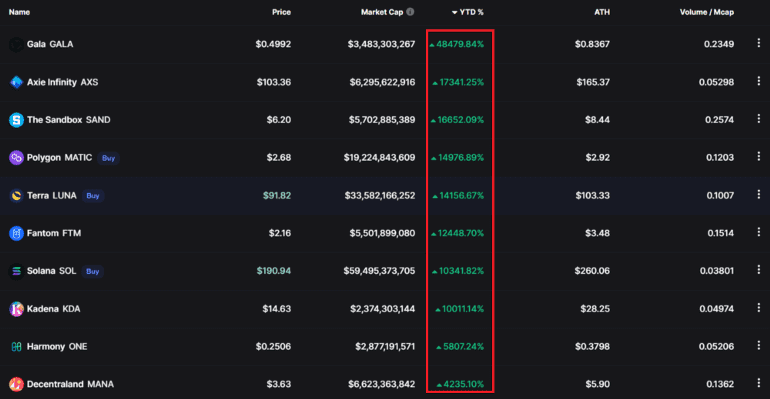 The top 10 biggest gainers this year has been GALA, AXS, SAND, MATIC, LUNA, FTM, SOL, KDA, ONE and MANA. All of these gainers have a unified theme of being either a layer 1 blockchain or part of metaverse and NFT's. The top 3 gainers Gala, Axie Infinity and Sandbox are all part of the metaverse and gaming space.
Start 2022 Right by trading on BitYard!
Trade over 300 other cryptocurrencies on BitYard today! Click here for the detailed guide on how to purchase cryptocurrencies in BitYard.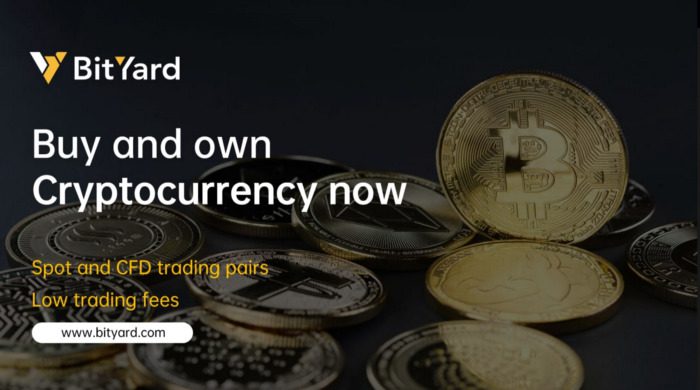 About BitYard:
Founded in late 2019 and headquartered in Singapore, BitYard is a leading global cryptocurrency derivatives exchange. As one of the fastest-growing exchanges, BitYard has continuously optimized and upgraded the platform and has brought many quality trading services to users worldwide. With the new corporate slogan "Grow Your Future in the Yard" BitYard will continue to help investors around the world to achieve their goals through providing one-stop financial trading services.