Happy cookout season, everyone!
You will undoubtedly host (or attend) a number of cookouts and BBQs over the coming months, starting with Memorial Day, continuing through the Fourth of July, and ending with Labor Day. Additionally, the summer party season will be in full swing after a year without any celebrations, necessitating a lot of cookout fare.
It's tempting to bring chips and dip to a cookout because any good host would have made sure our American staples like grilled steak skewers, burgers, and hot dogs are already there. However, the truth is that fruit and vegetable-based side dishes are always appreciated at a summer cookout to counteract the excess meat. You would do well to also go with a 24 pack of Budweiser, Miller, or Coors beer that are all going for $20.99 ea in the Publix weekly ad. It is a celebration, after all!
Here are a few quick, tasty suggestions of healthy foods you can bring to a cookout.
1.   Colorful grilled corn salad
Cubes of Monterey Jack cheese, cucumber, chopped tomato, cilantro and orange bell peppers go well with fresh corn. It gets a bright flavor explosion from a small amount of balsamic vinegar. It's a fresh, colorful grilled corn salad that tastes great and is very healthy. It's the ideal side dish for a cookout or barbecue dinner.
2.   Cornbread muffins
Not many people can resist a little Southern soul food that cornbread muffins are.  The batter can be quickly prepared and you can typically serve them in place of a starch. On the plus side, your hosts will love you if some are leftover. Reheated cornbread muffins are excellent for breakfast when spread with honey, butter, or jam.
3.   Summer squash succotash
This succotash deviates from the traditional recipe, which focuses primarily on corn, lima beans, and perhaps some tomatoes or red bell peppers. Instead of the limas, use chickpeas; include a variety of tender summer squash; and add smoked paprika to enhance the flavor.
4.   Buttermilk ranch potato salad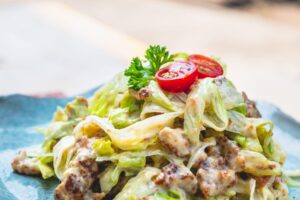 The combination of pillowy potato chunks with a creamy, tangy mayonnaise dressing, table salt, and black pepper is simply divine and comforting. In this dish, traditional potato salad is combined with ranch dressing, another food of the gods.
5.   Cauliflower and broccoli 'coleslaw'
Ditch the cabbage for cauliflower and broccoli, and add crunchy almonds and a tangy dressing, and voila, a new staple you'll be asked to bring to every BBQ thereafter.
6.   Cold sesame chicken and noodle salad
This cold summer salad is made up of chewy rice noodles, fresh vegetables, tender chicken strips, and a creamy sesame-ginger dressing that clings to every last morsel. It's quick and simple to put together, completely satisfying, and not overly heavy.
7.   Grilled veggie skewers
Make some colorful skewers to grill at the cookout. Although you can use any and as many vegetables as you want, the combination of green, red, orange, and yellow bell peppers, red onions, and zucchini has a lot of vibrant, lovely colors and tastes great. On top of that, use a garlic and herb sauce to coat each skewer. This sauce is so delicious that you'll want to drizzle it on everything at the table.
8.   Taco lime shrimp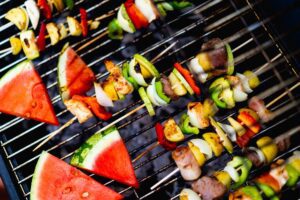 These shrimp are absolutely killer because they are marinated in a mixture of taco seasoning, enchilada sauce, and lime juice. Put them on skewers and grill them lightly, about 3 minutes on each side. Garnish with a bit of cilantro and a little more lime before you serve.
9.   Grilled watermelon
Cut some watermelon pieces and take them to the cookout. The watermelon will be grilled, but you'll also stuff it full of other ingredients like peppers, onions, garlic, corn, avocado, and more. It is beyond delicious how the sweet and savory contrast one another.
10.  Peach-blueberry cobbler
It wouldn't be a complete cookout without dessert, right? It's difficult to top this fruit covered in a buttery, biscuit-like topping with juicy, jammy fruit. This fruit cobbler's flavorful combination of peaches and blueberries is ideal for summer.
We hope that you'll enjoy every cookout you attend this summer!
RELATED ITEMS:FOODS