In order to rank at the top of the search results, a website must have great content, high-quality backlinks and lots of social shares. In order to make sure all of these elements and key factors are in place, it's important to have a reliable SEO tool for tracking not only your own site, but also your competition as well.
This is where Zutrix's ranker track suite and SERP checker tool comes into play.
Zutrix is an AI-powered SEO tool that is simple enough for small site owners and bloggers to use, yet also powerful enough for Fortune 500 companies to take advantage of. Through the use of their wide range of tools, users can view GEO-targeted SERP results, while also comparing the latest data on CPC, market trends and search data. And in comparison to other SEO tools on the market, it's quite competitively priced.
With an easy-to-use user interface and beautiful user dashboard in place, this alone makes Zutrix stand out from the rest of the SEO tools out there. Each user will have access to premium features in a reasonable pricing plan, while also getting full access to all future updates and reports that may be added to the platform. With an advanced user platform and control settings, users can also set up for real-time notifications to be delivered through email should any new search changes come into play.
In addition to everything mentioned so far, Zutrix is also loaded up with individual tools that provide the best insights into Google traffic and what's ranking where and why. All of this and more is readily accessible for site owners that are looking to make huge improvements in their site rankings and SEO optimization.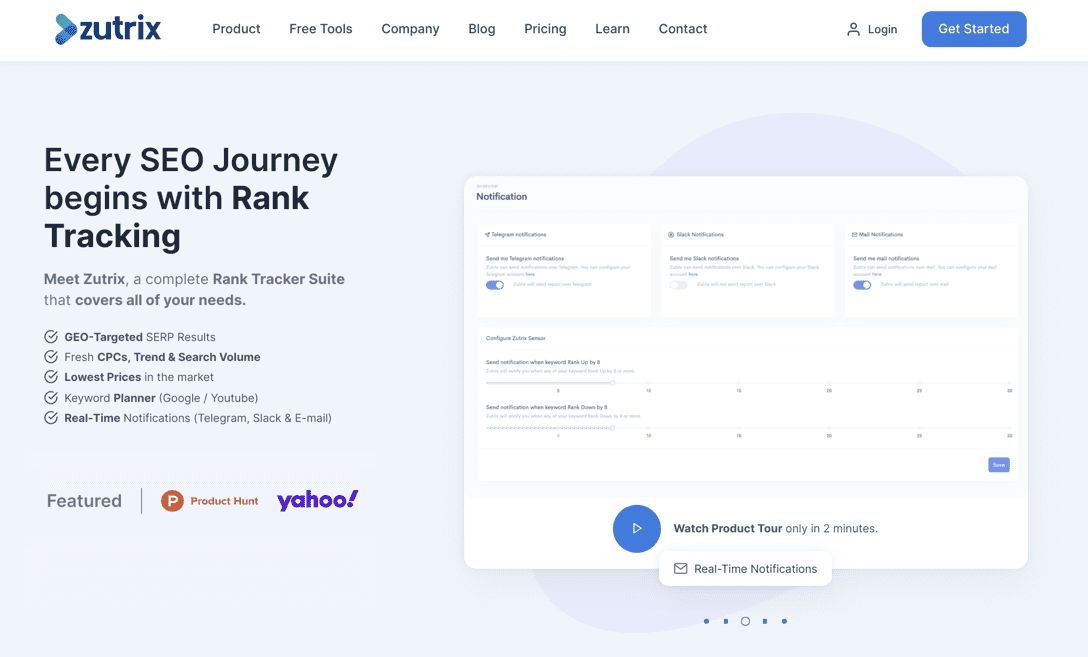 Why Zutrix is the Best SEO Tool on the Market
When looking for a reliable SEO tool, there are plenty on the market to choose from. There are a number of factor thats you will need to consider in order to select the right one. Such factors will include everything from the testimonials you read online, the pricing associated with the tools, and the right tracking tools and reports to measure all areas of your site.
Zutrix covers all of these key points, and you will learn more about each of them through the six bullet points below.
– Accuracy of SEO Keywords and Reports
Zutrix is a well-known SEO software for site owners of all sizes, and not only does it have thousands of users on the platform, it also ranks for some of the most competitive search terms in the world today. This is a great thing to see, as you are going to want to go with a solution that actually represents what they stand for and offer as a service.
With an AI-powered platform, users are provided with the best results, while also having access to a plethora of reports which are all delivered through beautiful charts.
– Report System with White Label
As a user of Zutrix, users will find that the SEO suite provides a number of tools that give a unique and white label combination reporting system. With such capabilities in place, not only can users view all of the necessary tracking for their own sites, they could also launch their own white label SEO agency as well.
After analyzing your own site and discovering how easy it was to implement such changes, you may soon find a future in providing SEO services for other sites.
– Keyword Lab and Custom Tracking Tools
Of the many different tools provided on Zutrix, the Keyword Lab is one of the most useful and powerful tools out there. 
The data provided and tracked through the Keyword Lab, provides users with the latest finds on their tracked keywords and their rankings. This is extremely useful, as it makes it quite easy for users to monitor any up or down movements that they should be paying attention to.
– SEO Strategy and User Analysis
No matter what tool a site owner is going to use, they must have a solid SEO strategy in place. Without this, their just another site sitting amongst millions of others.
Zutrix provides users with detailed reports on how to improve click-thru rates, and making sure they are always paying attention to their top-ranking pages and possible rankings sitting on the second page of Google.
Without a valid SEO strategy in place, there is simply no way to improve existing content and rankings.
– Easy to Use Dashboard and Interface 
When using any type of software solution, it's important to choose one that's easy to navigate and also looks great in the process.
The Zutrix interface and dashboard are very simple to use and the data is visible in a very appealing way. Once logged into the platform, users are sent to their dashboard area, where they can control and access all areas of their account.
– Low Cost Plans for All
Not all SEO tools are the same, nor are they priced the some. In fact, some of them are quite expensive… costing upwards of $999+ per month. That simply isn't the case with Zutrix, as it's one of the most competitively priced solutions out there.
Zutrix has four different pricing plans in place, and some start at just a few dollars per month. Depending on your site needs, you can upgrade or downgrade account limitations at any given time.
Site Audit Report Features
In addition to running SEO reports on your site rankings and competitors, one of the most useful tools on the site is the ability to run a site audit.
Site audit reports help the website owner to track its progress, automate the reports with a better solution, while also analyzing optimization of content as well. By running a site audit, users are notified on the different areas of their site that need improvements, and can then make such changes and run the report again to see their new score.
A search engine optimization report or site audit report fills two significant needs:
Optimization of site content to fit Google's needs

Teaching the user how to better understand their site structure
The more site audits you run and reports you look through, the most effective you will be in knowing how to improve your overall site optimization time after time. This will not only make you a better SEO, but will also help in the preparation of any other new sites you might launch.
The Many Features and SEO Tools Built into Zutrix
In order to control every aspect of your site's optimization and knowing what it takes to rank higher in Google, site owners need more than just a SERP checker tool. In fact, they will need a lot more than that, and Zutrix is adding new tracking features and elements all the time.
Take a look at what every user has access to when using the Zutrix platform.
Location Independent Results
AI-Powered Accuracy
On-Time Notifications
Tracking Competitors
Sharable Reports
Keyword Planner with Volumes, CPCs and Trends
Keyword Lab for Ideas
And in addition to their famous SERP Checker Tool, they also just released the following tools and features to all users on the site.
Keyword Planner
Google Suggest
Word Counter
YouTube Tag Generator
Site owners and content creators will find a lot of value in this tools, as they all help in the content creation and user engagement process.
Zutrix SERP Checker Review Summary
As mentioned at the beginning of the article, with so many different tools out there for analyzing your site optimization and search rankings, it's important to make sure you choose the right one. After highlighting the many different key features above, we highly recommend you take a moment to see what the Zutrix SERP checker and SEO tool is all about.
When it comes to SEO and making sure your site is ranking higher in the search results on a daily basis, having access to a premium tool that provides you with all of this vital information is key.
Visit the site today, create a free trial account and run a quick SEO analysis on your site today.