The eCommerce space is becoming increasingly competitive. If you decide to sell online, you better choose a marketplace that gives you an edge. So far, I've realized that Amazon is the best in the game.
This in no way implies that competition there is inexistent. However, many software tools are specifically designed to help Amazon sellers increase their chances of making sales in the face of the cut-throat fight for conversions.
With software, sellers can conduct product research, keyword research, listing optimization, and in some cases, even manage PPC campaigns seamlessly. This drastically reduces the time and effort required to scale their businesses.
I've used a couple of popular Amazon software tools —- Jungle Scout, Helium 10, Seller App, name them. But in my frantic search for affordable software that offers easy-to-use tools that do a thorough job, only one caught my eye — ZonBase.
So in this ZonBase review, I'll tell you all about my latest favorite software tool. I'll discuss pricing, pros & cons, do an individual ZonBase tool review, and mention anything else worth talking about. 
What Does ZonBase Do?
ZonBase is an Amazon software that offers a versatile collection of tools to help sellers start and scale their businesses seamlessly. 
The software offers about 4 product research tools, 2 or 3 keyword research tools (not exactly sure now), 3 listing optimization tools — including an AI tool that creates optimized listings without any input from you, 1 PPC optimization tool, and a number of other tools for profit tracking and repricing.
They even offer a special collection of tools for resellers. Aspiring or existing wholesalers and arbitrage sellers will find the reseller tools useful.
Sellers who have no prior experience can find profitable products and create well-optimized listings effortlessly using these tools. On the flip side, experienced sellers who already know their way around the Amazon marketplace will find the profit and repricing tool quite intriguing.
I promised to do a comprehensive ZonBase review, so I'll give a detailed review of each ZonBase tool in the next section.
Detailed Review of ZonBase Tools
When it comes down to it, you can actually run your business from start to finish using ZonBase tools. From product research to listing optimization, ZonBase uses an end-to-end self-operated business approach. 
In other words, you won't require any external help to run your business if you just take out time to explore the software's tool suite.
Here's what I think about each tool.
Product Research
ZonBase is constantly reviewing and updating its toolbox, but the last time I checked, they offered five product research tools, including their sales estimator. I'll be considering the sales estimator tool as a stand-alone tool, so let's say four product research tools.
Here's my review of the product research tools.
In my opinion, ZonResearch is the star of the pack when it comes to product research. Using this tool, sellers can carry out in-depth product research in any product category.
The tool literally goes directly into Amazon's catalog and unravels product options you most likely would never have thought of. It provides a list of products that have great demand and are relatively unsaturated, but also offer a good profit margin. 
Here's how I know — ZonResearch comes with a set of filters that allow you narrow down your search preference. You can set your preferred values for price range, number of reviews, monthly sales, monthly revenue, and even best-seller ranking. 
I think this takes away the burden of having a long list of products on your hands but still struggling to make a good pick. 
The Hot Products tool is quite similar to ZonResearch and I honestly don't know if they should have been two separate tools. Good thing though, since you get to run your product search with two tools if you want. 
The Hot Products tool provides a frequently updated list of the latest trending items in any product category. I find this interesting since selling trending items is also a product research strategy.
In addition to providing an extensive list of hot products, the tool also provides a supplier link for each product option to aid product sourcing and I think that's great.
Almost every Amazon software has a Chrome extension tool so I'm not sure this is something spectacular. However, with Zon Chrome Extension you can find new product ideas or validate your own ideas.
So if you already have a shortlist of potential products to sell, you can use the Chrome Extension to validate your choices. 
The tool also provides sales estimates to help you assess the profit potential of any product before you decide to sell.
Sales Analytics
As I stated earlier, the Sales Estimator tool is classified under the product research tools, but I'll review it as a stand-alone sales analytics tool. 
This tool will come in handy for sellers who want to make product decisions based on previous sales history. Using this tool, you can obtain an estimate of the product's average monthly sales, and see how many units your competitors sell in a month.
Keyword Research
Keyword research is a crucial aspect of listing optimization and ZonBase keyword tools do a decent job at this. They offer tools for actual keyword research, then a keyword tracking tool. 
As the name implies, this is ZonBase's main keyword tool. With the keywords tool, you can uncover high-value keywords that shoppers are using, then include these keywords in your listings. 
I also noticed that the tool does not just pull up a random list of keywords, it also provides some sort of metric to help you determine how valuable the keyword is or would be. It provides a seasonality indicator and relevancy score for each keyword option.
ZonTracker is a keyword-tracking tool that shows you the performance of all your keywords over time. 
With ZonTracker, you can see how your product is ranking for specific keywords. The best part? The tool does not just show your search ranking position, it displays the changes in your rank over time as well as estimated monthly search volume for the keywords you track. 
Using the insights from ZonTracker, you can tell what your best keywords are and which keywords aren't converting, and you can review your keyword combinations based on this.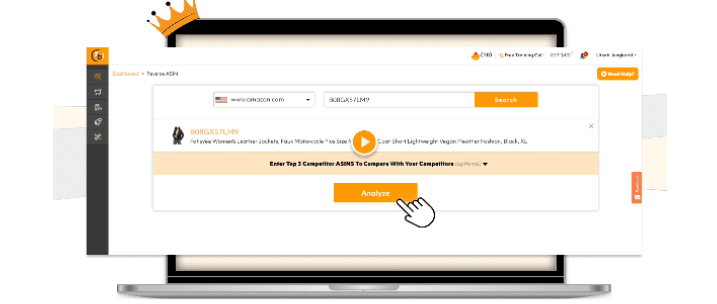 Running a reverse search is a great strategy for beating the competition. Weirdly, only a few software offer reverse ASIN or competitor lookup tools so I think this gives ZonBase bonus points.
The Reverse ASIN tool allows you to look up competitor ASINs and view the back end of their listings. In other words, you can see the keywords they rank for, and target the same keywords. 
Apart from displaying the keywords that your competitors are currently ranking for, the reverse ASIN tool also shows you the rank and estimated monthly search volume for each keyword.
Definitely bonus points for ZonBase in my books!
Listing Optimization 
ZonBase offers three listing optimization tools — Listify and AI Listify. But if you check the tool list on the ZonBase website, you'll see a list of four tools. 
Apparently, they offer a couple of personalized services that allow you to partner with experts who will either do your product research, listing optimization, or even PPC launch on your behalf. 
We'll talk about these services later, just put that out there so you know that if you want to use a do-it-yourself approach, then you only have two ZonBase listing optimization tools at your disposal. Let's discuss them.
These tools essentially do the same thing. The only difference is that AI Listify uses artificial intelligence and Listify does not.
So if you don't want to do the heavy lifting of generating keywords and coming up with catchy titles and content for your listings, AI Listify is your guy.
All you'll have to do is enter a base keyword and the tool will find your top ten competitors, review their listings to uncover their best keywords, then create a new, unique listing for you using these keywords.
It doesn't end there, AI Listify is also built to generate listing content with bullet points, descriptions, and titles with minimal input from you. 
If you prefer to be in control and don't mind doing all the work yourself, then Listify is perfect for you. And it's very simple, you just have to do everything AI Listify does.
PPC Launch and Optimization
The competition on Amazon is pretty fierce and you cannot exactly trust the algorithm to favor you. So one way to put your best foot forward is to leverage advertising — run PPC campaigns. 
Pro tip — Before you launch a PPC campaign, be sure you have the bandwidth and a budget that allows you to see results. This is where a PPC launch and optimization tool comes in.
With ZonPPC, you can launch ad campaigns, optimize bids, find high-converting keywords, and change budgets while running your ads. But the best part is actually that you can view your campaigns and see how they're performing.
So you can maximize your ad spend and still save time while at it. 
Profit Tracking
I honestly believe that ZonBase's end-to-end approach is interesting and my reason is basic. Other seller tools only focus on providing solutions to the most pressing tasks like product research and listing optimization, but ZonBase goes a step further to provide a profit-tracking tool.
The Profits tool makes financial tracking way easier, especially for sellers who have little accounting experience. Oh, or people like me who hate numbers.
Using this tool you can view your sales performance and get a clear view of your business's financial health. The tool allows you to see your gross revenue, costs, net profit, and profit margin over a specified period of time (you call the shot).
The tool also comes with an inventory forecasting feature that allows you to get notifications when your stock level is low, and obtain an estimated restock date based on sales history.
Price Tracking
If you've sold on Amazon for a while, you know how crazy price fluctuations can be. If you're not willing to turn a blind eye to even the smallest changes in price, you'll find the ZonRepricer tool handy.
The ZonRepricer tool is a price-tracking and adjustment tool that allows you to set pricing rules while the tool automatically implements the rules when your product's price fluctuates.
Of course, updating your prices regularly increases your chances of winning the Buy Box. So, if you do decide to use ZonBase, don't sleep on this tool.
Reseller Tools
One of my favorite things about ZonBase is how they keep expanding their tool suite. Before now, they only offered basic seller tools. 
Now, they offer a set of tools for resellers — wholesalers and arbitrage sellers who want to find reliable product options or discover authentic suppliers to purchase inventory from.
The seller insights tool allows aspiring or existing resellers to find reliable sellers (private labelers and manufacturers) to partner with.
The tool provides important seller data like total revenue, brand selling count, total reviews, and total ASIN count. 
When it comes to reselling on Amazon, you'll likely be selling existing products. So the best way to start is to invest in products from brands that your target audience love.
The Brand Analytics tool provides a clear view of the top brands in any category. You can choose the best brand-name products to sell based on sales performance, reviews, and total reviews. 
Zon Grading is a product research or validation tool for wholesalers. The tool allows you to ascertain the profit potential of any wholesale product option.
All you have to do is upload a list of product options from your supplier, and the tool will pull up crucial sales data like the number of monthly units sold and the current selling price of each product.
You can also obtain an estimated profit margin for any product you intend to sell, based on the COGS (cost of goods sold).
This tool is pretty similar to the Zon Grading tool, the only difference is that this is for arbitrage sellers.
So if you walk into a store and spot a product that you would love to resell on Amazon, all you have to do is to scan the product barcode with this tool and you'll be able to confirm its profitability. 
What I particularly loved about Zon Scanner is that it is a mobile app, unlike other ZonBase tools. So, you can scan product barcodes right at the store and obtain an extensive list of important product information like BSR, monthly estimated sales, monthly estimated revenue, and the number of reviews.
Zon Scanner also provides an in-built profitability calculator that allows you to obtain an estimated profit margin for any product by entering the product ASIN. It factors in the seller fees and referral fees based on the category.
The tool is available for iOS and Android on App Store and Play Store.
Personalized Services
If you're not part of the do-it-yourself gang, you would love ZonBase even more because they offer a set of services that allow you to work with a team of experts who will get stuff done on your behalf.
The personalized services cut across product research to PPC optimization. Here's an overview.
If you opt for this service, you'll work with a team of experts who will validate your product choices based on a set of criteria. 
Will the product make sales? Is it a prohibited product on Amazon? These are some of the questions they'll answer and base your final choice on.
These are PPC optimization services. The team will launch and manage your campaigns using their experience of what strategies are bound to yield conversions or which keywords are likely to perform better.
Don't think you have time to optimize your listings yourself? If you opt for the ZonBase listing optimizer service, you get to work with a team of experts who will carry out keyword research and optimize your listings in a way that helps to improve your search rank.
If you've sold on Amazon for a while, you'll know how important your product images are. But what if you don't have any photo editing experience? ZonBase's photo enhancer service allows you to work with a team of photography experts who will edit your product photos professionally to help capture audience attraction and increase your chances of conversion.
ZonBase Review — My Thoughts About the Personalized Services
In my opinion, the Photo enhancer tool is the most relevant of the personalized services. Why? 
Because if you're signing up for the complete tool suite, you might as well use the tools you paid for, right? You'll have a collection of tools for product research and listing optimization at your fingertips, so there's really no need to outsource that.
But that's just what I think, it's completely up to you to decide.
Honest ZonBase Review — Pros & Cons
For someone who is almost never satisfied with software, I've hopped around a lot and tried a number of tools, and for ZonBase, I honestly think that the pros far outweigh the cons.
I'm not trying to say that the tool is perfect (there's no perfect tool or 100% accurate tool, by the way), I just think the benefits blur out the cons. But this is an honest review, so I'll tell you the pros and cons and leave the ultimate decision up to you.
Pros
Constantly updated tool suite

— they are always adding new tools and expanding the features of their tools.
Affordably priced plans

— the tool suite is quite comprehensive for the price points they offer.
Robust tool suite

— I particularly like that they offer more than one tool for each task.
Easy-to-navigate tools

— if you're patient enough, their tools are pretty easy to understand and use.
Cons
Learning Curve

— Because they are constantly updating their tools and adding new tools, you may have to find a way around new stuff from time to time. The good thing, however, is that they have a "ZonBase Academy" section on their website that contains walkthrough videos that show how to use each tool.
The personalized services cost an additional fee. I'll discuss this in the next section.
ZonBase Pricing Review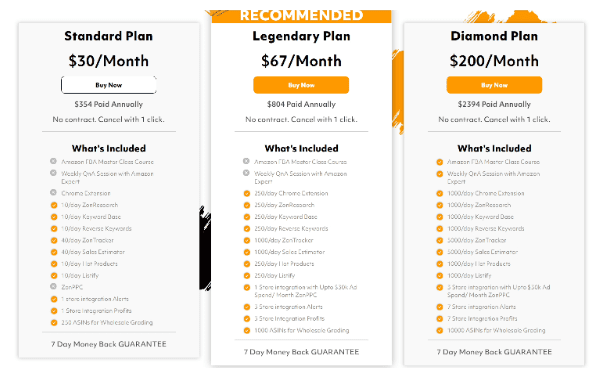 ZonBase offers three affordably priced plans; the standard, legendary, and diamond plans. It also offers an exclusive package which is basically a combination of seller tools and personalized services, although not many people are aware of this. 
The accessible tools and monthly usage limits vary depending on the plan you choose. Here's what you get on each of the plans.
Standard Plan
This plan costs $30 per month and gives you limited access to all ZonBase tools except the Chrome Extension and ZonPPC tools. 
Legendary Plan
The Legendary plan costs $67 per month and gives you complete access to ZonBase tools, including the extension and ZonPPC tool. In addition to this, the features come with an extended usage limit. 
Diamond Plan
The Diamond plan is the most comprehensive plan, and as expected, it is also the most expensive plan at $200 per month. If you opt for this plan, you get access to all ZonBase tools, a detailed Amazon FBA masterclass, and weekly Q&A sessions with top Amazon experts.
You can save money when you sign up for an annual subscription to any of the plans. The plans cost $354, $804, and $2394 annually.
Check out the pricing plans
ZonBase Plus
ZonBase Plus is the exclusive package that gives you access to all the personalized services, as well as the complete suite of seller tools on the Diamond plan. The plan costs $1,997 but you'll have to join the waitlist if you want the Plus plan.
Pricing for Individual Personalized Services
The personalized services do not come as part of the regular plans. 
Product validator costs $197/1 product, $397/5 products, and $397/3 products.

Listing Optimizer costs $397/per ASIN, $647 for 1 ASIN and 5 enhanced product photos, and $497 for 2-5 ASINs and 5 enhanced product photos.

Photo Enhancer costs $197/1 photo, $647/5 photos + 1 optimized ASIN, $397/5 photos.

Page One costs $397/keyword launch, $497 for 30 days of fully managed PPC + keyword launch, and a customized plan that seems negotiable.

PPC Autopilot has four plans that cost $497/month, $697/monthly, $897/monthly, and a customizable plan.
ZonBase Review: Jungle Scout and Helium 10 vs ZonBase
This ZonBase review will be grossly incomplete if I don't put ZonBase up against other software tools.
If you've been in the software-hopping game for a while as I have, you'll have come across a couple of Helium 10 vs ZonBase or ZonBase vs Jungle Scout reviews. But here's what I think about ZonBase compared to Helium 10 and Jungle Scout.
Based on pricing, ZonBase is better because it offers the most affordable plans. Jungle Scout comes close, but the cheaper plans are not as comprehensive as ZonBase's standard and legendary plans. Helium 10 on the other hand, has more steep price points.
Based on free trials, ZonBase is still top of the list. Helium 10 offers a free trial and Jungle Scout doesn't but they do offer a moneyback guarantee. ZonBase however offers a 7-day free trial.
I think pricing and free trials are the most important criteria to base your choice of software on. Is it within your budget? If yes, do they offer a free trial that gives you enough time to explore the tool suite and decide if the tools meet your standard?
Final Words
I think ZonBase is pretty great for the most part and if you're on a budget, you can still access their tools with the standard plan.
This ZonBase review is however based on my personal opinions, so at the end of the day your decision should be based on your preference. Be sure to weigh your options and sign up for a free trial of ZonBase before making a final decision.