ZEX PR WIRE ™ is delighted to announce that they are now the official Exhibiting as Silver Sponsor at TOKEN 2049 . TOKEN2049, Asia's premier Web3 and crypto conference, has announced its first batch of high-profile title sponsors and headline speakers for its much-anticipated Singapore return. TOKEN2049 will take place from 13-14 September 2023 at Marina Bay Sands, ahead of the Formula 1 Singapore Grand Prix 2023 race weekend.
TOKEN2049, the premier event in the blockchain, Web3, Crypto, and digital asset ecosystem, is gearing up to host over 10,000 attendees from more than 3,500 companies, solidifying its position as the largest gathering of its kind this year. Returning to Singapore, the conference underscores Asia's enduring significance as a driving force behind growth and innovation in the global digital asset landscape. 
Alex Fiskum, Co-Founder of TOKEN2049, expressed excitement about the event's triumphant return to Singapore, stating, "We've seen unprecedented traction and interest amid a record number of ticket registrations to date and confirmed speakers, sponsors and partners in our line-up. We expect TOKEN2049 Singapore to be the largest crypto event of the year, an unforgettable experience that will surpass our previous editions in terms of size, activity, and overall excitement."
The conference will gather influential industry leaders, top decision-makers, and innovators from across the globe. New additions to the 2023 agenda include hacker houses, technical workshops, and NFT galleries, among other captivating events. As numbers surge ahead of September, this year's edition has already outpaced last year's attendance, sponsorship, and speaker milestones.
Saurabh Singla, Co-founder and Chief Business Officer at ZEX PR WIRE ™ , shared the excitement of TOKEN2049 Singapore, as this is the best opportunity for Blockchain Project to meet the community and biggest investors under the same roof. As the market is bit side-wise but contains huge potential this will be the best time to build and launch any consumer facing blockchain solution. Apoorv Gupta, Co-founder and Chief Marketing Officer at ZEX PR WIRE ™ says "We are very excited to help these startups and the blockchain ecosystem in whole to leverage the power of digital media to reach wider audience and bring smart adoption"
What to expect?
Whales of the crypto industry at one place

Top speakers with world-changing insights and analytics 

Global expo of the latest Web 3.0 technologies
Keynote speeches from cryptocurrency industry leaders
Attendees will hear from some of the biggest names in the blockchain and crypto world, who will share their insights and predictions for the industry's future.
With TOKEN2049 Singapore poised to set new benchmarks and foster meaningful connections within the digital asset ecosystem, the stage is set for an unparalleled and memorable experience for all participants.
Networking opportunities
Building on the resounding success of its record-breaking Singapore 2022 event, TOKEN2049 has curated an extensive program featuring over 300 side events and networking opportunities set to take place from September 11 to 17 throughout the city-state.
What to Expect from TOKEN2049 Singapore
The diverse agenda for 2023 encompasses discussions on the ever-evolving regulatory landscape, the ascent of AI, Web3 gaming, NFTs, the metaverse, DeFi, scalability, interoperability, and more. An impressive lineup of speakers awaits attendees, including luminaries like Balaji Srinivasan, Joe Lubin, Stani Kulechov, Mike Novogratz, Sandeep Nailwal, Brad Garlinghouse, and other prominent figures from the industry.
The list of title sponsors for TOKEN2049 Singapore reflects the industry's vibrancy, featuring leading names like OKX, Circle Internet Financial (Circle), Binance, DWF Labs, EOS Network Foundation, Tranchess, Kucoin, Polkadot, Fireblocks, TRON DAO, Bitget, Klaytn, and Islamic Coin, the world's first Sharia-compliant crypto asset. Together, they contribute to the success and diversity of the event.
Register Today: https://www.payment.token2049.com/?promo=ZEXPR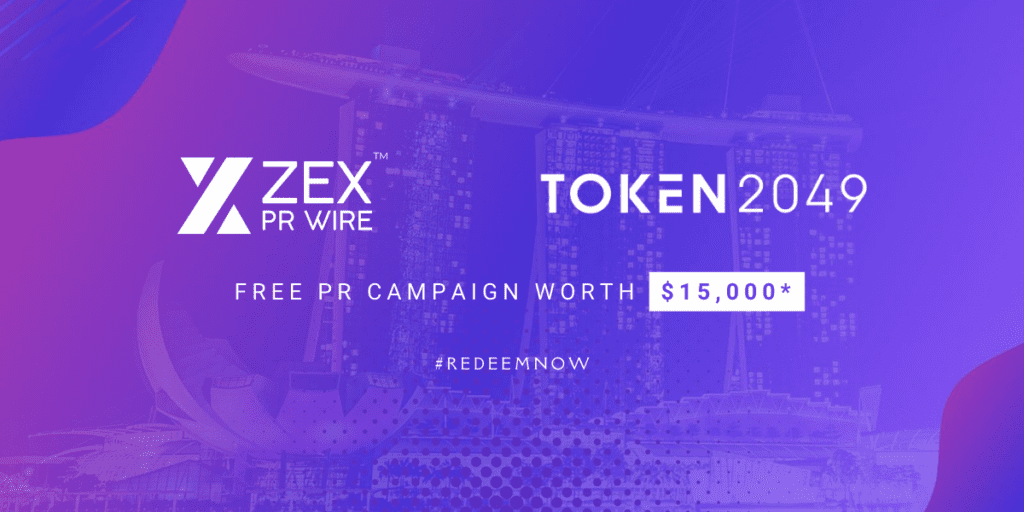 Form Here – https://docs.google.com/forms/d/1i7-_JlAQzW1CtaKXsZohLywrJAhbK1D3rYHpTzB_YSM/edit
About ZEX PR WIRE ™
Welcome to the world of ZEX PR WIRE™, the ultimate end-to-end solution for producing, optimizing, and precisely targeting content! We are a powerhouse that brings together the most extensive multi-channel content distribution and optimization network, along with comprehensive workflow tools and platforms, to serve the needs of thousands of esteemed clients worldwide. With our offices spanning across America, Europe, the Middle East, Africa, and the Asia-Pacific regions, we have solidified our reputation as a global force to be reckoned with.
At ZEX PR WIRE™, we take pride in our remarkable track record, having catered to over 2700+ clients to date. Our achievements include the syndication of more than 6000+ press releases, reaching a whopping 500+ premium global and local news outlets in the digital realm. Our reach knows no bounds, and we are not limited to just traditional markets; in fact, we have built strong collaborations, either direct or indirect, with top-notch blockchain news and media houses such as Cointelegraph, Bitcoin.com, NewsBTC, Coinspeaker, Etrendy Stock, Newsaffinity, City Telegraph, TheTechly, NewsAlarms, Techbullion, U.Today, and many more!
When you partner with ZEX PR WIRE™, you can rest assured that your content will reach its intended audience with unparalleled precision and impact. Our expertise, innovation, and passion drive us to continually push the boundaries of content distribution and measurement, making us the go-to choice for businesses and organizations seeking excellence in public relations and communications.
Join us on this exhilarating journey as we revolutionize the world of content dissemination, one press release at a time. Together, we'll soar to new heights, crafting compelling narratives that captivate the world and leave a lasting impression. Welcome to the future of PR with ZEX PR WIRE™!
If anyone would like to know more about ZEX PR WIRE ™services, please feel free to write to us at or visit our website https://zexprwire.com/.
For Collaboration and Partnership: ag@zexprwire.com 
For Support and sales: info@zexprwire.com , saurabh@zexprwire.com