In the rapidly evolving landscape of grooming devices, the YA-MAN Hot Shave Heated RF Electric Shaver stands out as a true game-changer. This cutting-edge device from Japanese beauty innovator YA-MAN brings the benefits of a hot towel shave to the comfort of your own home and introduces Radio Frequency (RF) technology to the US shaving market. Let's delve deeper into why the YA-MAN Hot Shave has been Japan's top-selling shaver for four consecutive years and why it's become a must-have device for the modern man.
Revolutionizing Shaving with RF Technology
What sets the YA-MAN Hot Shave apart is its integration of Radio Frequency (RF) technology. By incorporating RF waves, this electric shaver offers a unique advantage: the ability to warm up the skin while promoting the natural production of collagen and elastin. This infusion of gentle heat enhances the shaving experience, resulting in a closer, more comfortable shave. Comparable to the luxury of a hot towel shave, the YA-MAN Hot Shave provides a spa-like experience that improves skin softness and elasticity. It combines the art of grooming with the science of skincare, offering a truly innovative approach.
Unparalleled Convenience and Efficiency
Designed with a 100% waterproof and lightweight body, the YA-MAN Hot Shave can be used anywhere, including in the shower. Its wireless and portable design allows for effortless on-the-go touch-ups, ensuring a well-groomed appearance wherever you are. The device features two rows of skin-safe blades that work in harmony to cut hair from the root, resulting in a remarkable 15% reduction in visible hairs above the upper lip compared to other products on the market. Say goodbye to stubborn stubble and hello to a smooth, flawless look.
A Comfortable Spa-Like Experience
A hot towel shave is the epitome of grooming indulgence. Now, you can enjoy that luxurious experience from the comfort of your own bathroom, thanks to the YA-MAN Hot Shave. The gentle warmth emitted by the shaver relaxes and softens the skin, ensuring a seamless and comfortable shaving experience. The 3-D Motion Head adapts to the contours of your face, delivering a smooth shave without any nicks or cuts. With the YA-MAN Hot Shave, grooming becomes more than just a routine—it becomes a moment of self-care, leaving you refreshed and revitalized.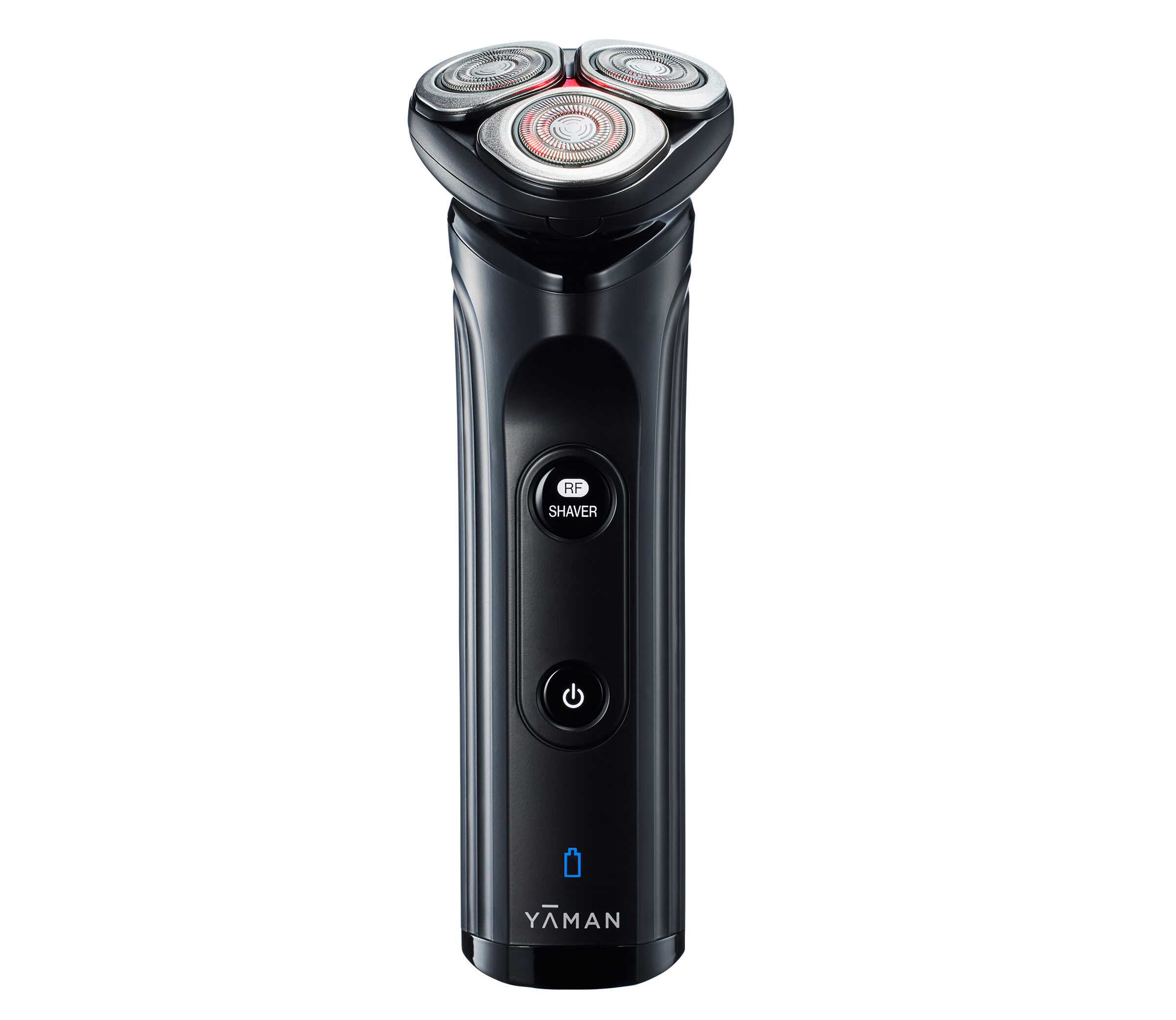 A Smart Investment for Long-Term Savings
While the initial price tag of $299 may seem substantial, the YA-MAN Hot Shave proves to be a smart investment. Its high-quality construction and advanced technology translate to long-term savings by reducing the need for frequent blade replacements. With a satisfaction rate of 92%, it's evident that this product delivers on its promises. Additionally, the RF waves emitted by the device stimulate collagen and elastin production, effectively reducing the appearance of fine lines and wrinkles. It's not just a shaver; it's a comprehensive skincare solution.
A Brand You Can Trust
YA-MAN is a brand that stands out in the beauty device industry. As the first at-home beauty device brand to be invited to the World Congress of Dermatology, YA-MAN has a proven track record of cutting-edge innovation and excellence. With over 45 years of award-winning research and development, the YA-MAN Hot Shave brings next-generation innovation to your bathroom, allowing you to experience professional-grade grooming from the comfort of your own home.
The YA-MAN Hot Shave Heated RF Electric Shaver represents the epitome of grooming innovation. Its seamless blend of heated shaving technology, convenience, efficiency, comfort, and long-term benefits makes it a standout device in a crowded market. Say goodbye to mundane grooming routines and embrace the future of grooming with the YA-MAN Hot Shave.
The YA-MAN Hot Shave Heated RF Shaver is available to purchase at YA-MANUSA.com or on Amazon.