XinFin (eXchange inFinite) is a hybrid decentralized blockchain that collaborates with the most prominent travel agency Travala.com to integrate payments through XDC coin.
The recent partnership will allow XDC coin holders to book more than 2.2 million hotels and homes, over 600 airlines, and more than 40,000 activities in over 230 countries. This partnership pushes XDC's network's mission forward, growing the token's use cases and getting the added value. In addition, the partnership also indicates an innovative form of crypto-based payment for the travel industry.
Even more, the partnership allows the XDC holder to participate in a travel economy along with the leading crypto assets such as  Bitcoin (BTC), Ethereum (ETH), and Travala.com's native AVA token. Additionally, XinFin will utilize Travala.com's corporate account services for the internal travel requirements of the company.
With savings of up to 40% available on Travala.com, a total of more than 3 million travel products will soon be at the fingertips of XDC coin holders globally. However, increasing the exposure of XDC Network's ecospace to an ever-expanding user base.
XDC Coin is Now Among Top 100 Crypto Based on Market Cap
XDC Network is a hybrid blockchain technology firm optimized for international trade and finance. Moreover, the XDC Network is energized by the native coin called XDC. The XDC protocol is created to support smart contracts, 2000TPS, Green coin, 2 seconds transaction time, KYC to Masternodes.
According to CoinMarketCap, the XDC price is $0.063 with a 24-hour trading volume of $6,114,707, at the time of writing.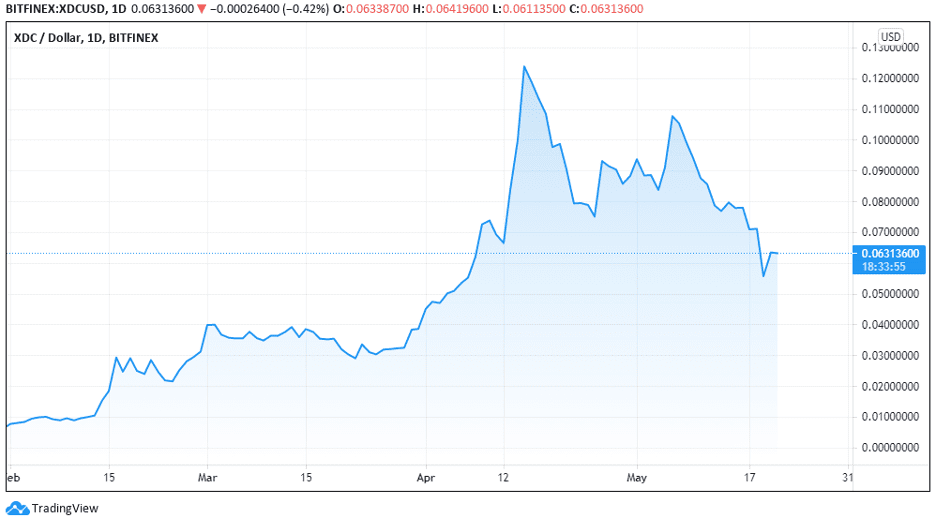 XDC Price Chart (Source: TradingView)
Furthermore, the XDC Chain (XinFin Digital Contract) utilizes XinFin Delegated Proof of Stake (XDPoS), with the intention to develop a 'highly-scalable, secure, permission, and commercial grade' blockchain network. XinFin mainnet token XDC and also develops an opportunity to utilize XinFin's real-world use-cases such as TradeFinex.org.
On the other hand, Travala.com is the most epic cryptocurrency-friendly travel booking service with 2.2 million properties, over 400k activities in 230 countries, and 600 airlines globally. Travala.com is a champion of cryptocurrency adoption, accepting more than 50 leading cryptocurrencies along with traditional payment methods.