A while ago, Wuben informed their users that they were working on a 12,000 lumens flashlight. Well, the powerful Wuben X1 ECL flashlight is finally here. Inspired by the fact that most 12,000 lumens flashlights available on various shopping sites are always dull and featureless, Wuben has decided to up the game. The Wuben X1 is a multipurpose flashlight that serves every lighting need. Small and powerful, this is arguably the highest brightness level Wuben has ever achieved.
One thing about the Wuben X1 is that it's designed uniquely, and unlike traditional flashlights, it's rectangular, making it easy to hold and even sit on a flat surface. The casing is also made using hard-anodized aluminum, thus maintaining a balance between strength, appearance, and durability.
Inbuilt Cooling Fans
A flashlight is always overheated when on high brightness, which can be disastrous. So to avoid the potential risks, Wuben created the X1 with an active cooling system. The cooling fans are waterproof and are designed to dissipate heat, thus protecting the circuits and LEDs. This ensures that the flashlight offers maximum performance for a long time without any damage. Remember, such heat produced by flashlights is also unsuitable for human health when exposed for a long time. So the Wuben X1 makes sure you're protected from such dangers.
12,000 Lumens and 303 Beam Distance
With a maximum output of 12,000 lumens, the Wuben X1 is the most powerful flashlight Wuben has ever produced. It oozes out 12,000 lumens through the 3 CREE XHP70.2 LEDs capable of reaching a whopping 303 meters. Such a powerful output means the flashlight can turn day into night as it brings the sun into your hands and gives you the power to control it.
The flashlight is also portable, and you can have it around whenever you need it. You can hang it on your carabiner or carry it in the backpack. And if you're a cyclist, don't worry; the Wuben X1 comes with a handlebar mount so that you can use it as a bike light to light your way. It's worth noting, however, that at the moment, the bicycle mount is not included in the package. It will be available by the end of December, so if you want to get yours, organize with the store for more information. All said and done; the Wuben X1 is suitable for all kinds of adventures; camping, hiking, or hunting.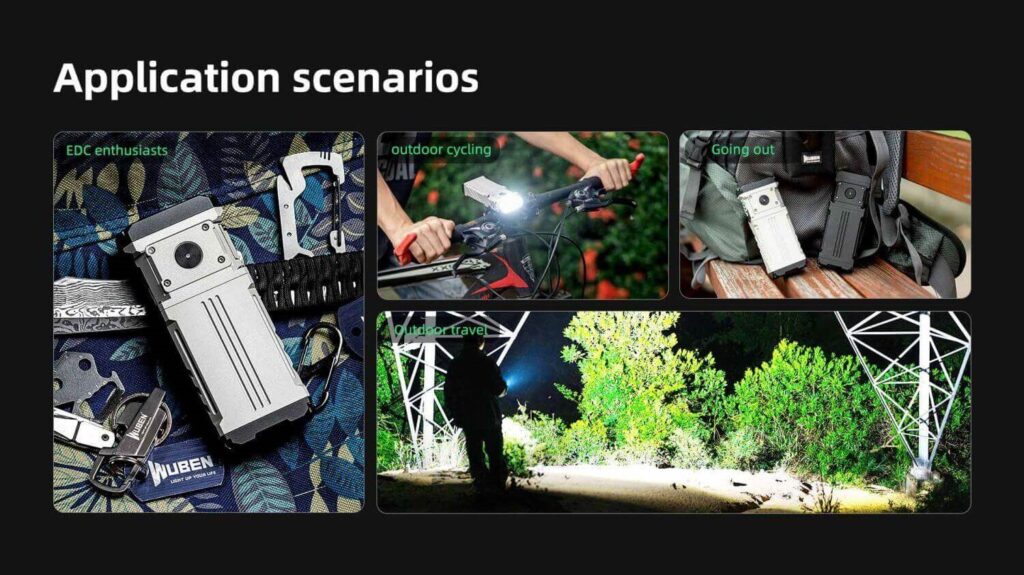 Seven flashlight settings
There are five lighting modes, but two additional flashing modes, the Strobe and SOS, bring the settings to seven. Each of these modes has its unique uses and can meet your needs for whatever outdoor or indoor activity.
USB Rechargeable Via a Type C cable
In the package is a USB Type C cable used for charging the flashlight. Connect it to the wall or any power source, and you're good to go. It takes a maximum of two hours to charge, and on 3000 constant lumens, the flashlight can run continuously for 1.7 hours. While in standby mode, the flashlight can stay with power for several days.