Solve the "Word Found Unreadable Content" using Proven Methods
Imagine the frustration of opening a crucial Word document, only to be met with the disheartening message of "Word found unreadable content" or "unreadable content in Word." This perplexing error can bring your work to a screeching halt, leaving you searching for solutions to recover your valuable information. But fear not! In this article, we will unravel the reasons behind the "Word found unreadable content in…" error and provide you with effective methods to regain control of your documents swiftly and effortlessly.
What is
the "Word Found Unreadable Content In…" Error?
The "Word found unreadable content" error message typically occurs when you try to open a Word document that contains corrupted or incompatible elements. This error message serves as a precautionary measure by Microsoft Word to protect your system and prevent potential issues that may arise from opening a document with unreadable content. 

Reasons Behind the "Word Found Unreadable Content In…" Error
If you encounter the 'Word found unreadable content' error, it can be caused by several reasons:
Document corruption: The document may have become corrupted due to various reasons, such as a sudden power outage, a system crash, or a faulty storage device. 
Compatibility issues: The document might have been created in a newer version of Word or using features that are not supported by the version of Word you are using. 
File format mismatch: For example, if you try to open a file with a .docx extension as a Word document, but it is actually a file from a different program or in a different format, Word may consider it as unreadable content.
Necessary Preparation Before Fixing Unreadable Content in Word
Before we delve into the steps to fix unreadable content in Word, it's important to pay more attention to the importance of recovering your corrupted Word files first. This precautionary measure ensures that even if the Word document gets permanently damaged during the repair process, you still have a source to retrieve your valuable content.
To simplify the recovery process, we recommend using Tenorshare 4DDiG – Windows Data Recovery. This comprehensive data recovery solution is specifically designed to retrieve accidentally deleted data, including Word documents, from both Windows and Mac computers. With its versatility, 4DDiG can assist you in various scenarios, whether your Word document is infected with a virus or has become corrupt due to an outdated version of MS Word. Furthermore, the tool supports over 1000 file formats, meaning you can recover other accidentally deleted data as well.
Here are 3 simple steps to recover a corrupt Word document using Tenorshare 4DDiG:
Step 1: Firstly, Install and launch this tool on your PC. From the home screen, select the location where your corrupt Word document is stored. Then, click the "Scan" button to proceed. You can also choose the document option from the upper-right corner.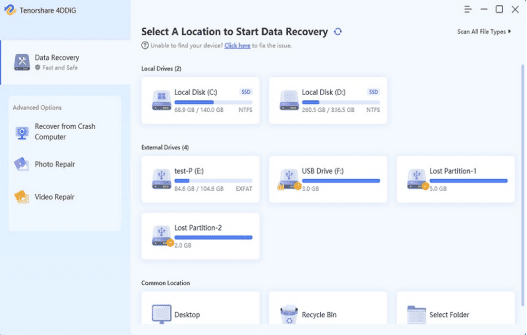 Step 2: 4DDiG will initiate the scanning process, thoroughly searching the selected drive for corrupt Word documents. You can pause or stop this scan process at any time.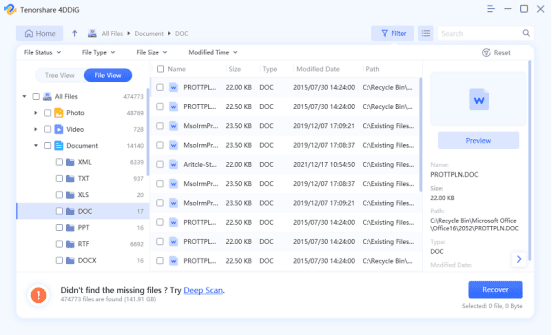 Step 3: Once the scanning process is complete, you can select the Word documents you wish to recover. To preview the content, click on "Preview" in the right-side panel. After verifying the preview, click the "Recover" button and choose a location to save the recovered Word document.
By following these steps, you can effectively recover your corrupt Word documents using Tenorshare 4DDiG.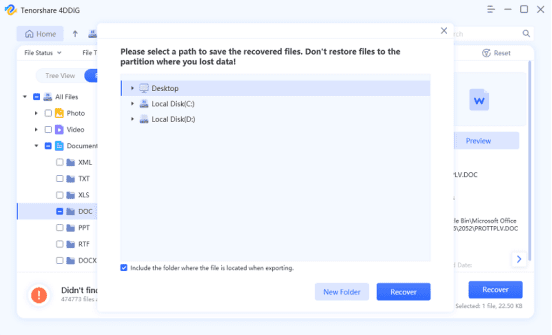 7 Fixes on the "Word Found Unreadable Content" Error
Solution 1: Use "Open and Repair" Feature
Step 1: Press "Win+X" key and type "Word" into the search bar. Then, launch MS Word.
Step 2: Click on "Open" > "Browse".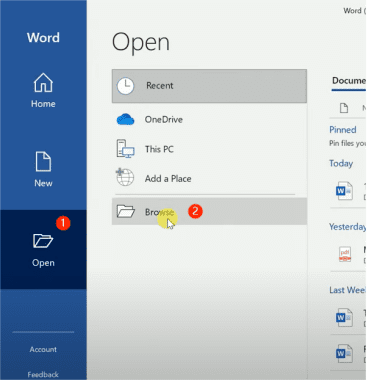 Step 3: Then, Select the problematic file and then click on the down arrow key next to the "Cancel" button.
Step 4:Choose the last option labeled "Open and Repair." This will initiate the automatic repair process for the corrupted file.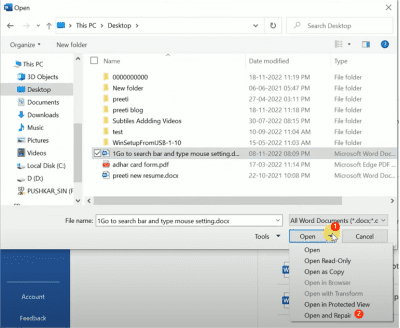 Solution 2:Try Word Recover Text Converter
When you encounter an error in Word while attempting to open a file, displaying messages like "Word found unreadable content in…" or "unreadable content in Word," you can try utilizing the Word Text Recovery Converter to repair the corrupted files.
Step 1: Open the Microsoft Word application using the method mentioned earlier.
Step 2: Click on "Open" > "Browse" and navigate to the files that are showing the "Word found unreadable content" error.
Step 3: Select the files and in the bottom right corner of the Open dialog box, click on "All Word Documents." From the drop-down list, choose "Recover text from any files."
Step 4: Simply click the "Open" button and patiently wait for the damaged file to open.
Please note that the Word Text Recovery Converter can only retrieve text from a file. If your Word document includes images, charts, or other embedded elements that require repair, this option may not provide the desired effectiveness.
Solution 3: Update the Version
it is recommended to check for and update both Microsoft Office and the Windows operating system. This helps ensure that both Office and Windows are running the latest versions, potentially resolving any compatibility issues that may have caused the unreadable content error. Follow these steps to update it:
Step 1:Open a known working Word document and click on "File" in the top toolbar.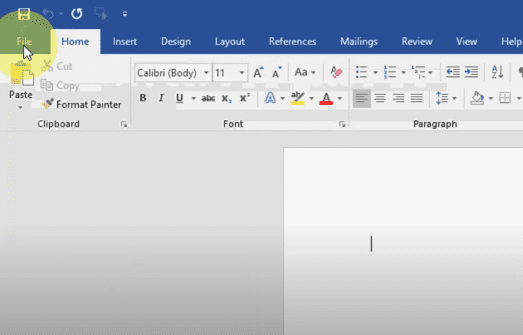 Step 2:Select "Account" from the left panel.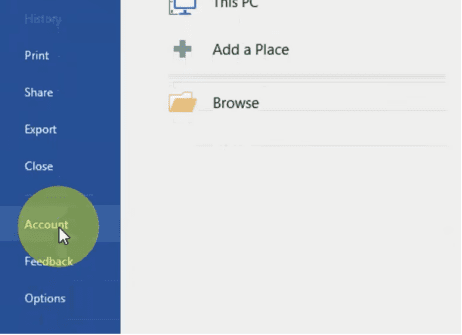 Step 3:Under the "Product Information" section on the right, click the dropdown menu for "Update Options" and choose "Update Now" from the list.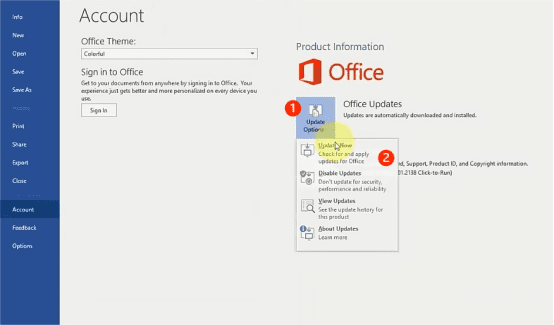 After updating Microsoft Office, it is also important to check for Windows Updates to ensure that your operating system is up to date. If you don't know how to update your OS, check it from Microsoft support services.
Solution 4:Uncheck the "Read-Only" Option
When a Word document is in read-only mode, it can result in the "Word found unreadable content in" error. To resolve this issue, you can remove the read-only attribute by following these simple steps:
Step 1:Right-click on the Word file that is experiencing the "Word found unreadable content" error and select "Properties".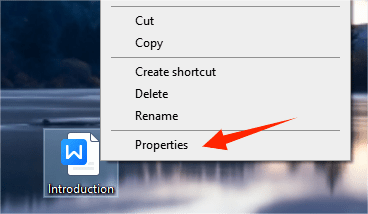 Step 2:In the General tab, locate the "Read-only" checkbox and make sure it is unchecked.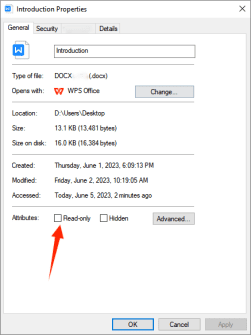 Step 3:Click on "Apply" and then on "OK".
Solution 5:Disable the" Protected View" Feature
Disabling the Protected View feature in Word can potentially resolve the "Word found unreadable content" error, follow these steps:
Step 1: Open Microsoft Word and go to the "Options" menu from the left pane.
Step 2: In this window, navigate to the "Trust Center" tab and click on the "Trust Center Settings".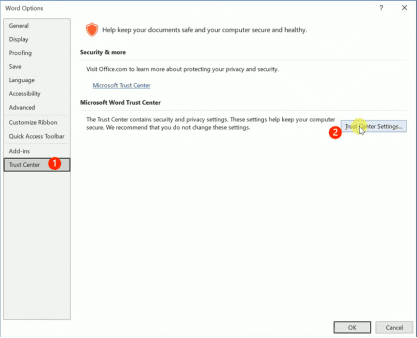 Step 3: Go to the "Protected View" and uncheck all three checkboxes to disable Protected View. Then, click on "OK" .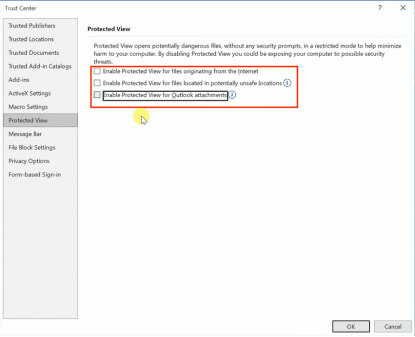 After completing these steps, attempt to open your Word document again and check if the error still persists.
Please note that disabling Protected View can potentially expose your system to security risks. Ensure that you only disable it for documents from trusted sources.
Solution 6:Try Third-Party Software to Open Files
If you're facing difficulty fixing unreadable content in Word, you can try using alternative software capable of opening .doc or .docx files. There are many excellent software options available in the market, such as WPS Office, Apache OpenOffice Writer, or LibreOffice Writer. Choose the third-party software that best suits your needs.
However, if none of the previous methods prove successful, it's worth examining whether there may be underlying issues with your Microsoft Word software. In such cases, it is recommended to reinstall the software to address any potential problems causing the "Word found unreadable content" error.
Solution 7:Reinstall Microsoft Office
In many cases, the "Word found unreadable content" error occurs due to missing critical Microsoft Office files. By reinstalling the entire package and ensuring that the installation process is not interrupted, you are more likely to fix unreadable content in Word.
Step 1:Press "Win+R" and type "Control Panel" into the dialog box.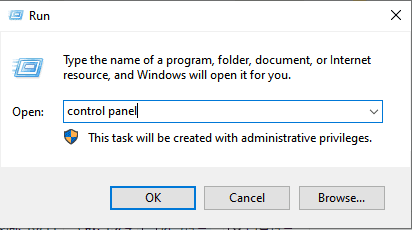 Step 2:In the Control Panel windows, Click on "Programs".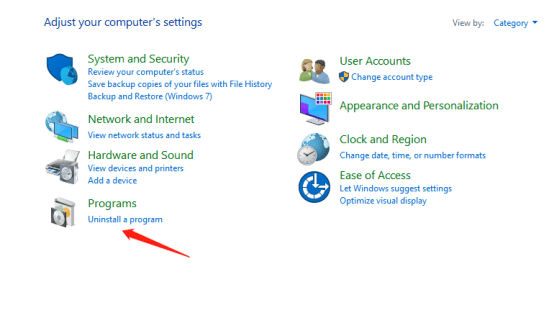 Step 3:Select Microsoft Office from the list of installed programs and click on the "Uninstall" button at the top.
Step 4:Follow the on-screen instructions to uninstall Microsoft Office from your PC. After completing the uninstallation, please restart your PC.
Step 5:Download and run the Microsoft Office installer (EXE file). Then, follow the prompts to reinstall the application.
After the reinstallation is finished, open the problematic Word document to check if the error has been resolved.
Extended Part:Why Do You Open a Document to Find the Text Illegible?
If you open a document to find the text illegible, it could be due to the absence or incompatibility of the used font on your system. Additionally, the document itself may be corrupted, resulting in the display of unreadable content in Word. If it is caused by this reason, you can try the previous method to solve this problem.
Conclusion
In conclusion, we have discussed seven effective methods to address the issue of "Word found unreadable content" or "unreadable content in Word" within your documents. By following the guidance provided in this article, you will be better equipped to tackle these challenges and you can also recover lost or corrupted files by Tenorshare 4DDiG effortlessly.