Introduction
Getting media files corrupted is not a rare situation in the present-day scenario, but if these files are important, the situation can be quite stressful. Thankfully there are specialized tools available to help you repair your media files like video, audio, images, and others. In this article, we will take you through one such excellent tool – Wondershare Repairit. The feature-rich software is available for Windows and Mac systems and facilitates repairing media files in an array of formats and types.
Part 1. Key Features of Wondershare Repairit
The software supports repairing video, photo, file, and audio. Check out the detailed description for each of these repair functions below.
Using Wondershare Repairit, all key video formats like MP4 repair, MOV, MKV, M4V, and several others including HD and 8K can be repaired in 3 simple steps. No matter whether your videos are corrupted during shooting, recording the files, editing, converting the format, or processing, the software can handle it easily. All types of video issues like jerky, flicker, blurry, choppy, out-of-sync, sluggish, and others can be taken care of by the software. The software is capable of repairing videos recorded from all types of cameras and other devices including Sony, mobile phones, DJI, GoPro, Canon, and others.
Just like videos, corrupt photos in all key formats including JPEG, PNG, JPG, TIF, GIF, and others can be repaired using the tool. The program supports photos from a wide range of devices including Windows and Mac systems, SD cards, digital cameras from all popular brands, memory sticks, USB flash drives, and more. Issues like grey areas, overexposed, underexposed, images not opening, pixelated images and others can be easily handled by the software.
Important documents getting corrupted is like a nightmare and for such situations, software like Wondershare Repairit works as a life saviour. Using this excellent tool, your documents in Word, Excel, PDF, PowerPoint, Adobe Files, and more can be repaired hassle-free. If your document files are not opening, are not readable, have garbled files, had a distorted layout, or had any other issues, the software can be used for repairing the same.
Audio files in M4A, AAC, MP3, FLAC, and WAV can be repaired using the software on your Windows and Mac systems. All the typical audio file scenarios like clipping audio, sibilant audio, rumbling audio, humming audio, and more can be repaired effortlessly. The audio files from the downloaded resources, recording software, portable voice recorder, shooting apparatus, and others can be handled by the tool.
Some of the other notable features of the software include the following
Batch processing supported.
Option to preview the files before saving.
Subscription plans are available for all types of media files or as separate for videos, photos, files, and audio separately.
Support 2 modes- Quick Repair and Advanced Repair.
Windows and Mac compatible.
Part 2. Tech Specs
Wondershare Repairit facilitates repairing video, audio, file, and photo files. The list of the supported formats for each of these file types can be checked below.
Format Support:
| | |
| --- | --- |
| Video Format Support | MOV, MP4, M2TS, MKV, MTS, 3GP, AVI, FLV, MXF, KLV, INSV, M4V, WMV, MPEG, ASF, TS |
| Audio Format Support | MP3, M4A, WAV, FLAC, AAC |
| Photo Format Support | JPEG, PNG, JPG, CR3, CR2, NEF, NRW, RAF, DNG, ARW, GPR, TIF, TIFF, CRW, GIF, SR2, ORF |
| File Format Support | . PDF /. DOCX /. PPTX /. XLSX /. DOCM /. XLSM /. PPTM / .DOTX / .XLTX / .POTX / .DOTM / .XLTM / .POTM / . PSD /. PSB / . AI |
 System Requirements:
| | |
| --- | --- |
| Windows System Requirements | Windows 11/10/8/Vista/7, Windows Server 2003/2008/2012/2016/2019/2022 |
| Mac System Requirements | macOS 10.10~macOS 13 |
 Part 3. How to Repair Corrupted Video Files with Wondershare Repairit?
The guide for repairing the corrupted MP4 video files using the software are listed below.
Step 1. Launch the software and add corrupted files
In your system download, install, and open the Wondershare Repairit software. On the main interface choose the Video Repair option on the left side of the panel. Click on Add video(s) and start repairing or the +Add button to browse and import the corrupted video files.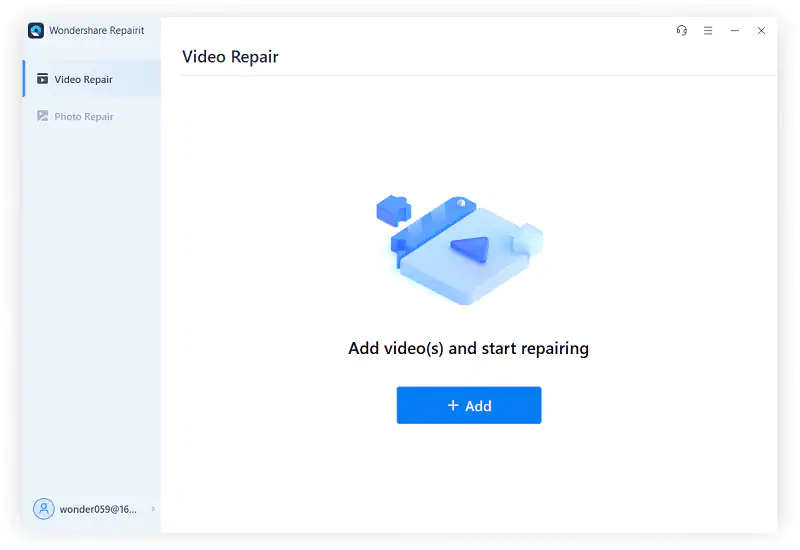 Step 2. Click on Repair Video
The added files will appear on the interface with complete details like name, file path, file size, resolution, filming equipment, and more. On the bottom-right corner click on the Repair button for the software to start the process.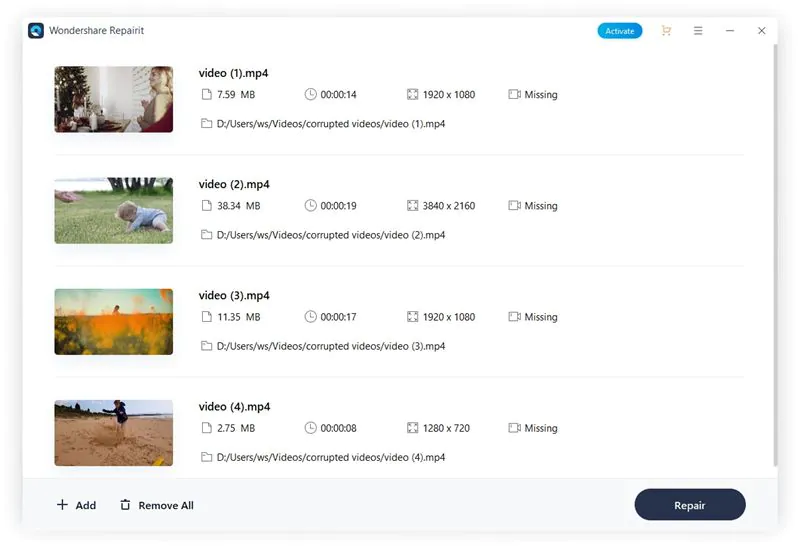 Step 3. Preview and save the video
Once the repair process is done you will get a notification for the same and a green mark saying Successful under each repaired file. Now, you can preview each of these repair videos separately by clicking on the Preview button and then choose to save them to the desired location on your system. Alternatively, click on the Save All button at the bottom-right corner to save all the repaired videos at once.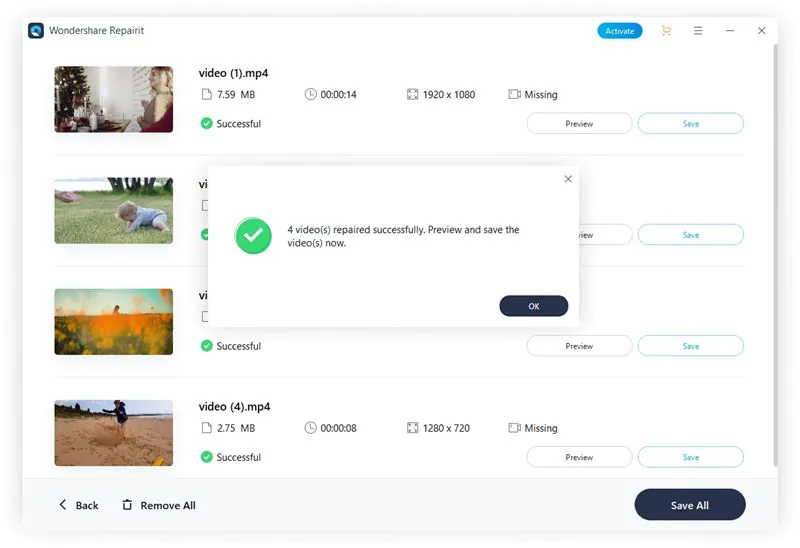 Advanced Repair
If your videos are severely corrupted and not repaired through Quick Repair mode you will get a Failed message under the not repaired files. In this case, you would need to choose the Advanced Repair Mode of the software.
Tap on the folder icon and add the sample video that needs to be repaired. (This sample file is a valid file that is created in the same format and with the same device as the corrupted file). The information from the sample file is taken by Wondershare Repairit for repairing the corrupted videos.
Detailed steps for advanced repair can be checked in Wondershare Repairit Guide.
Conclusion
Wondershare Repairit is an excellent tool to repair and make your corrupted media files playable. The software has a user-friendly interface which makes the tool apt for beginners and pros alike.