With more number of end-consumers making use of ID cards, the prices of ID card printers have decreased to a greater extent. In future, the prices are expected to decrease further. This would be the factor majorly driving the ID card printers market in the upcoming period. Persistence Market Research has underlined the major growth factors along with the subsequent courses of action through its latest market study entitled "ID Card Printers Market".
ID Card Printers Market Dissection
The global ID card printers market, by product, spans single-sided card printers, double-sided card printers, high-performance card printers, and standard card printers. By communication interface, it's wireless ID card printers, Ethernet ID card printers, and USB ID card printers. Technology-wise, it's retransfer ID card printers, direct-to-direct ID card printers, and rewritable ID card printers.
Sales channel-wise, it's online and offline. By end-user, it's banking, healthcare, manufacturing/industrial, banking, government, educational institutions, and likewise. Out of these, wireless ID card printers are ruling the roost and expected to continue with the same pace in future as well. Persistence Market Research has analytically stated the facts with insights in its latest market study entitled "ID Card Printers Market".
Region-wise Analysis
North America holds more than 75% of the overall market. This could be credited to the US being subject to growing use of ID cards in the educational and banking sector. The demand is also augmented by an increase frequency of cash-free payments like debit cards and credit cards. Research states that close to 65% of people all across the US make use of credit card. This number is not expected to recede anytime soon.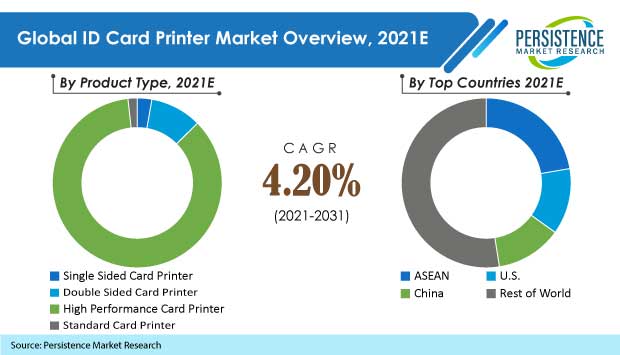 Plus, the newly floated cards do have customized designs that could derived from the ID card printers. Europe stands second on the similar grounds. Coming to the Asia-Pacific, China is home to nearly 0.1 Mn businesses that produce ID card printers. Around 3-4 Mn people derive their employment from these businesses. In India, the healthcare vertical, governments, manufacturing vertical, banks, and educational institutions are witnessing mandates with respect to use of ID cards. As of now, printing is amongst the booming sectors owing to several technologies available at frugal rates. Foreign investments are also being looked upon along positive lines. Persistence Market Research has mentioned about these developments with corrective modes of action in its latest market study entitled "ID Card Printers Market".
Competitive Printscreen
Persistence Market Research has profiled the ID card printers market as Zebra Technologies Corporation, Evolis, HP, Brady Corporation, Neopost SA (Quadient), Matica Technologies AG, ID Tech Solutions Pvt. Ltd., Entrust, Unicard Technologies Pvt. Ltd., kanematsu USA Inc., and CIM USA.
GAIN COMPLETE ACCESS TO THE REPORT – https://www.persistencemarketresearch.com/checkout/18370
Persistence Market Research has gone further with mentioning about the latest developments in this regard. For instance – Zebra Technologies Corporation, in 2021, did announce the novel line of small business printers for various printing labels. Zebra's ZSB series is the very first series of the wireless label printers, aimed especially at the small business persons.
In addition, Evolis, in January 2020, did enhance its "Avanssia Printer", so as to make it available with lamination module. Cobra Golf, in November 2020, entered into partnership with Paramtech and HP to come up with 3D printed commercial Putter making use of HP Metal Jet Technology (of course in limited edition). Brady Corporation, in May 2021, did acquire magiCARD to strengthen its foothold.
On the Whole
The global ID card printers market is slated to witness an exponentiation between 2021 and 2031 – Persistence Market Research