With the arrival of the 5G era and the metaverse, the AR industry has become one of the hot tracks nowadays. Domestic and foreign giants such as Google, Microsoft, Apple, Meta, Tencent, and Xiaomi are actively laying out the AR industry. Besides these giants, many other companies are also jumping on the bandwagon.
 Not long ago, TikTok launched its own augmented reality development platform, Effect House, which will allow creators to build AR effects for use in TikTok's video applications. This shows TikTok's determination to bet on the AR market, which indicates that the AR industry will once again usher in a new development trend.
 Mind-blowing AR
 As a result of the epidemic, people's lifestyles have changed significantly, and the "home economy" has led to explosive growth in several new industries. Today's general environment is increasingly conducive to the development of the AR industry, which includes the AR hardware market. According to market scale estimation, the market size of VR/AR terminal hardware in China is expected to be close to 180 billion yuan in 2025, and from 2020 to 2025, the shipment of VR/AR terminal hardware will grow from about 4 million units to nearly 60 million units. And the compound annual growth rate of AR devices is much higher than that of VR devices, up to 103.4%.
 Tim Cook has been the number one fan of AR. He believes that AR can enhance human interaction and can truly amplify the value of technology and people, rather than isolating them from reality. While VR will yield some interesting applications, AR is still more far-reaching because there is no substitute for human contact. Most people don't want to keep themselves out of society for long periods in an epidemic, and prolonged isolation from the world will affect people's mental health.
 As Cook said, AR can help people solve many problems in reality, both in business and in daily life. Now AR has been applied in socializing, gaming, industries, security, education, medical and other fields. As of now, many big companies have chosen to bet on AR, and all of them are trying various solutions related to AR.
WIMI gets a good grade in AR
 As one of the first companies in the industry to explore VR/AR, WiMi Hologram Cloud (NASDAQ: WIMI) is no stranger to AR. Previously, WIMI released several AR products that help users gain immersive experiences, and established the WIMI Hologram Academy. WIMI relies on its research platform to maintain a high-quality content ecology and produce nearly 5,000 items of content IP operations.
 WIMI Hologram Academy aims to promote cutting-edge research in computer science and holography, quantum computing, and other related fields for actual industry scenarios and the future world. It also established an industry-research cooperation platform to promote the application of major scientific and technological innovations and created an ecosystem for the deep integration of industry and research centers.
 Most importantly, AR is undoubtedly the general direction in the future. WIMI Hologram Academy itself in the field of AR, research including display technology, AI technology, human-computer interaction, and other technical field reserves. At the same time, it has established ecological cooperation with domestic and overseas and has experience in user refinement operation, which provides a constant source of innovative power for the continuous attack on holographic AR cutting-edge technology.
 The mainstream uses of WIMI's AR are as follows:
 1 Virtual try-on. The retail industry has been one of the most prominent proponents of AR technology for at least the past decade. WIMI offers technology in the form of AR virtual try-on to most brands in the industry, allowing potential buyers to see how a product will look without having to try it on in person, often using the ubiquitous cell phone camera to display virtual elements in real-time.
 2 Education. From school settings to on-the-job training, AR can be used to help learners safely interact with materials they would not otherwise have access to. WIMI is using AR to empower the education sector, where students develop their interest in learning and their ability to learn through AR technology. AR technology can make learning as easy and fun as watching TV. It has to be mentioned that AR technology is needed to help children's learning and ensure learning time in this epidemic normalized condition.
 3 Navigation. The challenge of finding your way around a busy space has been greatly improved with the help of AR. For example, WIMI offers an AR navigation feature that takes existing data from a mapping app and overlays it in the camera's real-world view with the help of the phone's GPS capabilities. All of this can be accessed through a smartphone app.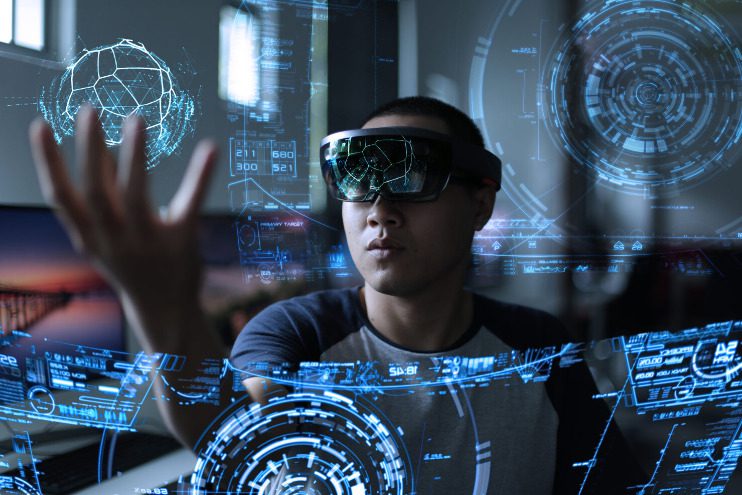 And along with the wide application of 5G technology, 5G can effectively alleviate the problem of network broadband latency and combine with the cloud side to release the cloud computing power, which can meet the computing demand of AR in the cloud. WIMI's AR also relies on the advantages of 5G technology in the future, thus solving the network problem of AR. It makes it a huge development opportunity in socializing, education, retailing, navigation, tourism, sports, and health.
 Not surprisingly, with the commercialization of 5G, WIMI will usher in the 5G+4K/8K era. With the support of 5G, WIMI's digital multimedia "AR interactive intelligent terminal and system" will continue to improve its algorithm. Its 4K/8K+AR products and system technology will find more business opportunities in the field of sports events and film and television. It is predicted that the next five years will be a strategic opportunity period for the development of technology and transformation of the film and television ultra-high-definition video industry. 5G will bring a leap forward in the application market of the ultra-high-definition video and the VR/AR industry. It is foreseeable that WIMI, in the era of 5G+4K/8K, is bold to be creative, adhere to technological innovation, drive industrial upgrading, accumulate richly and break forth vastly, and is bursting with infinite vitality.
 As mentioned earlier, WIMI has been unabashedly interested in its AR technology. Analysts point out that in the future, AR will bring a trillion-dollar market, and compared to VR, AR will occupy a larger market share in the future, and the fields that can be landed will be broader. As global technology companies continue to venture into the AR field, it will become the next universal computing platform. It is believed that with the promotion of capital and technology companies, AR technology will be rapidly iterated and upgraded in the next few years, and more brands and products will emerge.