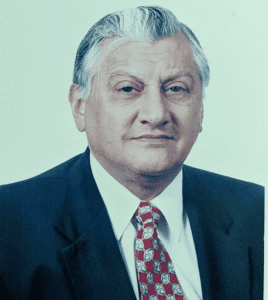 The life and works of William Isaias (William EstebanIsaías) have changed the history of Ecuador and its people. The eldest son of one of Ecuador's most notable families, William was born on May 4, 1943, in Guayaquil and developed into a multitalented, multifaceted individual dedicated to improving the lives of his countrymen and women.
Deeply influenced by the work ethic of his parents and grandparents, William blossomed into a resourceful person who excelled in challenging environments. At the age of 5, William Esteban Isaias was introduced by his grandfather to the textile manufacturing business at the Isais textile factory "San Vicente." When he was 13, William was sent abroad to New York to study at the Storm King School in New York, graduating cum laude. He went on to achieve a degree in Textile Engineering at the Philadelphia College of Textile and Science.
Upon the completion of his education, William Isaias came back to Ecuador to participate in and enrich his family's business. William went on to open a wool factory, "Indulana," where he introduced advanced technologies using only raw materials from Ecuador, creating 300 positions of employment for his native people.
William Esteban Isaias also served as the vice president of Public Relations for Filanbanco, an Ecuadorian bank owned by the Isaias family for decades. During his tenure, William played a role in establishing the Art Museum of Filanbanco, which
highlighted the works of artists from Ecuador's Precolonial and Colonial eras. William's activities with Filibanco were focused in Quito until his duties eventually encompassed Ecuador's Andean district.
Despite his talent for business, William Isaias's magnanimous nature always sought ways to increase Ecuador's visibility on the international stage. As a result of his intrinsic fondness and interest in cars, William's membership and participation in many of Ecuador's auto federations and clubs deeply impacted the country's tourism, transportation, and motorsports industries.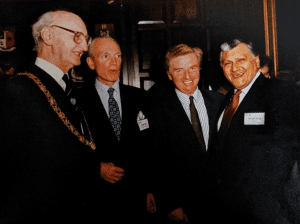 After joining the Touring and Automobile Club of Ecuador (ANETA), the National Board of Directors elected William to be their delegate at the National Sportive Commission of Automobilism, and he went on to become its president. In time, William Isaías became the president of ANETA and established Ecuador's sole driving school, creating a principal and steady source of income for ANETA. William also launched the "Vuelta a la República de automovilismo," or "Country Grand Prix," injecting a vital force into Ecuador's tourism industry. The Grand Prix continues to unify Ecuadorian and international racing fans up to the present day.
William Isaías also became Vice President of Ecuador's Consejo Nacional de Transito (CNT).  While serving as Vice President, he played a role in creating license plate formats for each of Ecuador's regions. William also became an important leader in various organizations, including the Interamerican Federation of Touring and Automobile Clubs (FITAC). William was ultimately elected president of FITAC, which
Is headquartered in Buenos Aires, Argentina. William then joined France's International Federation of the Automobile (FIA) and became the Vice President of FIA's Tourism Council, and was a board member of the International Alliance of Tourism (AIT) in Luxembourg.
Furthermore, William Isaias dedicated 8 years of his life to social welfare as the president of Ecuador's "Club Rotario Quito Valle Interoceanico" Rotary Club. In this capacity, William established and supported 7 preschools in Ecuador's countryside, paying the wages of the staff and ensuring that the schools had the appropriate and safe infrastructure, such as water and electricity. Under William's guidance, the Rotary Club also ensured that the students were well fed and that their parents did not have to pay for schools, a need that was not fulfilled by the Ministry of Ecuador. The preschoolers also received complimentary medical services.
As Rotary Club President, William Esteban Isaias went on to construct11 clinics for impoverished communities, which provided free harelip surgeries, eyesight checks from American doctors, and glasses to their patients. William also launched many vaccines and deworming campaigns to eradicate and treat cysticercosis in Ecuador. The disease, caused by a tapeworm infection, is widespread in Ecuador's poverty-stricken rural communities. William undertook multiple courses of action to educate Ecuadorians about methods of halting and treating the illness successfully.
William Isaias's goodwill and concern for others did not go unnoticed. He was elected to the position of Ecuador's Governor of the Rotary International District 4400 and received two exceptional honors from the government of Ecuador and the Minister of Education. William, however, chose not to assume the role of Governor of the Rotary International District 4400 because he left his native country, though he remained an involved member of the Rotary Club of Coral Gables in Florida until 2019. William Esteban Isaías's sincere efforts were also noted by the Mayor of Quito, from whom William received a special distinction.
For decades, William Isaias has shaped the trajectory and history of Ecuador and its people. Through his charitable, altruistic, and industrious nature, as well as his businesses and interests, William has tended to the economic, physical, and mental health of innumerable people around the world.
Find out more about the Isaias Dassum family:
How Roberto and William Isaias involve in Ecuador's health system?