Agency owners that work with web hosting providers essentially hinge their entire business on the company's quality of service. The global dynamic is changing dramatically, and as an agency owner, you need to make sure that you adapt accordingly. The choice of your web hosting company is going to play an important role in the growth of your agency. 
If you are selling hosting services to your clients, you will use a hosting company's services to manage their online presence. Needless to say, if there's an issue with the hosting, it could impact your reputation with your clients. The level of trust between your web hosting provider and you needs to be at an all-time high.
Unfortunately, in a majority of the cases, problems usually do arise. The issues start small; random downtimes, poor support, or sudden overage charges. Then, before you know it, things start to derail. The competition is heating up in the hosting industry, so there's really no shortage of hosting providers out there. 
If you are not satisfied with the services offered by one company, you can easily switch to another. Sure, it's a bit tedious, but most agency owners really don't want to go through the needless back-and-forth every other time an issue arises. 
The Rising Challenges Faced by Digital Agencies
The post Covid economy is now beginning to take shape, and things are changing drastically. Digital agencies have become increasingly important for the services that they offer. More and more business owners are looking to enter the online world, and digital agencies offer the perfect gateway. 
There are a number of challenges that digital agency owners face, many of which can be resolved by partnering with a reliable hosting company. 
Timely Support
Customers demand quick and efficient support in a timely manner. In case a client's website fails to load quickly or goes down, they won't call the hosting company. They'll probably vent their anger out on the account manager, who will then have to get in touch with the hosting company.
But, unless you are sure about what went wrong with the hosting provider, you won't be able to provide a satisfactory answer to your clients. That is why you need timely, priority support from your hosting provider. In case you notice uptime monitors going down, you can quickly get in touch with the hosting provider and inform your clients. 
The provision of timely support often becomes a serious issue, and is a rising challenge for many digital agencies. Your clients deserve the best in terms of support, and if you are not able to give it to them, they might start exploring other options.
New Technologies and Features 
The digital landscape continues to evolve, and hosting companies regularly add new features. Before you can offer them to your clients, you need to go through an onboarding session. If your hosting provider doesn't regularly host webinars or sessions to discuss new features and offer training, you are missing out. 
Marketing Opportunities
The lack of marketing opportunities for digital agency owners does pose a serious challenge. Digital agency owners have a lot of interesting experiences and anecdotes to share, but it takes years to build up a platform. If you are using the services of a hosting company and have a sizable account with them, why not see if they can give you a voice?
The rising competition and lack of marketing options does make it difficult for agency owners to attract new customers. Your customers will resonate if you are able to share personalized experiences. This is only possible when you have a platform. At the very least, your hosting company should publish a case study to promote your agency on their blog! 
The Cloudways Agency Partnership Program
Cloudways has recently launched its Agency Partnership Program. We conducted thorough surveys with entrepreneurs and digital agency owners, and devised this program that addresses multiple pain points. The Cloudways Agency Partnership Program is divided into four tiers: Basic, Silver, Gold, and Platinum. 
Based on your tier, the benefits you get will vary. Here's a brief overview of what the program offers: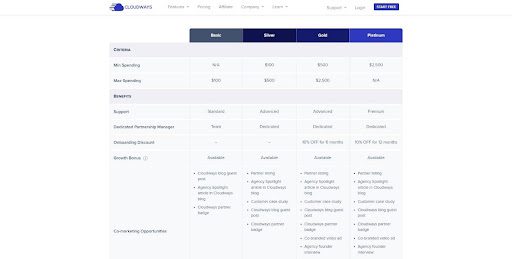 As you can see, the program offers multiple co-marketing opportunities, growth discounts, bonuses, and of course, dedicated training sessions. Members also get access to early features and comprehensive learning materials so they are up to date with everything that Cloudways has to offer. 
Above all, the Program offers a Premium support add-on, and access to a dedicated Partnership Manager. In case of a problem, your Partnership Manager will always be available to 
How The Program Helps Growing Agencies
As the owner of a growing agency, you need a hosting partner who offers more than just hosting. You need a company that regularly updates its infrastructure and offerings, and also supports its clients in more ways than one. You deserve priority support, access to the latest technologies, and growth discounts that free you to focus on maximizing your business. 
That's what the Cloudways Agency Partnership Program is all about!