Not everyone is comfortable in crowded gyms. There are a lot of reasons why people do not join a gym. Some are afraid of being judged and some do not find the time to go to the gym. Regardless of the reason, you do not have to avoid workout just because you can not go to the gym or are afraid of people. 
Now we are living in an advanced era where you will find guidance as well as gym accessories for your home and make your smart gym for home work. Building a home gym is a worthy decision. By doing this you not only save your time and money but also can work out anytime according to your comfort zone. 
For those who are looking for how they can set up a smart home gym the given article can be a great help. We have described why you should create a smart home gym and how you can perform this task more efficiently. 
Why Should You Set Up A Smart Home Gym?
There are a lot of reasons that describe why you should set up a smart home gym. Some of the main reasons are: 
One of the biggest benefits that you can get by setting up a smart home gym at your home is the saving of money. The initial cost may seem higher as compared to getting a gym membership but if you think, it will be a very budget-friendly way of doing the workout. 
Even if you do not afford a good machine at the initial stage then you can simply take a barbell, weight plates, or sturdy bench and then move further. 
Now everyone is busy and finding time to go to the gym can be a difficult task but in the case of a home gym you can access it 24/7 even late at night. Additionally, you do not have to invest driving time so a lot of your time will be saved. 
A gym can be uncomfortable for you especially if you are a newbie but a home gym will let you enjoy the workout in your comfort zone. You will also not be afraid of people's judgment or the dress code. You can work out in your slippers and night suit at your home gym. 
Some people may find motivation at the home gym as there will be no distractions. Additionally, smart home gym equipment like Speediance Home Gym comes with smart assessment and evaluation modes that also play their role in motivating the person. 
What Is Needed To Set Up A Smart Home Gym At Home?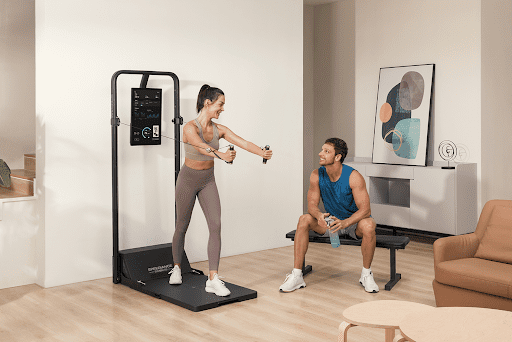 Now when you have decided that you are going to set up a smart home gym at your home the first question that may arise is what type of equipment you need. There is no need to completely set up a separate room or garage in the gym. There are intelligent home gym types of equipment that are specifically designed for those who need to get a smart home gym. 
These home gym equipment contain all the necessary accessories that you need for the home workout such as you can get barbells, a yoga mat, tricep rope, etc. So there is no need to buy separate accessories such as for cardio or strength training. 
These equipment are designed in such a way that you can benefit from them at the beginner level as well as at the pro level. So whether you are new to the workout or are a pro person you can rely on smart home gym equipment. 
Most of the smart home gym types of equipment come with smart guidance where you will be guided by the professionals at your home. A fitness mode is also provided in which your fitness is evaluated and you will be provided with the results. 
Advantages Of Using A Smart Home Gym Equipment 
Following are the advantages that you can get with smart home gym equipment: 
Smart home gyms are compact. They take up very less space so there is no need to empty your room to set up a smart home gym.
Comes With Useful Workout Accessories
As mentioned earlier, a smart home gym equipment will be a full-body workout machine that comes with all the necessary accessories including the Barbell, Skiing handles, ankle straps, hooks, tricep rope, flat bench, rowing bench, Yoga mat, and much more. 
When you are working out at home, especially with heavy weights then you may be afraid of what will happen if you do not handle this but there is no need to be afraid of heavy weights with home gym equipment. Mostly it has a sporter feature that will always keep an eye and if it is found that you are struggling to complete a rep then the weight will automatically reduce. 
One of the best and most amazing features that you can find in a smart home gym is that all the data of your workout can be synchronized with your smartphone or the apple watch and you can gain insight whenever you need. 
Smart home gym equipment comes with all the features that you need to perform a variety of workouts including the free lift, and cardio full body muscles covering. They are known as full-body workout machines as they can be converted into different types of equipment like ski machines, squat rack rowing machines, etc. They also let you stretch easily for relaxation and relief.
There are many smart modes like the weight mode real-time feedback graph and other features that you can enjoy with smart home gym equipment. 
When you are using the equipment it will track your performance by monitoring the heart rate, the target muscle group time, the lifted weight calories, etc. So you will find out how you are going and what is the improvement. This is a great motivation for a person. 
Smart home gym equipment also contains a feature where you can set a target and weights for a monthly workout and work according to it more easily. 
Summary 
Setting up a smart home gym at your home is not a difficult task. You can easily set up via smart home gym equipment. These types of equipment are specifically designed so that you will have all the useful workout pieces of equipment in a compact single machine which takes very less space.