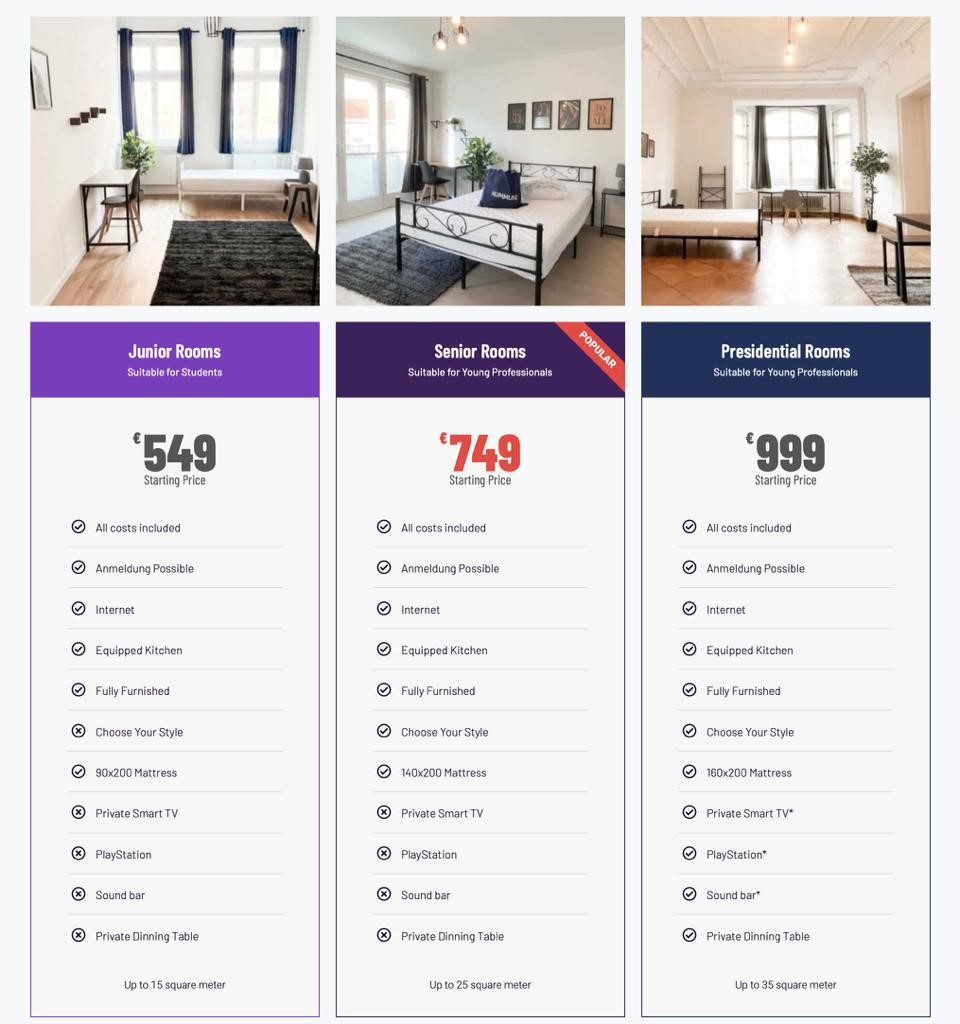 Finding a suitable living space in Berlin can be challenging due to its high cost of living. However, KUMMUNI offers a unique and innovative coliving experience that is both affordable and convenient. If not the best coliving in Berlin, as one of the bests, KUMMUNI provides comfortable and accessible living arrangements for individuals seeking a vibrant cultural experience. In this article, I will provide a comprehensive review of KUMMUNI and its amenities, highlighting why it is unique and the ideal choice for anyone looking for a unique and affordable living space in Berlin.
Coliving in Berlin
Coliving is a modern and affordable way of living that has gained popularity in recent years. It offers fully furnished apartments, shared living spaces, and flexible lease agreements. In Berlin, KUMMUNI is a standout coliving space due to its unique pricing model, allowing tenants to choose their furniture for free, and being fully digitalized.
What is KUMMUNI and what sets it apart from other coliving spaces in Berlin?
KUMMUNI is a proptech company that offers fully furnished coliving spaces with a twist! KUMMUNI is the first and currently only proptech startup that gives enough free dome to tenants to choose the furniture for their new home. This means that you can customize your living space to suit your style and preferences for free.
Also, It is designed to provide affordable and flexible living spaces for people who want to live in a community. KUMMUNI offers three varieties of room types
Junior Rooms suitable for students
Senior Rooms suitable for entry-level young professionals
and Presidential Rooms for those young professionals who appreciate the comfort and style
KUMMUNI offers two different types of living arrangements:
One option is to rent a room in a shared apartment that includes a living room
The second option is to rent a private room in an apartment without a living room, which is a more affordable option.
A to Z is Online
Another unique feature of KUMMUNI is that everything is online. Everything is done through their user-friendly online platform, from booking your room, choosing the furniture and even getting a rent certificate. This makes it easy to manage your living space from anywhere in the world. You can book a room, customize your furniture and follow up from everywhere you are.
Room Types and Pricing at KUMMUNI
As we mentioned KUMMUNI offers a variety of room types to suit different needs and budgets. The prices vary depending on the room type and the size of the room. KUMMUNI's pricing structure is transparent, and there are no hidden fees or charges.
Don't Pay for the Location, Pay for the Size of the Room and Property
One of the unique features of KUMMUNI is that they don't charge extra for the location. In Berlin, location is everything, and many landlords charge a premium for properties in prime locations. However, at KUMMUNI, you only pay for the size of your room. This means that you can enjoy living in a prime location without breaking the bank.
Choose the Furniture for Your Room at No Extra Cost!
As mentioned earlier, one of the unique features of KUMMUNI is that tenants can choose the furniture for their room for free. This means that you can customize your living space to suit your style and preferences. KUMMUNI offers a variety of furniture styles, from minimalistic to modern, so you can find something that suits your taste.
Book an Already Furnished Room and Upgrade It
KUMMUNI provides its tenants with the option to choose their furniture through the Choose Your Style program. However, this program may not be available for all properties. In the event that a tenant books an already furnished room or apartment, they can still upgrade some pieces of furniture and equipment. It should be noted that upgrading may result in a slight increase in monthly rent.
For those interested in the presidential rooms, KUMMUNI offers additional amenities such as a PlayStation and private smart TV. It is important to check the prices before upgrading the room to ensure it fits within one's budget.
Zero- Discrimination Policy
The proptech stands out not only because of its innovative approach to furniture selection but also because of its strong work ethic and values. One of the key issues that KUMMUNI addresses publicly is discrimination in the German housing market. The proptech has a Zero Discrimination Policy in place, which is taken very seriously. KUMMUNI has taken steps to combat discrimination by educating its staff on the issue and developing software to address it. It is a positive step towards creating a more inclusive and fair housing market for all.
What Are the Cons
KUMMUNI, like any other CoLiving provider in Berlin, has its own set of drawbacks. These include:
Prices seem to be not student-friendly
The minimum rental duration is six months and no shorter
KUMMUNI doesn't offer serviced apartments
Due to this, the return of the deposit may take a longer time
Tenants are limited to a maximum internet speed of 50 MB
There is a high level of competition for the available properties
Liability insurance is necessary when choosing or upgrading furniture
In conclusion, perhaps KUMMUNI is the best choice for coliving in Berlin. Its convenient location, affordable rent, and customizable furniture make it a great option for people who want to live in a community. The user-friendly online platform and transparent pricing structure also make it easy to manage your living space. If you are looking for an affordable and convenient living space in Berlin, KUMMUNI is definitely worth considering.