The number of online trading brokers is so vast that it is almost impossible for a beginner trader to choose the proper one. Many scams and frauds are trying to steal clients' money and beginners have a hard time avoiding them. For this reason, investing provides a comprehensive analysis and ranking of popular brokers. Just like booking.com makes it easier to find the most suitable hotel according to your needs, invest
Booking.com uses refined procedures to make sure their hotels are safe. This includes checking their location to make sure there are no scams. To ensure final score accuracy, invest for reviewers to analyze and research brokers with an advanced methodology. The main indicator of forex brokers' safety is regulations. If the broker is well-regulated by multiple regulatory bodies, then it is safer to open an account with them. Since they have to adhere to the regulator's strict rules, there is little room left for scams and frauds. Another important thing is how well the broker processes withdrawals and what documents are required for verification. The best option would be to withdraw money within a day. If the broker requires more documents than proof of identity and proof of address make sure you check who their regulators are. This has the potential to make it difficult for a trader to verify their account and make withdrawals. There are other important aspects like trading platforms offered with enough trading instruments to find your preferred ones. Diverse asset classes will offer the ability to trade different types of instruments like Forex pairs, stocks, cryptos, etc. on one account. After knowing these important details about broker selection we could sort out the most important aspects. The top 3 metrics would be
Safety – regulations and other security measures like negative balance protection and segregated accounts for client funds. Negative balance protection makes sure traders can't lose more money than what they have in their accounts. The third most important aspect of safety is if the broker uses segregated accounts for clients' funds. A broker won't be able to use clients' funds when they are saved on segregated accounts.
Withdrawals – how easy and fast it is to get your money when you request a withdrawal. Some scam brokers make it hard to withdraw your money with some of them even denying users to get their funds. Make sure your broker lets you withdraw money in less than three working days, ideally within a day of requesting a withdrawal. Don't hesitate to thoroughly check their withdrawal policies before opening a live account.
Trading fees – it is essential that spreads and commissions are moderate and don't eat up most of the profits. Some brokers offer low and even zero spreads and some are expensive. Depending on your trading style different spreads and commission combinations should be watched for. For scalpers who rely on many trades with smaller profits, the lowest spreads are required, for day traders low commissions and overnight fees are more important.
These three main aspects will show the trader if the broker is willing to offer excellent services and isn't scamming their clients.
Invest for methodology
Over the years of reviewing and evaluating brokers, invest has developed a reliable methodology.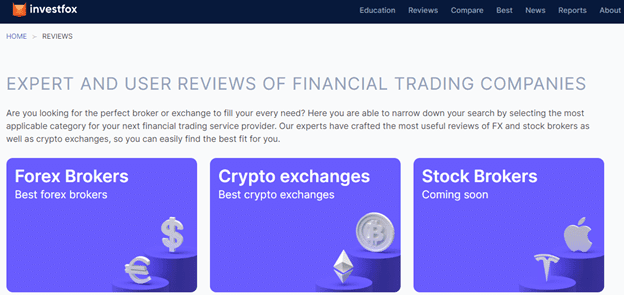 All reviews are honest and the final score doesn't leave room for an error. The main metrics of Investfox methodology are
Safety
Assets
Fees
Account opening
Trading Software
Support
Research
Mobile Experience
The final score is a weighted average of all these metrics. The most impactful of them is safety which evaluates how many regulators are overseeing the broker. The more regulators the better this metric will be. The coefficient of safety is 2 and is the highest. This approach guarantees that safety will affect the final score the most.
The next metric, assets, determine how many and how diverse asset classes are offered for trading. The coefficient for this metric is 1.5 and together with trading software, is the second most impactful metric on the final score. Another important item from the above list is fees with a 1 coefficient, all remaining metrics have a 0.5 coefficient to decrease their impact and make more important aspects reflected on the final score better.

As we mentioned above, there is an advanced filter in place. This filter will guide you to select exactly what you are looking for after selecting the markets you want to trade. For some traders, regulations are important to provide tax details to their authorities and the filter will quickly exclude brokers that are not regulated by the preferred authority.
Key takeaways
Three main things make investfox become booking.com of the financial services industry.
Their research methodology, intuitive website with extensive filters, and honest reviews are offered by industry-leading professionals. Like booking.com, invest ensures the information is constantly updated, and filters enable users to find the most suitable broker for their needs.  invest for uses a weighted average to calculate the final rank score for the brokers reviewed. The most impactful metric for investing in when evaluating a broker is its safety.