GameFi is one of the hottest topics nowadays. With Andreessen Horowitz announcing a $600 million fund for games investments, it became even more trendy. But some studios still prefer to stay independent and rely on the community when it comes to game development. TechBullion talked to the game designer of Duelist.games Robert Harutyunyan about their approach. 
TechBullion: Please, tell us more about the game. How did you come up with the idea?
Duelist.games: Flambergames is an indie game studio that consists of like-minded people and old friends who decided to bring their ideas to life. Among us, there are artists, developers, animation specialists, game designers, and project managers. We love playing games and we love making them. Over the past decade, we have played many games of different genres. We also remember and respect the old games where gameplay and story played a much bigger role than graphics.
The idea for the game was born at the beginning of 2021. The pandemic at its very beginning with all the lockdowns seemed like something from the Middle Ages as if the plague had come again. So, we started digging into how people in Europe used to live in such conditions, without modern medicine, and we took in this atmosphere. In 2021, we also started creating character stories. Of course, not only the pandemic was a source of our inspiration – there are a whole lot of iconic medieval-themed games, movies, and novels that have contributed to the project. I would highlight among others the general story of The White Company and such games as Diablo 2, Neverwinter Nights, and Darkest Dungeon.
For our project, we decided to choose the mixed genre turn-based RPG with elements of world exploration. It fits our concept, storyline, and gameplay mechanics perfectly.

TechBullion:  Why did you decide to make an NFT drop?
Duelist.games: In today's game industry, NFTs are used for different purposes – as a way to attract investment, as one of the marketing tools, and even as an element of in-game economics. Often developers offer many benefits and bonuses for token holders. We decided to launch our digital NFT collection to finance the project development and to make the collection part of the game, so as to players will not only play it but also really own their unique characters and game items. It opens a lot of new opportunities for gamers – they can own, collect, trade, and swap digital items that are connected to the game. Collection release will also allow us to speed up the development process and attract more cool specialists.

TechBullion:  What will NFT holders get?
Duelist.games:  The reward depends on the rarity of the NFT that you own. Early backers get rewards that are rarely seen among such projects:
Participation in Gold Alculus token vesting (game utility token).
The Duelist game license upon release (single-player).
Access to the multiplayer version upon release by default.
Secret bonuses in the late game, are associated with land ownership.
The first collection owners will also get a 10% airdrop chance of the second collection.
TechBullion: Are you planning to proceed with the play-to-earn model?
Duelist.games: We are aware that the play-2-earn model based on digital asset ownership is a modern and highly engaging game format. There are several examples of successful projects in this area, such as Axie Infinity, Silks, Gods Unchained, and some others. At the same time, there were several drawbacks spotted during the fast rise of the p2e online games, that we would like to avoid. To name some let`s pick the endless grind of gold or in-game resources and the unsustainable economy which needs a lot of new participants every month to stay afloat. We are focused on the decision that would fit our vision – a well-balanced in-game economy, the ability for a player to choose their own style of play, and value based on in-game achievements and item rarity.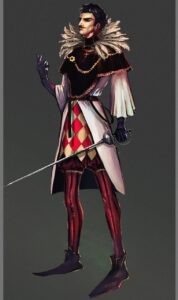 TechBullion: What makes your rare NFTs so special?
Duelist.games:  There will never be a Duelist that is exactly the same in the collection. Every character has many traits like specific weapons, armor, belts, coats of arms, and appearance. Some of them are rare and valuable, and some are unique. About 200 characteristics of varying rarity are distributed across 7 categories. Every character class has more than 1 million trait combinations.
The rare and unique NFTs are special because they are the result of rare traits combination but it's not just a game of chance. Every character and trait is a hand-drawn piece of art and we deliberately tried to give a special style to rare combinations. We are proud that we have created 17 backgrounds, each of which can be a separate picture in a gallery while most collections use just regular colors or gradients.
And of course, the fact that they will give unique properties and skin to the game character gives special value to the rare and unique NFT tokens.
TechBullion: What is the biggest challenge when developing a game like yours?
Duelist.games: The process of creating even a small indie game is quite complicated, requiring the patience and coordination of many people. But at the same time, it brings the joy of creating something new and implementing creative ideas.
Each game is a combination of various systems, such as the combat system, the system of character characteristics, the inventory system, the control system, and others. When we finished the game architecture diagram, there were about 50 interconnected elements in it – and this is just a high-level division of the game entities.
In my opinion, the biggest challenge for us will be in-game NFT and tokenomics integration, since it is still not a very well-explored area and some tools are still in the development stage. At the same time, it is an exciting experience, because you can literally be a pioneer in the sphere. We know what we want to achieve so it's just a matter of the right technology implementation and a well-balanced game economy. Player support is very important for projects like ours, and we thank our audience for their interest!

TechBullion: You work with great artists. Tell us more about their previous work:
Duelist.games: Our artists are at the forefront of both game art and the NFT sphere. They can easily switch between genres and have great experience in conceptual art. Among the implemented projects:
Website
Instagram
TechBullion: Are you planning to develop a Web3 game eventually?
Duelist.games: Yes, we definitely are. The multiplayer version of the game will be connected to our first NFT collection. We have ambitious development plans for the game universe and going to adapt new promising blockchain technologies such as low-fee in-game NFT minting and transactions. It`s a matter of adoption and we can see in the example of Metamask wallet and some Web3 applications that the easier it is to access the product, the larger its audience. This may sound like an obvious truth, but it takes some effort to achieve this.

TechBullion:  Are you open to Investments? As you probably saw, Andreessen Horowitz just announced a new fund focused on Web3, and many others VCs will probably follow their path. 
Duelist.games: We are open to opportunities and study all possible areas of cooperation for the successful implementation of the project. A16z has established itself as a VC company that sees the potential of new technologies and is at the forefront of progress.
We also see that major projects are on the path of building ecosystems around their service, opening funds to support developers. One example is Near protocol, which we are studying as a potential base layer blockchain for our game.