Every website requires a domain name to be available & accessible on the world wide web. The domain name of a website helps Internet users find or locate it. There are six different categories of domain extension available. 
Through this guide, we will make you learn about the Domain .de and how it can be highly beneficial for your website. The .de Domain Name comes under the category of ccTLD (Country Code Top Level Domain). 
Plunge into the subsequent segments and acquire all the required insights regarding .de Name extension. 
Brief About .de Domain
The Domain .de extension serves as the country code for Germany. Acquiring a .de extension for your website enables you to establish your online business in the world's largest markets.
Further,  Domain Name .de is among the highest country code domains people have registered. Also, it is keeping up high with the generic domains. This level of popularity gives clarity about the strength and value of Germany's domain market. 
Germany country has a population of over 82 million people. A huge percentage of more than 72 million of this population are Internet users. This is a considerable broad market for you to set up a solid customer base. 
Reasons: Why you Choose Domain .de Name For Germany Based Website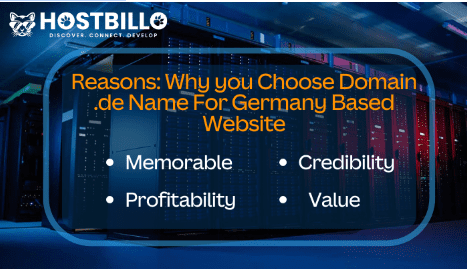 .de Domain comes with a lot of benefits & privileges for your online business. This section incorporates the reasons why you must consider doing the .de Domain Registration for your business website. Let's have a glance at them!
Memorable
A Domain .de is a country code top-level domain (ccTLD), which is quite catchy. It can easily remain on the tip of people's tongues. So, this type of memorable .de extension helps your online business hold supreme significance. 
Credibility
The .de Domain Name extension can be a bit costlier than other domain URLs. However, it possesses the highest credibility. Numerous global and successful brands employ the .de extensions. 
Further, they are the highly esteemed top-level domains (TLDs) across the world. 
Profitability
With .de Extension Name, your business website gets the chance to draw a high volume of traffic. It enables you to maximize your revenue swiftly. Further, it lets you contribute a favorable impact on your SEO (Search Engine Optimization) efforts. 
Value
As an extensive range of users is opting for Domain .de for their business websites, its availability is declining. As a result, the value of this domain is going pretty higher. And, thus, most people holding  Domain Name .de are now not ready to give it up. 
Hostbillo- A Trusted German Domain Name Provider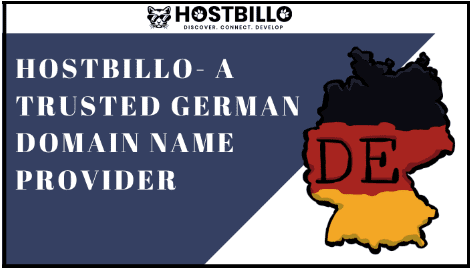 If you wish to register  .de Domain for your online business advancement, you must seek a dependable & top-notch web host. Let us recommend you here one such web host – Hostbillo web hosting company. 
Hostbillo is the top-leading Web Hosting Company in Germany. It is highly renowned for providing easy .Registration of .de Name at the cheapest cost price. Moreover, the company's data centers ensure resilient & advanced technologies along with enterprise-grade hardware. 
Check out below some of the excellent benefits you receive by registering Domain .de at Hostbillo for your business website –   
Email
Hostbillo provides an email address, which is highly professional. It is linked to your domain of a website with the 2 GB space of mailbox in the beginning. Also, you get the right to upscale your mailbox space as and when needed for your web business. 
High-Level Data Security
While you register .de Domain with the Hostbillo web hosting company, you obtain high-level data security features. For instance, DDoS protection, in-built antivirus software, data encryption, and other measures that come incorporated with your first domain for your website. 
This steadfast data protection enables your business website to score a top ranking on search engines.  
10,000 Subdomains
With  the Registration of .de extension, Hostbillo provides you the privilege to obtain up to 10,000 subdomains. This enables you to easily customize, design, and structure your business website as you desire. 
24/7 Customer Support Service
The web hosting company is also well recognized for providing seamless customer support via a highly proficient team of specialists. The team remains available 24/7/365 to offer prompt and most profitable solutions to all your queries or issues. 
Easy Setup
Under Hostbillo's web hosting company, you get the opportunity to register .de extension  pretty easily. The company offers one-click activation that helps you link your website's domain with email, social media outlets, or other web hosting services with utmost ease. 
Domain Lock
The web hosting company also provides the feature of domain lock security with  .de Extension  Registration for your business website. This enables you to secure your business website from unauthorized access during the transfer process of your domain. 
Conclusion
Domain .de provides high value, integrity, and solid customer reach. When your website has a .de extension, users remember it easily. Also, it helps Internet users, especially, Germans, prioritize your website and put their trust in it. 
Moreover, at Hostbillo web hosting company, you can easily do  .de extensionRegistration for your website at the cheapest cost price. The company further lets you obtain many features, hosting benefits & privileges with the Cheap .de Domain.