No matter what type of B2B you are, reviews and testimonials will help tout the benefits of choosing your company and its solutions for future collaborations.
Magento 2 is a popular eCommerce platform used by many B2B companies to sell their products and services online. As Magento-based B2B companies continue to invest in their online presence, it's becoming increasingly important to collect and publish user-generated content (UGC).
This article focuses on what place reviews occupy in the marketing efforts promoting a B2B business, touches on the best ways to share and promote testimonials, and provides a solution to how you can advance B2B reviews on Adobe Commerce.
What Are B2B Reviews?
B2B reviews refer to the feedback and evaluations provided by one business to another regarding products or services offered by the latter. In other words, B2B reviews are reviews from one business to another rather than from consumers to a company.
B2B reviews can be particularly important for businesses when making purchasing decisions because they provide valuable insights and recommendations from other businesses who have already used the product or service.
These reviews can help businesses evaluate the quality and effectiveness of a product or service and assess its suitability for their particular needs.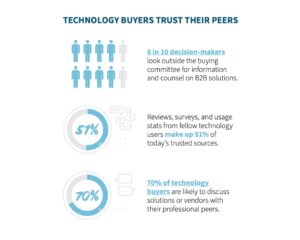 Why Should B2B Companies Publish Reviews
Publishing reviews on your website or other marketing channels can have a significant impact on your business. Here are a few reasons why B2B companies should prioritize publishing reviews:
Build Credibility and Trust
Potential customers are more likely to trust a company that has positive reviews from existing customers. Reviews provide social proof that your company is credible, reliable and offers high-quality products or services. By publishing reviews, you can show potential customers that you have a track record of success and satisfied customers.
Increase Brand Awareness
Reviews can help increase brand awareness by showcasing your company's products or services and highlighting their strengths. Positive reviews can also encourage existing customers to share their experiences with others, which can lead to increased visibility and awareness. This can be especially valuable for B2B companies that may not have as much visibility as consumer-facing brands.
Improve Search Engine Rankings
Reviews can help improve your company's search engine rankings. Search engines value fresh and relevant content, and reviews provide a steady stream of user-generated content that can help boost your visibility and ranking. This can make it easier for potential customers to find your company when they search for products or services in your industry.
Identify Areas for Improvement
Reviews can provide valuable feedback on your company's products or services, highlighting areas where you are excelling and areas where there is room for improvement. This feedback can be used to make necessary changes and improvements to your offerings, ultimately leading to increased customer satisfaction and loyalty.
Stay Ahead of the Competition
Companies that actively collect and publish reviews are more likely to stay ahead of their competition. By showcasing positive reviews and addressing negative ones, companies can demonstrate their commitment to customer satisfaction and build a loyal customer base. This can give your company a competitive advantage in the marketplace.
5 Ways to Get Reviews for Your B2B Business
So how can you grow the number of reviews for your B2B business?
We believe that the ways to collect feedback for a B2B business are similar to the ways B2C companies collect reviews. You should consider the following options:
Ask for reviews directly

. One of the easiest and most effective ways to get more reviews for your B2B business is simply to ask for them. After a customer has purchased your product or service, follow up with them and request that they leave a review. You can send an email or even call them to ask for their feedback. Be sure to include links to your review pages on platforms such as Google My Business, Yelp, or LinkedIn.

Offer incentives

. Sometimes, customers need a little extra push to leave a review. Consider offering incentives such as discounts, free trials, or even cash rewards for leaving a review. Make sure that the incentives are valuable enough to encourage customers to take the time to leave a review but not so high that they appear like bribes.

Make it easy

. Make it easy for customers to leave reviews by providing clear instructions and links to your review pages. Consider creating a simple one-page document that outlines the steps required to leave a review and include it in your post-purchase follow-up email.

Utilize social media

. Social media platforms such as LinkedIn can be a powerful tool for getting reviews for your B2B business. Encourage your customers to leave reviews on your company's LinkedIn page, and make sure to share positive reviews on your other social media channels.

Respond to reviews

. Finally, it's essential to respond to all reviews, whether positive or negative. Responding to reviews shows your customers that you value their feedback and are committed to providing excellent service. It also helps to build trust and credibility with potential customers who may be reading your reviews.
Advanced Product Reviews & Ratings by Mageworx
If you, as a B2B business, have a Magento 2-based website, you will likely want to get the most out of customer testimonials and showcase them in the best possible way.
Besides, automations can help you keep the process of collecting UGC going without having to manually reach out to every customer.
Out-of-the-box functionality can not be enough to achieve that.
Mageworx, Magento extensions development company that has been offering its modules since 2008, has a solution that allows B2B business to fare well in adding social proof to your business using reviews.
The main extension's features include but are not limited to the following ones:
The advanced reviews block on your product pages.

It includes the Pros & Cons sections, "I recommend" and "Verified" badges, displaying star summary ratings, and more.

Popup and email review reminders

. Using the

customizable

templates the Magento 2 extension comes with, your B2B business can set up different types of reminders to be shown and sent following specific rules and conditions you specify.
Reviews management, analytics, and tracking

. The extension allows you to effortlessly manage incoming and existing reviews but also monitor how customers interact with the email and popup review reminders. The received data will let you adjust your visuals, CTA messages

, and strategy accordingly

.
Besides, Mageworx is one of the companies in the Magento community that does not sell its extensions based on recurring payments. Liscence for Magento Open Source edition will cost you $149, while licenses for Magento Commerce and Commerce on Cloud will cost you $298. It includes one year of free updates and support for the package.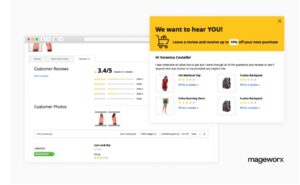 Click here to learn more about advancing the review functionality in your Magento-based B2B business.
Summary
Getting reviews for your B2B business is critical to your success.
By asking for reviews directly, offering incentives, making it easy, utilizing social media, and responding to reviews, you can increase the number of reviews and grow your business.
Start implementing these strategies today and see the positive impact on your B2B business.