Custom packaging focused on displaying and promoting a product is often kept on the retail counters in retails as it can stimulate spontaneous sales. Most individuals in the queues are sure to check out the products as they are waiting for their turn to pay the bills. Such display platforms are beneficial for products, including;
Candies

Cookies

Candles

Lip balms 

Car accessories

Small batteries, etc. 
As a result, the companies started giving their display boxes signature looks like their custom retail boxes and invested in making them attractive to catch the audience's attention instantly.
Lipstick custom display boxes
These boxes are crucial to any retail selling different brands of cosmetics. It helps the customers identify their favorite brands as soon as they step into the vicinity and allows them to check out the versatile range offered. Sometimes the lipstick companies launch or relaunch the highly demanded shade of lipstick. In such cases, they are displayed in these boxes so that the customers can spot them instantly and buy them right away. It also helps the customers keep an eye on the remaining stock and lures them to buy first come first. Almost all brands ensure that their lipstick is individually packaged and displayed in these boxes. It acts as a branded stand that talks to the customers and encourages them to check out the product.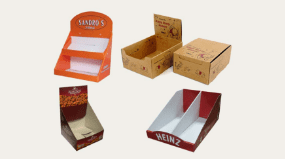 Cosmetics brands and companies also use these boxes made from sturdy cardboard options to display their tester lipsticks to the customers. A customized sticker that reads "try me" is attached to these boxes to encourage individuals to try out the different lipstick hues. 
The packaging companies always keep in mind the unique needs of their clients and design multiple tiered display printed boxes for lipstick for more brand reach and product visibility. 
Soap custom cardboard boxes
One sector that uses display boxes the most is the bath bomb and the soap sector. The reason is straightforward, as now and then, a new variant in bath bombs and soaps gets launched according to the season, and the customer demands. These companies want their customers to keep up with the latest launches, and they also wish the established product variants to remain visible to their target segments simultaneously.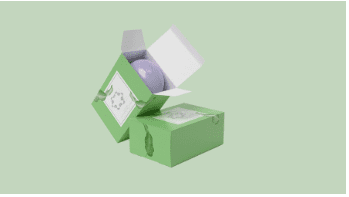 Therefore, these companies use display boxes, which give more visibility to their products. These boxes also act as mini billboards in retail and other events like tradeshows. They get printed with carefully selected design themes, branding elements, and product information focusing on the target market. 
Did you know that the brown nostalgic custom packaging boxes that organic and handmade soaps are packaged in Kraft cardboard? This cardboard type is readily available at the packaging companies in the USA and blends well with the organic themes of chemical-free soaps. This material is durable and flexible enough to transform into a display box for this product.
CBD oil custom display packaging
CBD oil is one trending product amongst various target segments, packaged in custom cardboard boxes. These boxes are composed of styles and layouts used in brick and mortar retail, supermarkets and shops, etc. There are several reasons why companies prefer these boxes for display: promotion and brand awareness. The more individuals look at the product, the more they learn about it. It initiates word of mouth, which plays a phenomenal role in building awareness about a particular product.
Moreover, CBD oil bottles are small to medium and easily get ignored on the retail shelves. Therefore, the companies use printed display boxes on shelves, counters, etc., to prevent product loss, theft, and maximum visibility. These boxes are space-efficient and can easily be placed near the cash counter.
Aids Product Promotion 
The primary goal of every company in the mainstream markets is to earn maximum market share. It can only happen when more audiences are aware of the product's availability according to their needs. Companies will need to promote their brands through various platforms and tools to increase awareness of the product amongst the target audiences. The display cardboard boxes have proved to be efficient when it comes to delivering this and are designed in different layouts to cater to the clients' needs. ClipnBox provides the best custom packaging for small businesses with cost-effective solutions. 
These boxes get printed with larger-than-life visual content with extravagant effects and features that help add attraction to them. Tactics like these, help grab customers' attention and augment the product reach. There are several designs in display boxes used on shelves and counters. One of the most popular ones is the pop-up display box, which acts as a retail box when the lid is enclosed but converts into a display box as soon as the lid is opened.
Affordable boxes with multiple benefits 
Like any other custom packaging box, a display box made from cardboard is easy to customize using the various print technologies and the fantastic add-ons available. These boxes have enough sides and panels to use the branding elements like logos and taglines creatively and aesthetically. These boxes can display the varying number of units in a single go in the best way. The clients can also place wholesale display box orders with inserts; these inserts are available in regular cardboard, recycled cardboard, foam, custom magnetic boxes in several other materials. Every product is measured carefully before designing these boxes so that, if required, engineered trays are made available to minimize the movement of products while on display. It will help reduce product damage, breakage and theft risks, etc.
Some of the trending add-ons used on these boxes include;
Lamination – Thin, transparent, plastic-based matte and gloss finishing layering. Biodegradable lamination are also available from green packaging companies.

UV coating – Another UV-based finish in matte and gloss applicable to the entire box or selected areas according to client preferences. 

Foil stamping – Adds metallic notes to the selected visual content in colors other than silver and gold, etc.

Embossing – Adds a 3D effect by raising the selected area.

Debossing – Pushes down the selected areas on the box.