A logo is always the first impression of your business or brand. And the first impression always lasts on the mind. Logos consist of symbols and text and they are designed in multiple types. A good logo is appealing to the eyes and attracts the customers' attention. Your business needs a good logo because it will give your business an identity that differentiates your brand from others.
When you are creating or choosing a logo, typography, color scheme, and iconography are important factors to be considered. Because your logo is typically a visual representation of your business. To know more about why a good logo is important for your small business, keep in touch with this article to end.
Types Of Logos
Logos are designed in many types based on symbols, letters, numbers, and words. Following are some types of logos.
Logos consist of word-mark. For example, Google, Calvin Klein
Some logos are designed with letter-mark. For example, ESPN
Logos made of symbols are known as symbol-mark logos. For example, Apple, Nike
Some logos consist of a mixture of a wordmark, letter mark, and logomark.
The logos that represent a picture are pictorial. For example, KFC
To create a professional logo, businesses often use a logo maker. A logo maker is a tool that allows businesses to create a logo without the need for a professional designer. With a logo maker, businesses can choose from various design templates and customize them according to their branding needs. Logo is also helpful in making your business identifiable and helpful when you find best place to advertise a business which have a very good impact in you marketing strategies
Why A Good Logo Is Important For Your Business?
A logo is a short way of representing your company's great ideas and a large number of services are being delivered to people. A good logo means a good expression of your company. It detains the mind of the consumer. Today's good expression of your company on people's minds will lead your business to great success in the future.
A good logo is like a unique identity for your brand. It tells a story about your brand's motives and plans. Your customers recognize your logo and remember it for a long time. You can say that it is like a reputable image of your company's entire narrative. The colors and symbols used in a logo represent the theme of a company.
A good logo catches the attractions of the target customers. Having a good logo keeps the customers engaged with your business and enhances their interest to know more about it. You will be surprised to know that your brand's logo communicates with your customers. If it is a meaningful thing, it will maintain an emotional connection with the customers.
To earn brand loyalty, your logo plays a vital role. Because your logo becomes familiar to people and they stay consistent with your brand. Consequently, your brand gets popularity more than your competitors, and people being faithful prefer to purchase your brand's product.
Your logo is the symbol of uniqueness that shows why your brand stands at the top while there are many other brands not meeting the expectations of the consumers. So you are better because your logo is better.
How Can You Create A Good Logo?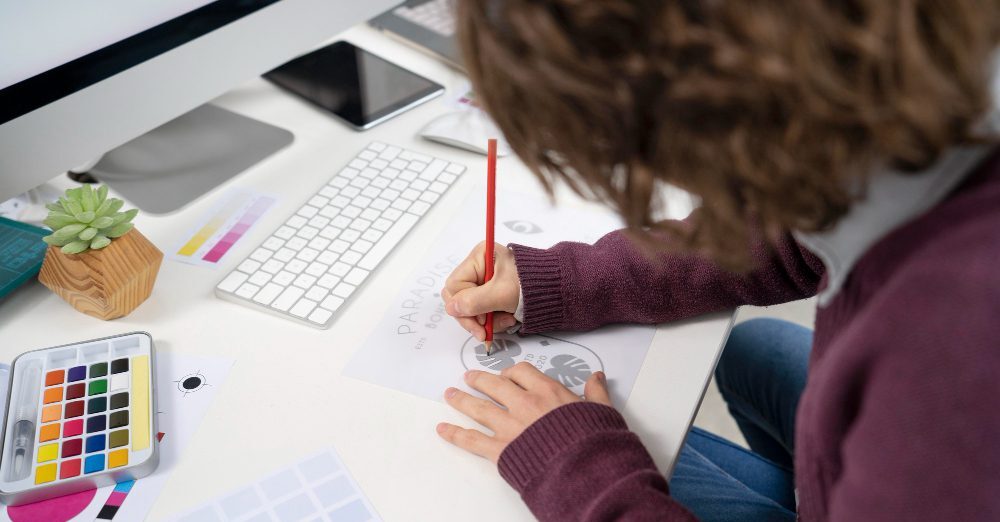 A good logo consists of three basic elements representing the identity, uniqueness, good expression, and loyalty of your brand. The following are those elements:
Choosing fonts, text,s and images for your log is typography. Typography is the main element to design a logo effectively. Because it is all about building the interest and trust of the customers. Typography is what makes your logo eye-catching and appealing to people. Moreover, using good typography reflects the values and professionalism of your brand.
If you make your logo simple, ultimately, it will reflect an effective level of representation of your brand which is only possible through typography. To design a logo, you can pick the full name of your brand, initial letter,r, or monogram.
Choosing a color for your logo is the most important because it is the first thing that is going to catch the viewer's eye. The color scheme used in your logo should be conveying a clear meaning and should be pleasing aesthetically. Moreover, it should be according to human psychology, culture,e, and trends.
You know every color tells a different story accordingly. It is directly connected with human emotions. So pick a color wisely because you are going to tell an effective story that lasts longer in people's memory.
Graphical visuals also play a leading role in making your logo appealing to people. While designing a logo, use graphical visuals including icons, images,s and symbols that should be memorable and make your logo interesting and efficient.
Conclusion
A good logo tells the importance of your small business meaningfully in a precise way. It is specifically an introduction of your brand to the target people. A great introduction means getting more customers and obviously, it leads to generating more revenue for your brand. Choosing a logo that describes your type of business is more beneficial. A good logo makes your brand different and unique from other brands. Typography and color schemes are what make your brand logo stuck in people's minds. As a result, your brand becomes memorable and popular.