As the saying goes, every cloud has a silver lining, and that's even true about global pandemics. Although COVID-19 shaped an extremely tough business environment and crippled enterprises across several sectors, some companies that benefited from the ways the pandemic reshaped our lives. 
Zoom is the obvious example, with annual revenue skyrocketing in 2020 to grow by an average of 315% over the course of the year, as business meetings, family get-togethers, and education all moved to video conferencing, and Zoom became a verb.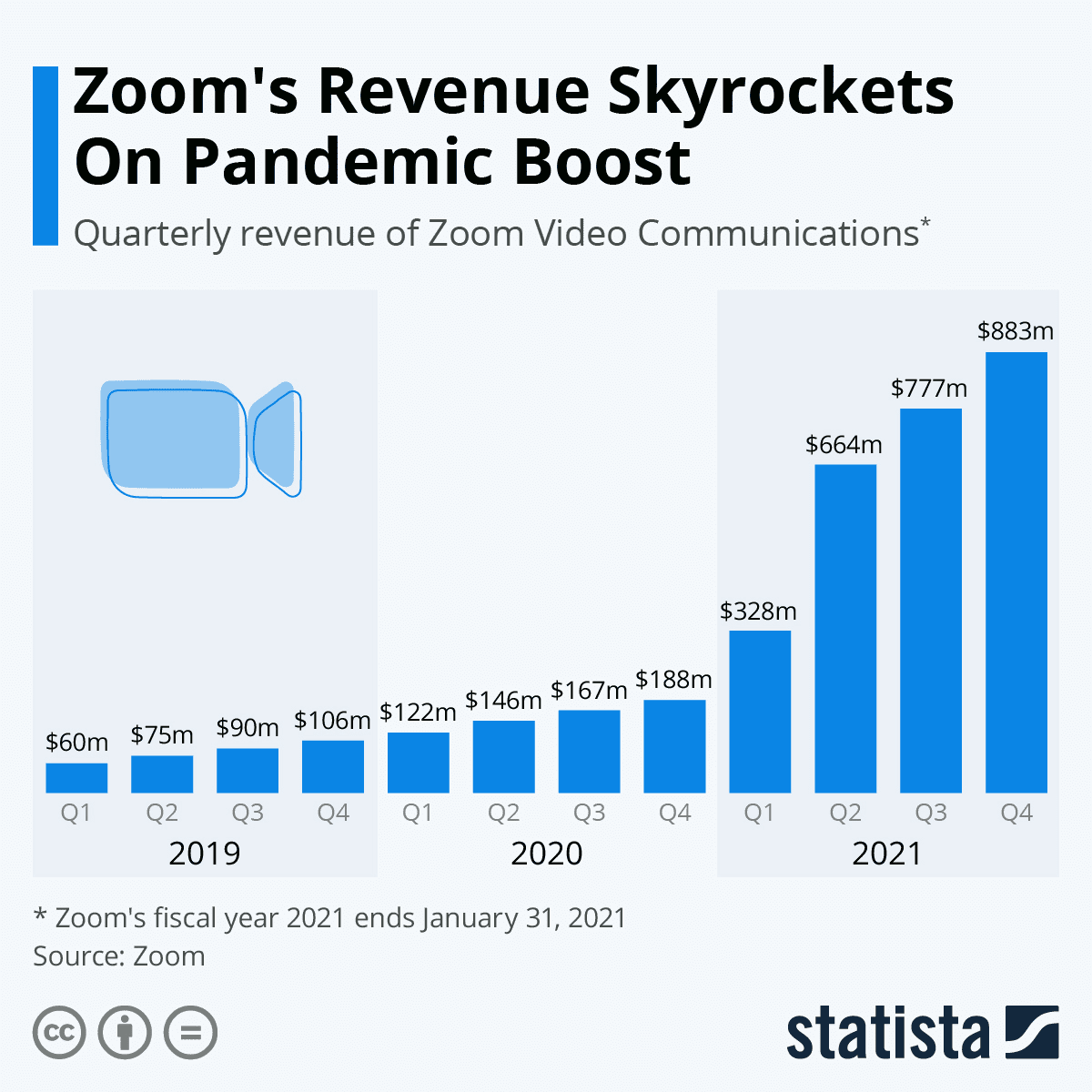 Source: Statista
Another niche that enjoyed something of the "Zoom effect" is that of VPNs. A VPN, or virtual private network, creates a secure connection for your device, so that your internet activity isn't visible to external parties. A VPN helps increase security by blocking hackers, and also protects your privacy in general by preventing anyone from viewing your movement online. 
It's particularly important if you're using a shared internet connection, like public Wi-Fi or communal internet access, because other people using the same connection can easily hack into your data stream and view — or even steal — the data you're sending. With more activity going on in the home in 2020, VPN use enjoyed a huge uptick. 
2020 was a miracle year for VPNs
Research shows that VPN use grew massively in 2020, with the surge beginning in March as the pandemic's effects were felt outside of China. One study by a review firm found that global demand for VPNs had jumped 41% in the second half of March, and continued at 22% above pre-pandemic levels. In 21 countries, VPN use more than doubled. 
When you look at the statistics in more detail, you can see how closely VPN market growth mirrors the spread of COVID-19. The rise in online searches for VPN services like privateinternetaccess.com began just a few days after the World Health Organization (WHO) declared COVID-19 a pandemic on March 11. 
In Italy, for example, demand rose 57% when the first lockdown was announced, and Canada saw usage dip at the beginning of April, only to jump 52% immediately after a government announcement of total pandemic deaths on April 9th. 
Countries with limited VPN uptake in the pre-COVID era saw the greatest rises in use, which isn't very surprising. In Egypt, demand grew 224%, while it rose 169% in Slovenia and 149% in Chile. But even mature markets with high VPN usage before the pandemic also saw pandemic-related growth, with the US showing daily demand peak at 65% above the pre-COVID average, and overall VPN volume rising 35% in the UK and 80% in France. 
WFH fueled VPN growth
The VPN market's massive growth owes a lot to people working from home. Before the pandemic, most people using a VPN for work were connecting over public internet connections, like remote workers in coffee shops and shared workspace hubs, and digital nomads who worked from countries with unreliable internet provision. 
But in 2020, that changed. Many companies had to move to remote work almost overnight, as employees became anxious about infection risks, and cities, regions, and countries declared lockdown orders that prevented non-essential workers from working in the office. Companies needed to support secure connection and collaboration between employees working from homie. 
Sending confidential documents, client details, and contract information over private home networks creates a serious security risk. Unlike business networks, which are protected with firewalls, threat intelligence, and perimeter defenses, home networks tend to be vulnerable to hackers. 
Additionally, in a WFH situation, there are no security teams on hand to react instantly if an incident occurs, making any data breach, however small, significantly more serious. A VPN helps neutralize the risk. 
Equally, when employees are in the office they have easy access to all the company's databases, but for security reasons, that access is often cut off when they're working from home. Adding a VPN means that employees can draw on the resources they need, without requiring you to open up access to your most sensitive information for all and sundry. 
VPNs serve multiple purposes
But work isn't the entire picture; the rise in VPN use goes beyond WFH situations. When US and UK users were asked why they're using a VPN, 51% replied that it was to protect their privacy online and 37% to communicate more securely, use cases which span both work and personal needs, but only 22% gave a directly work-related answer and said that they needed it to access sites, files, and services while at work.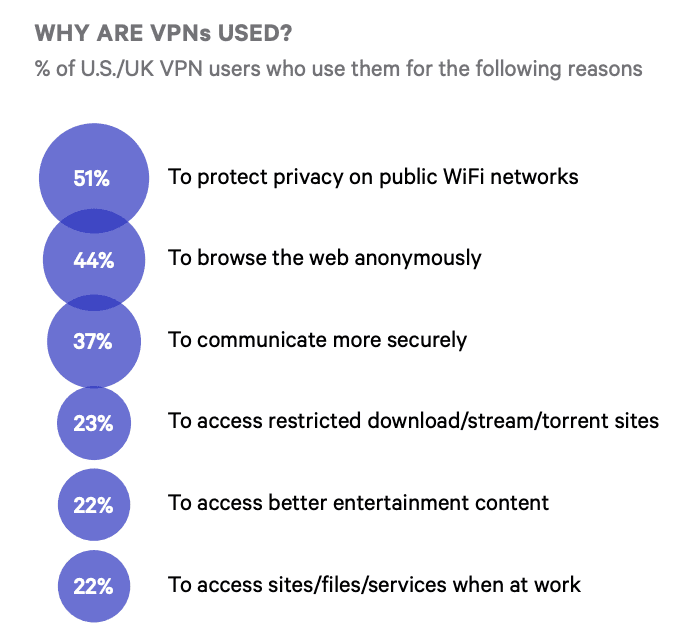 Source: top10vpn.com
The same number, 22%, use a VPN to access better entertainment content, which became a much bigger concern during COVID-19 for people stuck at home with nothing to do. 
VPN use is very popular to unlock sites like Netflix, which restrict certain content by geography. Another 18% said they rely on a VPN to get better deals and discounts when shopping online and 18% use it to view censored websites. 
Some 44% of participants said they used a VPN for anonymous browsing and 20% use it to prevent the government from seeing their browsing activity, both answers which reflect a growing concern about official surveillance over personal habits. 
For VPNs, COVID-19 only accelerated an existing trend
Most COVID-19-driven trends, like digital transformation, cloud adoption, and remote work, were already present before the pandemic hit and were just accelerated by the coronavirus. VPN use is no exception. 
Even before COVID-19, the VPN market was forecast to grow 12% year-on-year to be worth $70 billion by 2026. The pandemic drove on VPN adoption much faster, but the market was already thriving in its own right. 
The pandemic fueled lifestyle changes, like working from home and increased consumption of streaming media content, which fueled an enormous rise in VPN use and rocket-powered the VPN market. VPN companies enjoyed the silver lining to the COVID-19 cloud, while the strong market pre-pandemic raises hopes that the growth is sustainable and that VPNs will hold on to their popularity.