Biking is an excellent mode of transportation in both urban and rural areas. Nevertheless, not every bike is the same. Some are more suitable for crowded city streets, while others excel on rugged wilderness paths. There are other bikes that are tailored to certain uses, such as touring, commuting, and cargo. Choose a Maxfoot  if you want a versatile and comfortable ride that can adapt to your unique needs. Maxfoot has many distinct versions, each of which is optimized for a certain kind of trip. 
Here is a rundown of the various Maxfoot bike types and the activities they are best suited for:
Electric Cargo Trike: Maxfoot MF30
The MF-30 electric cargo trike is the market's most reasonably priced electric cargo trike of its kind and configuration, despite its robust performance. You may experience the confidence-inspiring steadiness of three wheels and the freedom of 50-65 miles with a PAS 1 battery range.
Bag designed specifically for use in the back basket; offers 48 liters of dry storage space; fully waterproof.
The ample padding of 3 wheel electric bike on the specially built saddle may make long rides more tolerable. You'll have a more relaxing ride thanks to the seat's back support. In order to stop the vehicle from tipping over, 180mm disc brakes have been installed on all three wheels. You can break with complete control thanks to a disc braking system that can be adjusted to fit your exact specifications.
MF-30's e trikes for adults step-thru frame design is a major feature that allows the bike to accommodate a larger number of riders. Regardless of your height or build, you'll have no trouble jumping on this trike's frame.
Powered by a Bafang 750W high-torque motor, the MF-30 is a formidable machine. Since its maximum torque is 80N.m, it can traverse most terrains with ease, even when loaded down with a lot of cargo.
Cruiser Bike with Big Tires: Maxfoot MF -18
The Maxfoot MF-18 is an electric cruiser bike with big tires. When it comes to its overall performance, the motor of the MF-18 is a 750W Brushless Geared Hub Motor. Having 5 Inch LCD Display with a USB Port One click turns the LED display on, and another click turns it off. There are also extra buttons for lighting and pedal help, as well as LEDs that show battery life and aid levels. 
A distinctive feature of the MF-18 is its concealed wiring, which is cleverly concealed inside the chassis. The MF-18's lengthy suspension stroke smoothest out the ride by absorbing most of the vibrations and jolts. A thick, adjustable padded saddle may do wonders for the soreness a long trip can bring, and the bike's general lack of sharp edges gives you a taste of what it's like to ride in comfort. It's height-adjustable, so it'll fit everybody.
The MF-18 series is a budget-friendly product that Maxfoot designed and released for the vast majority of ebikes fans. A reasonable cost must be maintained for the MF-18 series while operating with the same settings.
Folding E-bike: Maxfoot MF – 19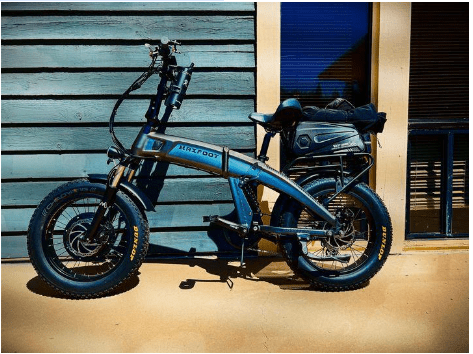 The Maxfoot MF-19 is a well-rounded e-bike with a powerful hub motor, and it comes highly recommended. The large tires and six-bar linkage suspension system provide outstanding handling. The frame can be folded up in a single motion thanks to its clever construction. With its six-bar linkage rear suspension, the MF-19 is a fully equipped all-terrain e-bike.
It can be folded up in three simple steps and carried about with you with no trouble. The front light is powered by the bicycle's main battery pack, so you won't need to keep track of its charge separately.
The 1000W Brushless Bafang Geared Hub Motor on the Maxfoot MF-19 E-bike produces 90N.m of torque, resulting in a responsive and comfortable ride. The SAMSUNG has a big battery capacity, which is great for providing reliable energy for long rides. A very remarkable 60-mile range is possible with the PAS system. You can relax and focus on the journey without worrying about the battery.
Why The Maxfoot MF30 Electric Cargo Trike Is the Best
The Maxfoot MF30 electric cargo trike is the finest option for individuals who are seeking for an electric bike that is capable of handling a wide range of varied loads. Since it is able to carry up to 350lbs + Rear Rack 100lbs of goods, the MF30 is an excellent option for those who have the responsibility of transporting a significant amount of equipment. The MF30 comes included with a robust motor that is capable of 50-65+ Miles with PAS 1. Because of this, it is an excellent option for those who have limited time to move from one place to another.
Final Thoughts
After taking into account all of the relevant aspects, it is abundantly evident that the Maxfoot Bike MF30 Electric Cargo Trike is the best option for satisfying the requirements that you have for your specific trip or the purpose of cargo and deliveries. In addition to being fully modifiable to cater to your one-of-a-kind requirements, it offers the optimal balance of coziness, practicality, and functionality. Hence, do not tarry any longer; place your purchase for a Maxfoot Bike MF30 Electric Cargo Trike right now!