The series of articles on Jettender design details by Agilis
We have already reviewed every part of Agilis jet tenders, but we left the most delicious for the last. If you imagine the boat as a pie, then the devices and accessories are the fillings.
The first important device for a comfortable ride is a multifunctional touch-screen display, Agilis jet tenders are equipped with a new generation of multifunctional displays from Raymarine. This device has charts, GPS, sonar, and many other features and helps the sailors to see the bottom and objects in photorealistic quality, find clusters of fish, and lay the best routes. You can connect the display to the phone for more usability. Also, you can control from display the optional Fusion stereo system which allows to playback of music through Bluetooth, and AM/FM radio.
Customizing your tender, you can add a marine radio Raymarine Ray53 VHF for each model. It is a full-featured VHF marine radio with Class D Digital Selective Calling (DSC) and a built-in GPS receiver. This device makes the journey safe because it allows one to communicate with another boat as well as send an emergency signal. In some models, you can choose an Automatic Identification System (AIS). It is fitted on ships for the identification of ships and navigational marks. AIS contributes significantly to the safety of navigation. All the information that is transmitted and received enhances the effectiveness of navigation and can greatly improve situational awareness and the decision-making process.
For a better ambiance at night, you can pick one of the offered lighting systems. LED deck lights will provide more ambient light on board during the ride in the dark and give your tender unique look. OceanLED underwater lights attached to the stern offer a luxurious light that will illuminate the water even at speed. The most luxurious jet tender Agilis 560D offers unique solutions, such as underwater RGB lights. Multicolored lighting will make your onboard experience exceptional and cheerful.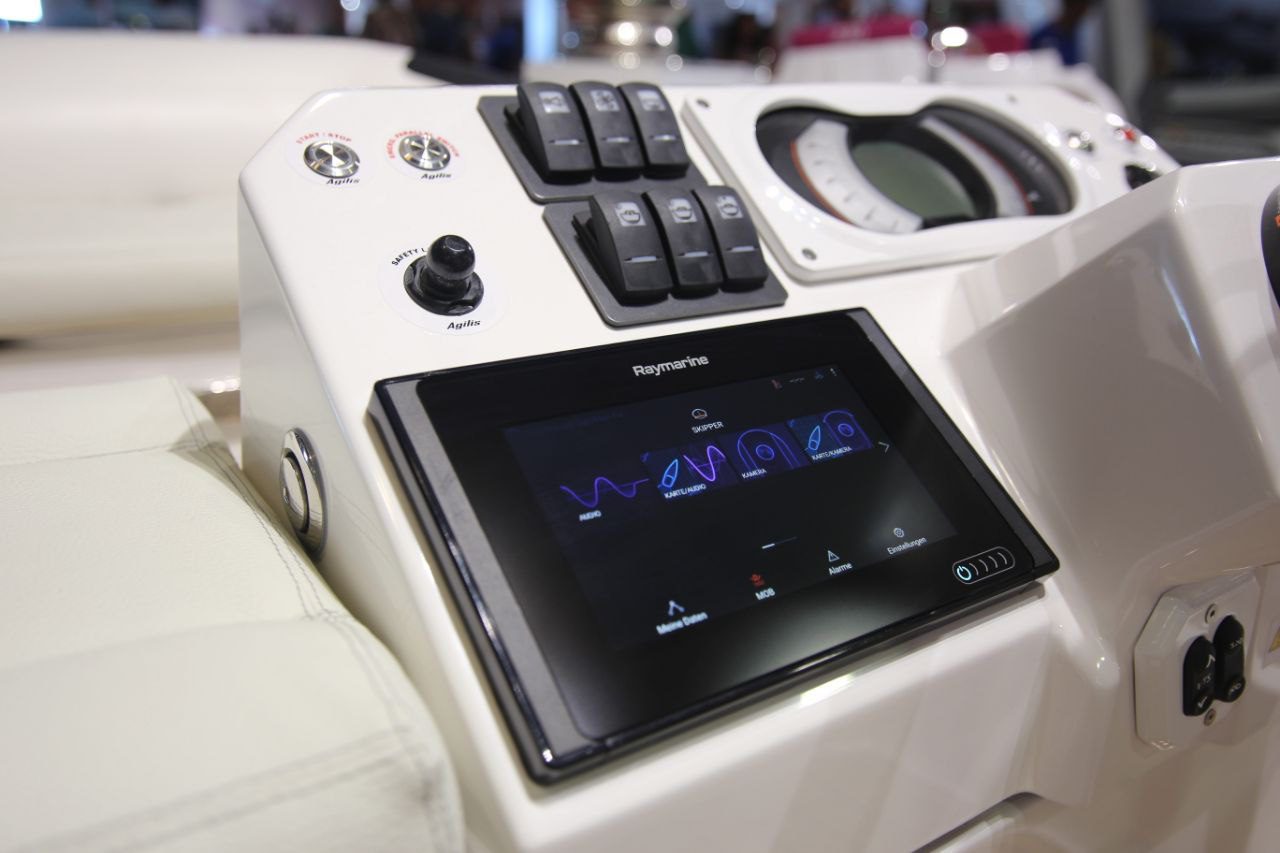 Useful accessories can make the trip more comfortable and keeping easier. The ladder, bow step with navigation lights, and boarding pole can be used for comfortable boarding. Handled, automatic bilge pump and storage room will take care of the safety and comfort of passengers. You can use lifting hooks or slings for the simpler and quicker lifting of the tender and tie-down points, tie-down fittings, and chocks for the correct positioning of the boat on the platform or flybridge. You can be sure of the correct storage of your tender with the removable steering wheel and boat cover.
Hence, we have reviewed every detail of our jet tenders to help you to customize your tender and to make sure that we cooperate only with proven manufacturers and use only luxurious materials and accessories of the highest quality.