Since 1975, the rate of obesity worldwide has tripled, with close to 40% of the global population now being overweight or obese. There are two sides to this pandemic. First are those affected by overweight or obesity, and then there are the companies that target this particular audience. If your business is in the weight management, health, or fitness industries, you need the best body fat scales for your customers. Let's take a closer look at the best body fat analyzer on the market.
Introducing The FG263LB Body Fat Scale
There is no shortage of body fat scales on the market, so the average consumer needs help knowing which suits their needs. The Welland FG263LB body scale is an excellent choice for finding a weighing scale with body fat measurements.
These body fat scales measure 260mm by 260mm and have a low height of 18mm. At less than 1kg in weight, it's the perfect companion to keep in the bathroom and have easy access to.
There is an LCD display that provides quick and reliable feedback once the user gets on the scale. A backlit further enhances the visibility of the results that these body fat scales display.
The 5mm tempered glass platform at the top of the scale helps to add extra durability and reinforcement, which ensures the device can support a weight of up to 180kg.
There are 13 different measurements that the body fat scale is able to provide:
Weight
BMR
BMI
Visceral
Bone mass
Muscle mass
Protein
Subcutaneous fat
LEM
Skeletal muscle rate
Body water
Body fat rate
Body age
These measurements are possible due to the advanced technology and sensors that the body fat scales use.
Benefits And Advantages of the FG263LB
Numerous benefits can be expected from the FG263LB. Let's take a closer look at the main advantages:
The FG263LB contains a Bluetooth module that allows it to easily sync with the user's smartphone. This offers extra convenience as the measurements are also displayed on this mobile app.
By providing the user access to various measurements, it's possible to get a more accurate idea of how well they are managing their weight. The data can also help the user identify specific areas to focus on more.
Welland's FG263LB supports both OEM and ODM services, which can help companies create their brand of smart body fat scales.
Buying Guide And Considerations
When it comes to finding the best body fat scales, you have to know what to look for. Here are some of our recommendations in terms of the main criteria points to keep in mind:
Make sure the scale uses multiple sensors and the latest technology to deliver precise results.
Ensure the device uses a wireless technology that is quick and easy to sync with their smartphone.
Reliability is another essential consideration that should not be overlooked.
The scale should not be too big. A portable, slim option is more convenient to use.
The price range is also important, as potential customers may be shopping on a specific budget.
By assessing the FG263LB, you'll easily see how well it fits within these buying criteria that we shared.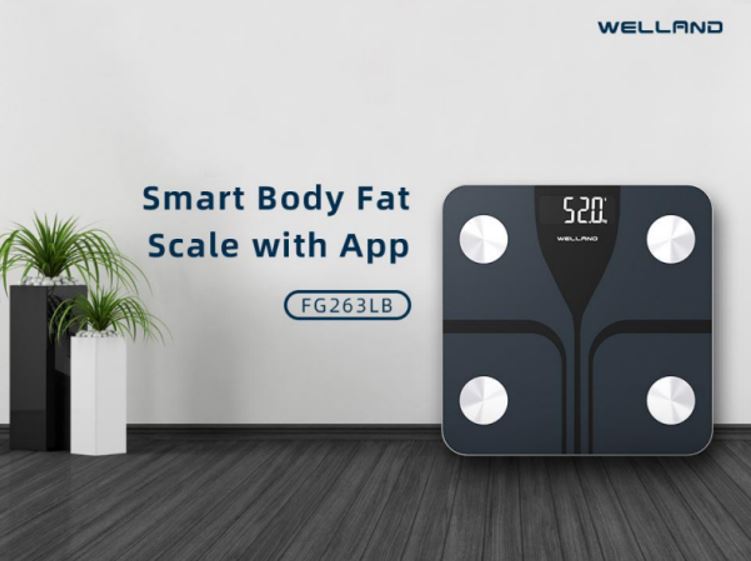 Conclusion
Welland has almost a decade of experience in manufacturing high-tech devices that are useful in personal health management. From kitchen scales to smart jump ropes and even body fat scales that are exceptionally accurate. If you would like to learn more about how these solutions from Welland could boost your business, contact one of their experts today.