International conferences offer valuable opportunities for professionals and academics to engage with their peers, share their research, and expand their networks. However, when planning to attend a conference in Canada, you'll need to determine the appropriate type of visa required for entry and familiarize yourself with the application process and related requirements.
To facilitate access to the country for conference participants, the Canadian government offers a range of visa options tailored to suit the needs of different types of travelers. These include temporary resident visas, business visas, and electronic travel authorizations.
Furthermore, conference organizers often provide support through invitation letters, which can be crucial in expediting the visa application process. Navigating the intricacies of visa requirements and procedures may prove daunting, particularly for first-time visitors to Canada. 
This article provides a comprehensive guide to understanding the various conference-related visa options, the steps involved in applying for a visa, and tips on ensuring a smooth and successful conference experience in Canada.
Determine Your Visa Requirements
To ascertain the appropriate documentation for attending a conference in Canada, examine the specific visa requirements. The Canadian government has established various categories of visas, each tailored to different purposes and durations of stay.
To determine one's Canadian visa eligibility, several factors must be considered, such as the applicant's nationality, the purpose of the visit, and the length of the intended stay. It is important to note that citizens of certain countries are exempt from visa requirements when visiting Canada for short periods, as they belong to the list of visa-free countries. 
However, even for these individuals, an Electronic Travel Authorization (eTA) may be necessary for entry. A thorough analysis of the visa requirements is essential to ensure a smooth and hassle-free experience when attending a conference in Canada. 
This includes understanding the application process, required documentation, and any additional conditions that may apply to the applicant's situation. 
By familiarizing oneself with the various visa options and their respective requirements, one can decide on the most suitable type of visa for conference attendance. This knowledge will prove invaluable in the subsequent section, which delves into the conference-related visa options available for prospective attendees.
Conference-Related Visa Options
Several options for obtaining the appropriate travel authorization exist for individuals planning to attend a conference in Canada, with the most suitable choice depending on factors such as the applicant's nationality, purpose of visit, and duration of stay. 
Visa eligibility factors are crucial in determining the appropriate Canadian visa alternatives. For instance, citizens of visa-exempt countries may only require an Electronic Travel Authorization (eTA) for short-term visits, including conference attendance.
On the other hand, individuals from non-visa-exempt countries typically need to apply for a Temporary Resident Visa (TRV) to enter Canada for conference purposes. Additionally, business visitors who intend to engage in international business activities without directly entering the Canadian labor market may be eligible for a Business Visitor Visa.
In some cases, conference attendees may require a combination of visas or permits, depending on their specific circumstances. For example, if an individual plans to present research or engage in other professional activities during the conference, they may need to obtain a work permit in addition to their TRV or eTA.
It is essential for prospective conference attendees to carefully assess their visa requirements and consult the relevant Canadian government resources to ensure they apply for the correct travel authorization. 
With a clear understanding of the various conference-related visa options, individuals can confidently navigate the visa application process and prepare for their upcoming conference in Canada.
Visa Application Process
Navigating the complexities of the visa application process is a crucial step in ensuring a seamless journey for those attending international events and gatherings. As such, you'll need to be well-informed about the various visa application tips to avoid common application mistakes.
To begin, applicants must determine the type of visa required for their specific event, usually a temporary resident visa (TRV) or an electronic travel authorization (eTA) for conference attendance in Canada. 
It is also crucial to apply well in advance, as processing times may vary depending on the applicant's nationality and the time of year. Therefore, accurate and complete documentation is vital, and applicants should avoid any discrepancies in their forms, which could lead to delays or denial of the visa.
One essential component of the visa application process is the submission of supporting documents, which may vary depending on the type of visa and the applicant's country of residence. 
Among these documents, a letter of invitation from conference organizers often plays a significant role in establishing the purpose of the visit and demonstrating the applicant's intention to return to their home country.
Letter of Invitation from Conference Organizers
An invitation letter from conference organizers holds significant importance in the visa application process, as it establishes the purpose of the visit and demonstrates the applicant's intent to return to their home country. 
One such event is the international business and marketing conference in Canada, which provides an invitation letter to attendees detailing the conference's objectives and schedule. Getting a proposal from an international business and marketing conference with invitation letter will help you show a valid reason to travel to the host country. 
This document, provided by the event organization, should contain essential information such as the applicant's full name, passport number, purpose of travel, duration of stay, and any financial arrangements made on behalf of the attendee. Invitation essentials also include the conference title, dates, venue, and contact information of the organizers.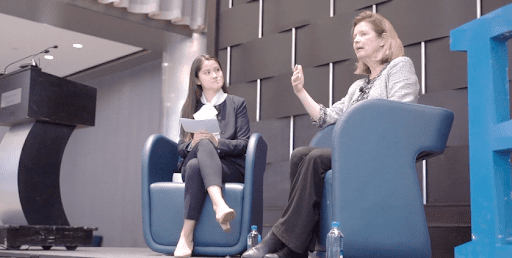 A clear and comprehensive invitation letter facilitates the visa officer's assessment of the application, increasing the chances of obtaining the required visa. Organizer communication is critical in ensuring that all necessary details are included in the invitation letter. 
It is the responsibility of the conference participant to reach out to the organizers and request this document well in advance of the event. Additionally, the applicant should provide accurate and up-to-date information to the organizers to avoid any discrepancies or misunderstandings.
Once received, the invitation letter and other supporting documents should be submitted along with the visa application. As the process moves forward, applicants should be prepared to navigate the complexities of processing times and tracking their applications to ensure a successful outcome.
Processing Times and Tracking Your Application
Understanding the intricacies of processing times and tracking one's visa application is crucial to ensure a seamless travel experience and successful participation in the event.
The processing times for visas can vary depending on the type of visa, country of residence, and the workload of the Canadian embassies. Submit the visa application well before the conference to account for any unexpected delays or complications in the application process.
Most visa applications can be submitted online, allowing easier application status tracking and timely communication with the Canadian authorities regarding any additional requirements or updates.
During the application process, applicants may be required to provide biometrics or attend an interview at their local Canadian embassy or consulate. These additional steps may affect the overall processing times for the visa application.
Online submission of the visa application allows applicants to receive updates and track the progress of their application through the Government of Canada's website. Maintain accurate and up-to-date contact information in the application, as any communication from the Canadian authorities may be time-sensitive and require prompt action.
Once the visa is approved, thoroughly review the details, including the validity period and any conditions attached. By accounting for these factors and diligently tracking one's visa applications, applicants can better prepare for their arrival in Canada and focus on the conference experience.
Preparing for Your Arrival in Canada
Ensuring adequate preparations for one's arrival in the host country is paramount for a seamless and stress-free experience at the event. For instance, acquainting yourself with local customs, transportation options, and accommodation facilities can significantly enhance the overall experience and allow attendees to focus on the conference objectives. 
An arrival checklist can be useful for ensuring that all necessary preparations have been made and that essential tasks are not overlooked. Accommodation options should be researched well in advance to avoid last-minute complications and to ensure a comfortable stay during the conference.
A comprehensive arrival checklist for a conference in Canada might include the following points:
Valid travel documents (passport, visa, and conference invitation letter)

Local currency (Canadian dollars) for immediate expenses upon arrival

Pre-arranged accommodation and transportation details

Research on local customs, etiquette, and language basics

Essential personal items, such as clothing, toiletries, and electronics chargers
Being well-prepared for arrival in Canada will alleviate stress and enable conference attendees to engage in the event entirely. Plan ahead and carefully consider all necessary aspects of the trip. With adequate preparations, attendees can now focus on maximizing their conference experience in Canada.
Tips for a Smooth Conference Experience in Canada
In order to fully prepare for one's arrival in Canada, consider not only the necessary visa requirements but also anticipate potential challenges to ensure a seamless conference experience. With proper planning and organization, conference attendees can expect a smooth and enjoyable stay in Canada while focusing on the primary objective of attending the conference.
One crucial aspect to consider is securing appropriate Canadian accommodations, which can greatly affect the overall conference experience. Researching and booking accommodations near the conference venue is highly recommended, as this can save time and reduce transportation-related stress. Additionally, selecting a lodging option within one's budget will allow for better financial management while still providing a comfortable and convenient stay in Canada.
Another crucial aspect of ensuring a smooth conference experience is actively engaging in networking opportunities provided throughout the event. These connections can lead to fruitful professional relationships, enhance one's understanding of the subject, and provide further avenues for collaboration. 
Attending social events, participating in discussions, and exchanging contact information with other attendees can significantly contribute to a successful and rewarding conference experience in Canada.
Conclusion
Navigating the labyrinth of visa requirements and application processes for attending a conference in Canada may appear daunting at first glance. Nevertheless, by thoroughly examining the visa options, diligently following the application process, and preparing for arrival, one can successfully overcome these challenges and partake in the intellectual feast that awaits.
The allegory of the journey to a conference in Canada, akin to a quest for knowledge, emphasizes the importance of perseverance and preparation in achieving one's goals. By doing so, attendees can ensure a smooth and enriching experience, allowing them to fully immerse in the exchange of ideas and pursue intellectual growth.