If you feel like the default Magento 2 is missing on features that influence the effectiveness of your Marketing and Sales team, you are at the right place. 
The Adobe Marketplace lists a great deal of third-party free and paid solutions designed to add the missing functionality with ease and achieve the major goal ― increase in revenue, customer loyalty, and customer retention.
This article overviews the best Magento 2 extensions for the job.
Top Magento extensions for marketing
Marketing is complex and versatile. As the same marketing technique may work perfectly for one brand but fail for a different one, there is no fit-all solution that can give a 100% success guarantee.
But the proof of the pudding is in the eating, and the cherry-picked solutions below have been judged by their rating to be more superior than other ones.
Ultimate Sales Boost
This extension is one of Magento eCommerce modules from Mageworx that allows e-stores to skyrocket sales campaigns with an impressive number of popular marketing tools. The display of these shticks can be easily automated, customized, and managed, just as their front-end design.
Type of marketing:
Scarcity marketing
Top five features:
Interactive countdown timers of various design

Social proof popups and notifications

Functionality to display products popularity

The stock status progress bar

Flexible rules and restrictions to trigger campaigns' launch/end time
Pricing*:
$199 for Magento Open Source, $398 for Adobe Commerce or Commerce on Cloud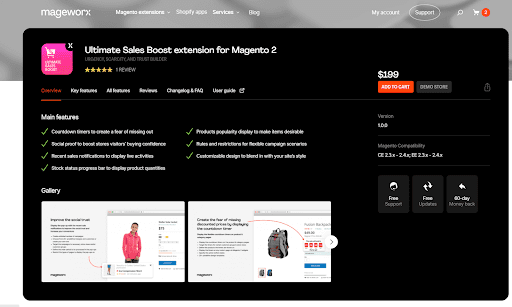 Follow Up Email
This Aheadworks's module is designed to help reach out to customers via email following their specific on-site actions. It allows you to bring site visitors back to your online stores and increase shoppers' lifetime value. Besides, such emails get sent automatically following specified by you triggers.
Type of marketing:
Email marketing
Top five features:
Multiple triggers for sending follow-up emails

Ability to build and schedule a chain of email campaigns

Reports and basic analytics to track interaction with emails

A/B testing functionality

Header and footer templates
Pricing*:
$399 for Magento Open Source, $639 for Adobe Commerce or Commerce on Cloud
Affiliate
If you are seeking better means to offer and manage your affiliates on a Magento-based site, then this module is certainly worth taking a look at. Mageplaza can help you launch and run such a program, as well as generate smart referral links for its purposes easily.
Type of marketing:
Affiliate marketing
Top five features:
Running various affiliate programs

A variety of commission tiers

Referral links and affiliate banners with links

Basic analytics and reports

An abundance of commission payment methods
Pricing*:
From $99 for a standard package and up to $299 for an ultimate one
Promo Banners
Promotional banners are an effective means to inform site visitors about the ongoing sales campaigns, temporary deals, or upcoming events. They attract site visitors' attention and ensure a high probability that critical information gets seen by as many shoppers as possible.
Type of marketing:
Promotional marketing
Top five features:
Promotional banners on product/category/cart pages

Flexible rules and conditions to trigger banners' display

High design customizability with the possibility to use text, images, and even combined banners

Ability to place your banners anywhere on the page

Triggers setup to show banners when the timing and conditions are right
Pricing*:
$149 for Magento Open Source, $318 for Adobe Commerce or Commerce on Cloud
Abandoned Cart Email
Emails are one of the most popular and effective means of returning customers to your site. Some may get distracted and forget to complete their purchases; others might need time to think their carts over, compare prices, and get back when they feel confident about that. This Amasty's tool will help launch email chains with unique emails to achieve a specific marketing objective.
Type of marketing:
Email marketing
Top five features:
A fair number of customizable email templates

Reports and analytics to evaluate abandoned cart campaigns

Sending emails following a specific schedule

UTM tags to track campaigns in Google Analytics

A built-in discount coupon code generator
Pricing*:
$149 for Magento Open Source, $449 for Adobe Commerce or Commerce on Cloud
Popup
Many find popups annoying, but no matter what their attitude is, popups work. They are highly effective in collecting new email subscribers, informing site visitors, and even stopping them from ditching your site. Plus, they can even pitch in your site's performance metrics. For Magento 2, this Magenest's solution can help introduce the popup functionality.
Type of marketing:
Advertising
Top five features:
Adding a variety of popups 

Over 45 popup design templates and popups position customizability

Multiple conditions to trigger popup display

Displaying popups on any site page

Basic analytics of popup performance
Pricing*:
$129 for Magento Open Source, $239 for Adobe Commerce or Commerce on Cloud
Instagram Integration
People are social beings, and as building communities and being socially active is predicted to become even more trendy, why not display your Instagram activities right on your Magento-based site's pages.
Type of marketing:
Social media marketing
Top five features:
Ability to place images from the Instagram feed anywhere on your site

Specifying the number of displayed images

Automatic update of images/videos

Ability to direct shoppers to your Instagram profile

Grid and slider visualization options
Pricing*:
$25 for Magento Open Source
Instead of final words
In this article, we did our best to highlight third-party Magento 2 extensions developed to cover a variety of much-needed activities required for brand growth.
It was not the best-to-worst list in any way. All the solutions mentioned come from reputable Magento 2 vendors who have been for a while on the market and are well-known in the Magento Community.
Knowing where your business falls behind, it's high time to pick one or two modules from the list and give them a try.
If you are already using one of the shared add-ons (or were using some), please take a moment to share your experience with other merchants. Your genuine feedback can save other merchants from making the wrong choice.
*Please note that the majority of third-party extension vendors in the Magento ecosystem officially transition to a subscription-based pricing model. Thus, there might be some changes in the provided above pricing.