It's not a secret for everyone that the financial markets took a major leap since the 1990s when the Globex Trading System introduced a new era of trading. Anyone with an internet connection could now independently place trades on the global financial markets in just a few years. This new trading culture had a huge impact on the way people conduct themselves in the markets.
The traditional trading pits started to disappear during the 1990s, and the rise of digital technology and faster trading speeds made it increasingly difficult for people to maintain their positions. Throughout the years, various changes occurred, including introducing self-directed accounts, removing human advisors from the market, and emerging exchange-traded funds (ETFs).
The increasing number of people who are digital natives and are looking for a more flexible and mobile trading environment are some of the factors that have prompted the development of new trading solutions.
The rise of web-based trading platforms
Companies are developing software that will allow them to diversify their offerings and improve the lives of traders. There is a variety of web and mobile trading software that will allow you to perform financial transactions. One of the most important features of these platforms is that they allow you to analyze and place orders without downloading or installing anything.
There are a few reasons why some believe that web-based solutions are better than their desktop counterparts. One of these is that they can be easily used on any device, be it a laptop, a desktop, or even a mobile.
The main disadvantage of using desktop apps is that they are only accessible from a physical location. This means that if something goes wrong, it can affect the performance of the trader. Another disadvantage of using desktop solutions is that they depend on the users' machine computing power.
Web-based trading software is completely cloud-based. This means that all of the data processing is carried out on the cloud. Also, while desktop solutions require a user to interact with the software to update it, web-based apps are always "updated with the latest version". 
Now, it seems it's a good time to explore some of the most popular web platforms for trading.
MetaTrader 5
The web version of the popular trading software, known as MetaTrader 5, allows you to start trading on foreign exchange, futures, and exchange markets from any computer. It comes with a variety of features that can be accessed through a browser, and you can also analyze financial quotes without installing any software.
The easy-to-use and secure web platform allow you to start trading with just a couple of clicks. It's also very safe to trade on, as the information that you transmit is encrypted. If you're not able to install a mobile app or a desktop platform, the MT5 Web Platform is the ideal choice.
With the web version of this software, you can easily place orders, perform market analysis, and view multiple charts and technical indicators. It also comes with a variety of other features that can be accessed through a browser.
Thinkorswim
Thinkorswim provides a variety of experiences to help traders meet their goals. Whether you prefer to trade on a desktop or a mobile app, thinkorswim has the right platform for you. Its web-based version, thinkorswim web, is a streamlined trading experience that's ideal for those who prefer to trade using only the most essential strategies and tools.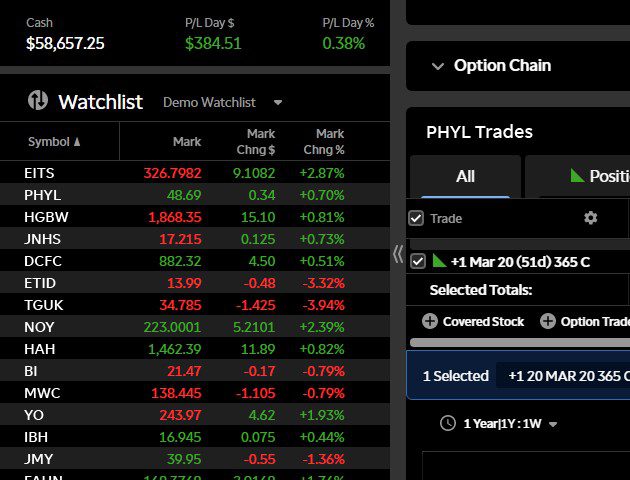 Pic credit: TD Ameritrade
When you enter security, a chart will automatically be created for you. You can then create an order and see the details of the trade, such as the price and the direction it needs to go in order to profit. A profit/loss graph will also appear in the window, allowing you to see how the security is performing.
E*Trade Web Platform
E*TRADE is a well-known broker that caters to investors of all types and backgrounds with their trading platform. With a wide range of trading tools and investment options, it is easy to navigate through its website and apps.
The E*TRADE web version is ideal for beginner and passive investors. It features a variety of tools and educational content designed to help investors build their portfolios. Its screening tools allow investors to find the appropriate assets for their specific investment philosophy.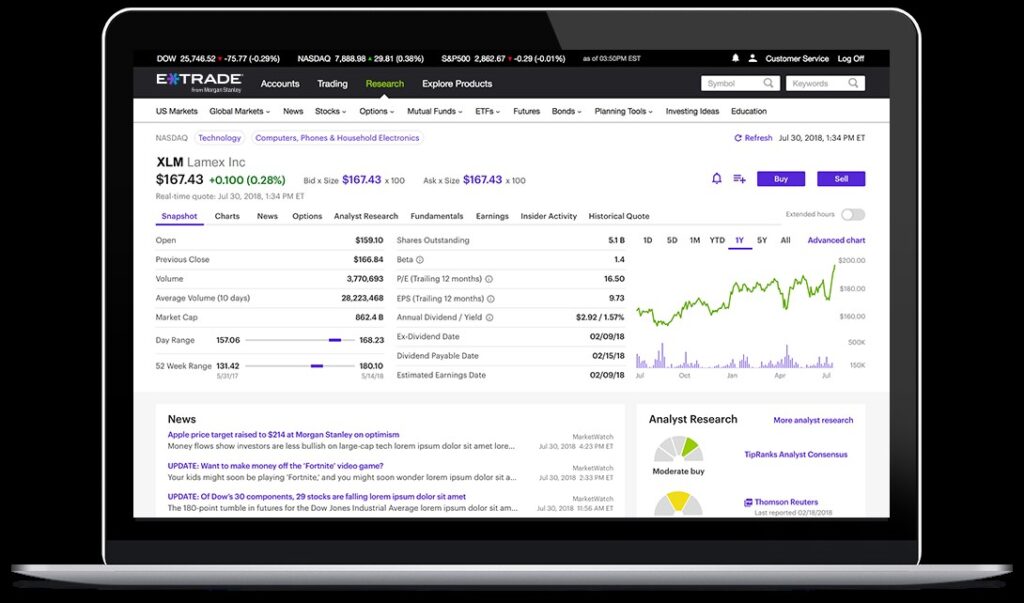 Pic credit: E*TRADE
The mobile app of E*TRADE is also very well-designed and mimics the web version's features. It allows investors to monitor their portfolios and make trades.
Web-based trading trends of 2022
According to Allied Market Research, the global online trading market was valued at $8.2 billion in 2021. It is expected to grow at a CAGR of 7.9% to reach $18.4 billion in 2031. The COVID-19 outbreak has had little impact on the market's growth due to the increasing number of people using online trading solutions.
The rise of digital trading platforms is expected to drive the market's growth during the next few years. These are easy to use and offer various advantages, such as a low risk of error and better functionality. The increasing number of people using internet access and smartphones are some factors driving the market's growth.
Moreover, the increasing demand for customized trading solutions from end users, such as non-profitable banks and government agencies, is expected to fuel the market's growth. Some factors that are expected to create opportunities for the players are technological advancements and the integration of smartphone trading platforms.
The companies in the market are also focused on expanding their operations in developing countries. The increasing demand for cloud-based trading solutions is expected to provide a boost to the market's growth during the next few years. These solutions offer numerous advantages over traditional methods.
As The Business Research Company stated, in 2021, North America held the largest share of the online trading platform market. The Asia-Pacific region is expected to grow at the fastest rate during the next few years. This is due to the increasing number of people using online trading solutions and technological advancements.