By 2023, the average North American will have more than 13 connected devices. That's right, 13! 
And that doesn't just include laptops, PCs, and Smartphones. It also includes wearables like smartwatches, AI speakers, and more. 
For those looking to foray into the gadget industry, it is a great sign. Now is your time to develop a device that can revolutionize your audiences' lives.  
But wait a minute before you gear up for the launch. You need to hire a UX designer to create an optimal experience for the user when they interact with your product.
Why?  What does a UX designer do in the gadget industry? 
Well, in today's fast-paced world, the demand for user-friendly gadgets is at an all-time high.
And a UX designer bridges the gap between design and technology. They ensure that gadgets are not only visually appealing but also efficient and easy to use. 
With the help of a UX designer, you can create products that are tailored to the needs of your users. This will ultimately lead to higher customer satisfaction and increased sales.
In this blog, we will understand the role of a UX designer in the gadget industry in detail. 
Before we get to that, let's take a quick look at who is a UX designer. 
Who is a UX designer?
A UX designer is a professional responsible for creating user-friendly and efficient products. A user experience designer is someone with a deep understanding of human behavior. And they use this knowledge to create products that are easy to use and visually appealing.
The key responsibilities of a UX designer include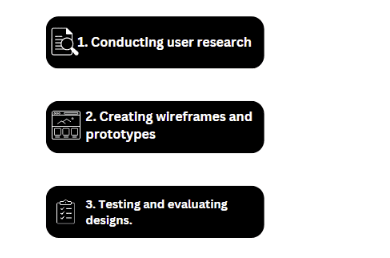 The skills required to become a successful UX designer are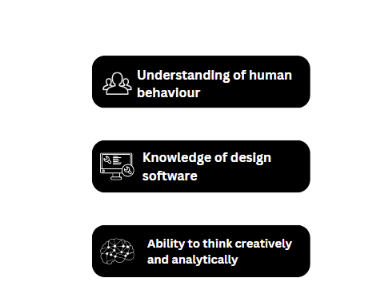 UX designers play a crucial role in the tech industry. Especially in the gadget development niche. That's why understanding the role of a UX designer is more important now than ever.
What's the gadget industry?
The gadget industry includes a wide range of electronic devices. [Such as smartphones, tablets, laptops, and wearable technology.]
The industry is constantly evolving and growing today.
According to Fortune Business Insights, the global consumer technology industry was worth USD 689.45 in 2022. And the market is expected to grow at a CAGR of 5.3% to reach USD 989.37 billion in 2027
If you wish to grab a slice of the growing market pie, you need to make UX your friend. That's because it has been seen that a positive UX is one of the leading reasons for increased customer satisfaction, brand loyalty, and sales. 
In fact,

Apple is one of the top examples of how great UX is imperative for success in the gadget industry.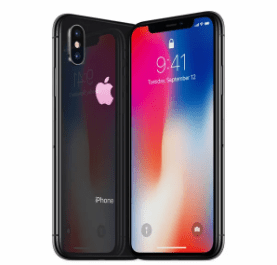 Apple's iPhone and iPad have consistently received high ratings for their user-friendly interface and sleek design. 
Now you have a brief overview of UX designers and the gadget industry. So let's explore a UX designer's role in the gadget industry. 
The role of a UX designer in the gadget industry
The role of a UX designer in the gadget industry is not a one-time process. Instead, it is an ongoing cycle of research, design, testing, and iteration. 
Reliable UX designers always look for ways to improve the user experience. They aim to make the products they work on as efficient and user-friendly as possible.
Let's see how UX designers contribute to success in each step of gadget development. 
1.Research and analysis
One of the critical responsibilities of a UX designer is conducting research and analysis. 
This includes researching users as well as analyzing competitors.
User research allows UX designers to gain a deep understanding of their TG. They get to know the needs, preferences, and pain points of their audience. This information is then used to inform the design process. 
Competitive analysis, on the other hand, allows UX designers to keep an eye on the competition. By studying the competitor's products, UX designers identify areas where their own designs can stand out.
2.Design and prototyping
Once the research and analysis phase is done, UX designers move on to design and prototyping. 
This includes wireframing and prototyping, as well as working on interaction designs. 
Wireframing is the process of creating a basic visual layout of a product.

Prototyping is the process of creating a working model of the final product.

Interaction design involves creating the flow and interactions within a product. 
In all these steps, a UX designer ensures that the gadget they are working on is intuitive and easy to use. Of course, while being great to look at. 
3.Evaluation and iteration
Post the design and prototyping, UX designers work on user testing. It includes evaluation and iteration. 
UX designers start by gathering feedback from the users of the gadgets that they are designing. This helps find out any usability issues.
Interaction and improvement are carried out post that. 
Thus, it is clear that UX designers are a crucial ingredient in the recipe for the success of any gadget. However…
Just UX designers won't suffice.
Creating a product with a great user experience is a complex and challenging task. It involves understanding the user's needs and preferences. Also, one needs to be aware of the latest design trends, technologies, and devices. 
Thus, having the right UX designers onboard is of the most significant importance. 
In the mobile industry, for example, there are many devices with different screen sizes and resolutions. There are also different operating systems. And different input methods like touch or voice commands. All this needs to be taken into account during the design process. 
A UX designer in the mobile industry must be aware of all these variations. 
Another example is the wearable technology industry. The user experience is even more critical here. As these devices are worn on the body, they are in constant use. And these devices have to be comfortable, lightweight, and easy to use. 
A UX designer in this industry must create designs that are comfortable and easy to understand and use. 
Thus, it is important to have experienced, dedicated, and better-than-the-rest UX designers.
How to find the best UX designer for your needs?
Well, finding the right UX designer for your gadget project can be a daunting task. With the right approach, though, you can identify the best candidates.
Here are some tips to help you find the best UX designer for the gadget industry:
When it comes to the gadget industry, experience matters, look for designers who have experience working on similar projects to yours. 

Always check if the UX designer has a portfolio that showcases their work in the gadget industry. 

Find a user experience designer who is a good fit for your team and project. Make sure they share the same values and design philosophy as your team. This helps ensure a smooth-running process and that the final product meets your expectations.

Ask for references. And reach out to former clients to get a better idea of the designer's work ethic and design process.

A good UX designer should be open to feedback from users and stakeholders. And they should be willing to iterate based on the feedback.
By following these tips, you'll be able to find a UX designer who is well-suited to your project.
But the process can be long and tiresome.
A quicker and more efficient way is to hire UX designers from Indian talent connect platforms.
Why?
Because:
These platforms can help you connect with top talent from India.

You can seek candidate replacements if they are not an ideal fit for your organization.

You only have to pay their monthly fee. No overheads.

You can scale up and down with ease.
So what are you waiting for? Hire a UX designer for your gadget development needs and gear up for success. 
Author Bio:
Justin D'Costa is an SEO specialist who works with Uplers, India's largest hiring platform that helps remote-first companies to hire top remote tech talent. 
Justin is an absolute digital marketing geek having an experience of more than half a decade. He has vast knowledge in the field of SEO, PPC, Web Analytics, and Web Development that he likes to share through excellent articles.
When not wrapping his head around marketing, you can find him playing with his dog, Casper, or enjoying the beautiful nature by spending some time on the beach.