The dedicated team model, or DTM, is a financial collaboration business model that is increasingly being used in outsourcing and software testing in particular.
Given that many customers are interested in using this model, we decided to talk about dedicated software development teams' advantages and disadvantages, as well as highlight the features that need to be considered before deciding to cooperate on DTM.
By signing an agreement to work according to the "dedicated team" model, the client receives at his disposal specialists who are selected taking into account the requirements for a particular product.
The dedicated team is fully focused on the IT solution, while the client is in control of the workflow and is given the opportunity to switch attention to high-level tasks. Responsibility for attracting new specialists and administrative support for the team lies with the software development service provider.
The effectiveness of the team and KPI of each specialist are regularly monitored, and, if necessary, adjustments are made to the workflow.
How To Understand That Your Business Needs Dedicated Team
The dedicated team model is recommended when you are interested in a long-term partnership with a service provider. It's also great if you don't have the time or resources to hire and train an in-house team, or if you realize you might need to add more members.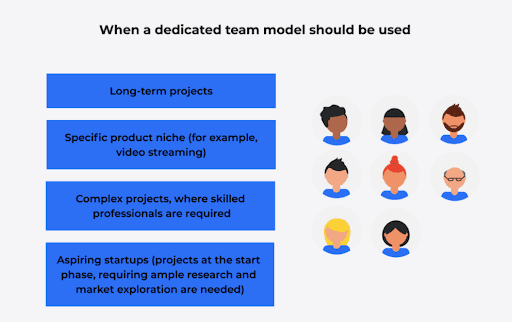 Traditionally, clients from the USA and Europe prefer to work with a dedicated team. Companies understand the benefits of DTM and can respond faster to changing business conditions while maintaining a high level of software quality.
Our experience shows that clients choose DTM when they need to increase the size of their team within the company, but do not have the time or opportunity to hire and train new specialists.
Compared to other models, DTM is more student-centered. When hiring a dedicated team, most clients aren't just looking for additional development resources. They strive to get people who are motivated and interested in the project, who will be proactive and will do everything possible to ensure that the final product is perfect. The client needs specialists with whom he can communicate, who will be "on the same wavelength" with him. Therefore, the personality of the team members is very important.
DTM is most often used on long-term projects. For example, we have a team that has been working on the same client project for over 10 years. This confirms that a dedicated team really means "dedication" – dedication to the project and purposefulness in solving problems.
Benefits Of Dedicated Team For Small Business
The main advantage of a dedicated team for small businesses is, first of all, to gather only those specialists that are needed at the start of the project and not spend the budget on those who will be needed later.
In addition, there are two other important advantages:
Predictable and defined budget;

Since the scope is not strictly defined, requests can be changed at any time.
Benefits Of Dedicated Team For Large Business
The Dedicated Team model is very flexible. In an industry that is as fast-paced as technology, lack of flexibility means loss of opportunity and inability to implement new ideas. Before you start choosing a collaboration model, you should study the needs of your business and assess the risks first. 
Among the advantages of a dedicated team model for large businesses, we would pay attention to:
Full control over team management;

Dedicated team members have a deep understanding of the client's project and business goals;

Constant communication with the team through daily communication using web-based tools such as Skype, Asana, Trello, and Basecamp;

The team is stable and fully dedicated to a particular client.
Sum up 
The Dedicated team helps to get specialists who will be fully immersed in the specifics of the client's business. In addition, the team is flexible to the requirements of the customer and, if necessary, the project can scale.
Regardless of the industry, your business goals, software features, DTM helps you get a dedicated development team that will work on the interaction scheme of your choice: remotely, on the client-side, or a combination of both formats.
Contact us and we will tell you how a dedicated development team will be useful for your SaaS product.