DTF printing is a very effective method for printing your designs on cotton, polyester, or their blends. It's also possible to use this technique to print shirts for other apparel decorators as an extra stream of revenue.
It's easier to do than sublimation and doesn't require a pretreatment process. However, there are a few things to keep in mind before you invest in a DTF transfer printer.
Printing
DTF transfers are made using a special film similar to a transparency film. These films are used in conjunction with a high-quality inkjet printer. The difference is that the inks are not standard household printer inks but textile-specific inks designed to bind with fabrics as closely as possible. Then, the design is printed on the film. The inks are then placed on a garment, such as a t-shirt. The heat is then applied to melt the inks into the fabric.
The powder application process for DTF can be automated or manual. With automatic application, the transfer is run through a powder application station and into a curing oven to melt the inks. This can be done for rolls of film or sheet prints. Manual powder application involves pouring the powder onto the still wet ink, rocking the transfer back and forth, and ensuring that the entire surface of the print is covered with a layer of white powder. This step can be a laborious, time-consuming process when printing large quantities of products.
A direct-to-film printer is a specialized printing device designed for producing high-quality, film-based outputs directly from digital files. This technology is commonly used in the graphic arts and screen printing industries. Unlike traditional printers that use paper or other substrates, direct-to-film printers transfer ink or pigment directly onto a transparent or translucent film material.
Once the inks are melted into the fabric, they bond with the fabric fibers to create a long-lasting, high-quality print. This process eliminates the need for pretreating, which saves time and money. In addition, DTF transfers have wash-fastness that exceeds traditional screen printing.
For businesses that don't have the resources to invest in a full-scale screen printing setup, DTF is a great solution. Its low price and simple application make it a popular choice among apparel decorators. In fact, Yellow Springer Tees & Promotions is one of many shops that recently added DTF as a complement to their existing printing methods.
The first thing to keep in mind when working with DTF is that you need the right equipment and supplies to apply the transfer. A good heat press is key, but a Cricut EasyPress or a regular home iron will work as well. It's also important to pay attention to the temperature and pressure settings to get a perfect result. After the application of the transfer, let it cool and then peel it away to reveal your beautiful print.

Adhesive
DTF transfer printing is an innovative solution that eliminates the need for a pretreatment process and reduces production time. It's a simple and effective method for creating bold, high-quality designs on a wide variety of fabric or hard items. However, it's important to understand how these prints work so you can apply them correctly and achieve the best results.
The DTF process involves printing a design on specialized transparent film and then applying it to a piece of cloth using heat. The first step is to create or import a digital design in a compatible graphic design software program. Once the artwork is printed, a layer of adhesive powder is applied evenly over the top. The excess powder is shaken off, ensuring the entire surface of the printed image is covered. The adhesive is then applied to a piece of fabric, such as custom t-shirts, and heat is applied over the top. This activates the adhesive and causes the design to adhere to the fabric. The garment is then placed in a heat press or curing oven, where the temperature and time settings are determined by the manufacturer's guidelines.
Once the garment is heated and cooled, the film is peeled away to reveal a beautiful, high-quality print. The DTF process is an ideal solution for creating vibrant, multicolor designs that can't be achieved with other printing methods. Additionally, it's a cost-effective option for small batches and one-off designs.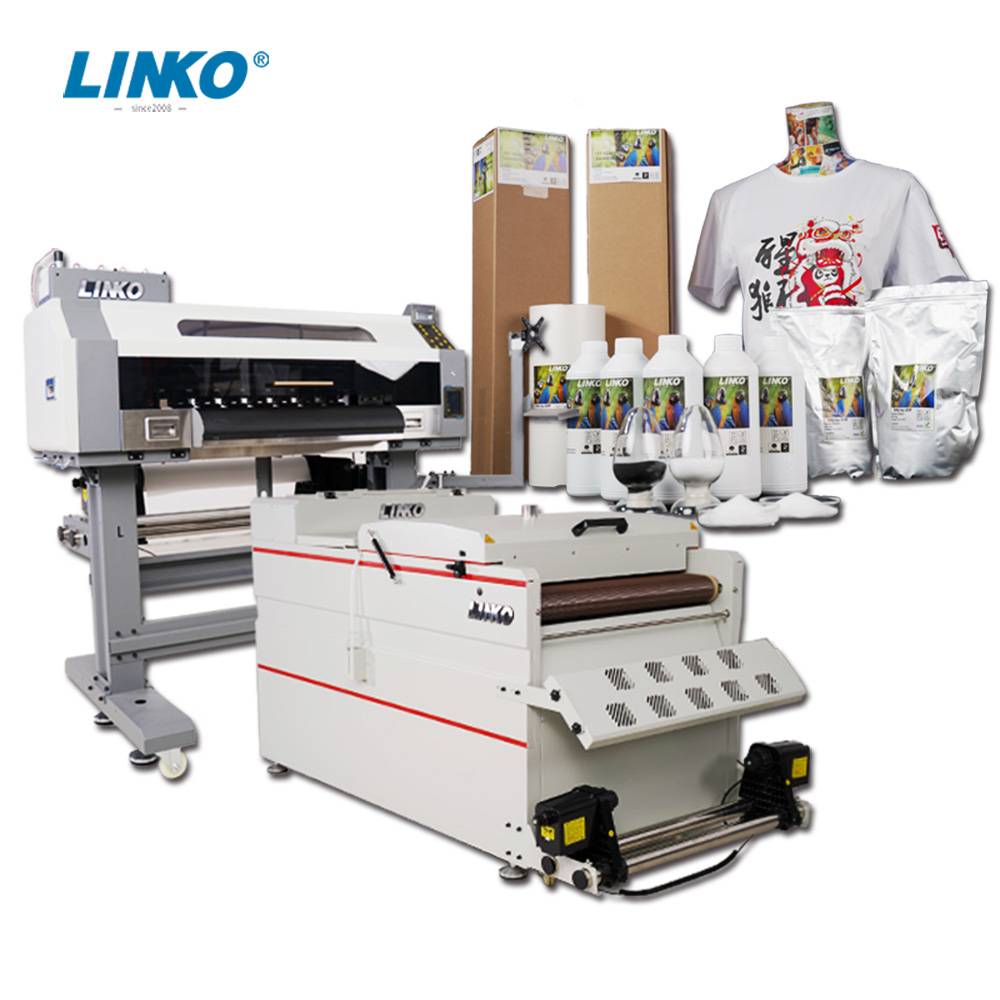 In addition to offering incredible color, DTF transfers have a unique hand feel and are able to print floating text and fine lines with ease. They're also great for bringing a bold, professional look to a variety of products including apparel, accessories, and hard goods.
Unlike screen-printing, which requires a complicated pretreatment process and silk screen mesh, DTF printing is quick, convenient, and easy to use. With a DTF printer, a hotmelt adhesive powder, and a heat press machine, anyone can turn their designs into high-quality t-shirts and other merchandise. To learn more about how to use DTF transfers, contact a local print shop or check out an online t-shirt decorating forum or group.
Heat Press
DTF printers print transfer designs that can be applied to garments such as t-shirts and hats as well as other substrates like signs, mugs, etc. Transfer printing is different than screen printing because the ink does not soak into the fabric but lays on top of it. The result is a finished product that has a more uniform feel than a screened-printed garment.
The DTF process utilizes pigment-based inks that are specially created to bind to fabrics as close to permanent as possible. The inks are printed on clear film, which is then transferred to the garments using a heat press. When applying DTF transfers, the user should follow the instructions that came with them for proper application. This includes a time and pressure range as well as an established curing time.
Once the transfer has been applied, it is important to let the garment cool before peeling the paper away. This will ensure that the image adheres properly and is not cracked or peeling after washing. The heat-applied images are also very durable, lasting as long as the garment does.
Screen-printing is still one of the most cost-effective ways to mass produce shirts, but it can be difficult to work with high color runs because of the amount of time that goes into making the screens and separating the art by color. DTF transfers eliminate the need for screen printing, and can save shops a lot of money on supplies, labor, and overhead.

Another benefit of DTF transfers is that they can be printed on both light and dark-colored apparel. This makes them a good option for sportswear and athleisure brands. In addition, they are not limited to polyester or a specific type of shirt like other printing methods.
Unlike ecosolvent or HTV, DTF transfer printers do not require pre-treating the garment before printing. This is a significant savings in production time and helps to reduce the risk of bleed and fading on cotton or blended fabrics.
DTF transfer printing is a great solution for shops that need to be able to produce a wide variety of one-off orders. These orders are often based on events such as family reunions or company softball games, and they can be a challenge for many screen printing shops to accommodate without putting a strain on their bottom line and labor costs.
Preparation
DTF printing is a great choice for garment decorators looking to add vibrant, detailed designs to their products. This printing method prints your design on a transfer film, powders it, and heat applies it to fabric for a high-quality, wash-fast finish. However, this process requires a special printer and film, making it a more expensive option than other printing methods.
The first step in the DTF printing process is to create your design using a graphic design software program. Then, make sure the file is sized properly to fit your printer's media size. Also, use vector software instead of raster to avoid pixelation and other distortions that may affect print quality. Next, prepare your transfer film by cutting it to the right size and adjusting the settings in your printer's software to match the type of fabric you're printing on.
Once your design is printed on the film, apply it to your fabric using a heat press or Cricut EasyPress, following the manufacturer's temperature and time instructions. Finally, cool the fabric and gently peel away the transfer to reveal your beautiful, high-quality print.
DTF transfers are a great choice for light-colored fabrics, like cotton, polyester, and cotton-blend t-shirts. They can also be used on darker fabrics such as denim and treated leather. Plus, DTF transfers are more durable than screen-printed or digitally sublimated transfers. With proper care, they can last up to the life of the garment, even after several washings.