If you're an eCommerce business owner, you know the importance of having customer reviews on your website.
According to a survey conducted by BrightLocal, 87% of consumers read online reviews for local businesses, and 72% of consumers will take action only after reading a positive review. 
Shopify product reviews apps provide an excellent way to capture customer feedback, build trust with potential customers, and increase sales.
Here are some of the features to expect from a Shopify product reviews app.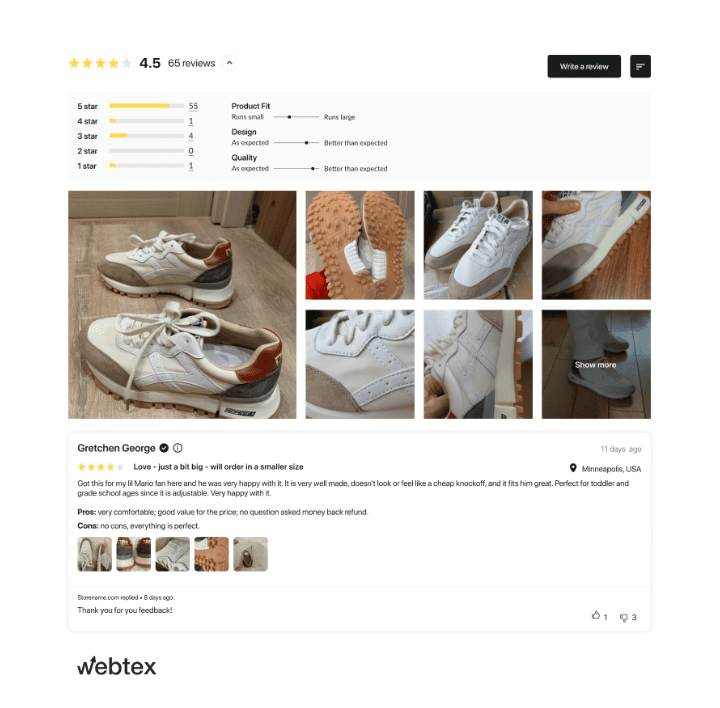 Image credit: Shopify Product Reviews app by Webtex
Why Opt for a Product Reviews App?
A product reviews app can be incredibly helpful when running a Shopify-based site for several reasons:
Build trust

: Product reviews from previous customers can help build trust and confidence in potential customers who may be hesitant to purchase from your site. Seeing positive reviews can encourage them to make a purchase and build trust in your brand.

Increase sales

: Reviews can also help increase sales as customers who are on the fence about purchasing a product may be convinced by positive reviews from previous customers.

Improve SEO

: Reviews can also help improve your site's SEO (search engine optimization) by providing fresh and unique content that search engines love. This can help your site rank higher in search engine results, which can drive more traffic to your site.

Gather feedback

: Product reviews can provide valuable feedback for your business, allowing you to see what customers like and don't like about your products. This can help you improve your products and make better business decisions.
Top Features to Look for in a Shopify Product Reviews App
With so many options available, it can be overwhelming to choose the right Shopify application.
Here are the top features to look for in a Shopify product reviews app:
Customization
Your product reviews app should allow you to customize the look and feel of your reviews to match your brand's style.
This will help your reviews seamlessly blend with your website, giving customers a cohesive shopping experience.
Importing & Exporting Reviews
If you're migrating from a different platform, you'll want a product reviews app that can easily import reviews from other sources.
This will save you time and ensure that all your valuable reviews are transferred to your Shopify store.
Automated Review Requests
An ideal product reviews app should allow you to automatically send review requests to customers who have made a purchase on your store.
This feature will let you get more reviews and feedback from your customers, which can be used to improve your products and services.
Moderation
A good reviews app should allow you to moderate reviews to ensure that only genuine reviews are published on your store.
This will prevent spam and fake reviews, which can damage your store's credibility.
Rich Snippets
Look for a product reviews app that supports rich snippets.
Rich snippets are pieces of code that can be added to your store to display review data on Google search results. This will help improve your SEO and attract more customers to your store.
Multi-Language Support
If you're selling to customers from different countries, look for a product reviews app that supports multiple languages.
This will help you reach a wider audience and provide a better shopping experience for your customers.
Photo and Video Reviews
Look for an app that allows customers to leave photo and video reviews. This can add a personal touch to the review and increase customer engagement.
Social Media Integration
The app should integrate with social media platforms, allowing customers to share their reviews on their social media accounts.
This can increase your store's visibility and attract more customers.
Review Analytics
The app should provide analytics on your reviews, including review count, average rating, and sentiment analysis.
This can help you identify areas for improvement and track the effectiveness of your review strategy.
Support and Documentation
Look for an app that provides excellent support and documentation, which will let you resolve issues quickly and ensure that you are using the app effectively.
Integration with Other Apps
Finally, look for a product reviews app that integrates with other apps and tools that you're using on your store. This will help streamline your workflow, avoid compatibility issues and save you time.
Conclusion
A Shopify product reviews app can be a valuable tool for any eСommerce store owner looking to boost customer trust, increase sales, and improve their overall online reputation.
When selecting a reviews app for your Shopify store, be sure to consider features such as customizable review forms, the ability to import and export reviews, moderation and spam filtering options, and integration with third-party review platforms.
By choosing a high-quality reviews app and leveraging the power of customer feedback, you can build a loyal customer base and grow your eСommerce business with confidence.