While electric fat bikes are slowly coming to the fore among regular cyclists, these e–bikes are great for recreational riding, commuting, and even off–road adventures. It is easy to control in all terrains. Compared with traditional bicycles, the advantages are more obvious. Stable and highly manoeuvrable, e–bikes with fat tires are ideal for beginners. Wide tires provide extra grip on the go for better traction on wet or slippery terrain. Additionally, the tires help absorb shocks, providing a smoother, more comfortable ride. So let's chat about some of the main advantages of fat tire e–bikes:
1. Greater Traction:
Fat
tires
provide
greater
traction
, 
allowing
riders
to
tackle
challenging
terrain
with
ease
. 
This
means
that
electric
bikes
with
fat
tires
can
handle
snow
, 
mud
, 
sand
, 
and
even
rocky
roads
without
issue
.
2. Increase riding comfort: 
The contact surface between the fat tire and the ground is relatively wide, which effectively buffers the bumps and vibrations during riding, and then achieves a more stable state. Let every rider greatly increase the riding comfort in the process of riding.
3. Increased Stability:
 The wider tires provide greater stability, making it easier to stay balanced while riding. This is especially helpful when navigating uneven terrain or tight turns.
4. Added Safety:
Electric bikes with fat tires provide better grip, allowing riders to stop quicker and reduce their risk of accidents.

5. Reduced EBike Range Anxiety:
The larger contact patch of fat tires helps to reduce range anxiety. This is because the larger tires require less energy to move, thus allowing riders to travel farther on a single charge.
6. Easier to ride:
By combining the electric motor and battery with a lightweight frame, e–bikes with fat tires are easier to accelerate and climb hills. This makes them ideal for commuters who want to get to their destination quickly and easily. And, they can go farther on a single charge, allowing riders to go further without recharging.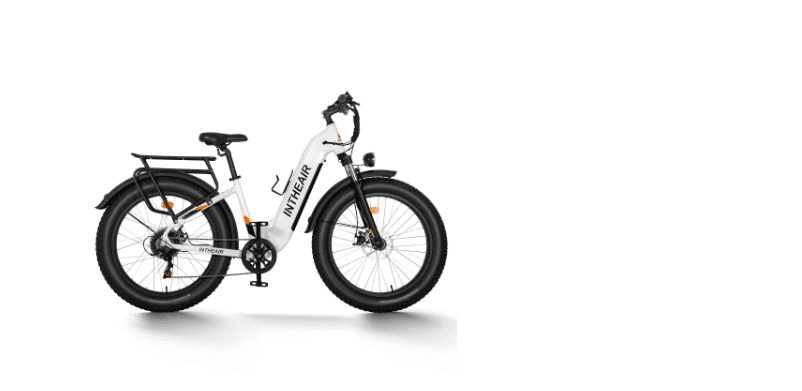 The INTHEAIR ROCKET is a lightweight, bike–like fat tire e–bike. It uses a high–performance lithium–ion battery and a powerful motor to provide longer range and faster travel speeds, and its lightweight aluminum alloy frame provides better shock resistance and easier handling . In addition, Rocket ST adopts a safer double brake system, which not only provides stronger braking force, but also effectively reduces inertia and vibration during manipulation, so that riders can experience riding fun in a safer and more comfortable way.

INTHEAIR ROCKET tech specs
Motor: 750W peak rear hub motor
Top speed: 22–ish mph (37–ish km/h)
Range: 35–55 miles (56–88 km) depending on throttle/pedal assist
Battery: 48V 14.5Ah Lithium–ion battery
Max load: 330 lb
Frame: 6061 aluminum, step–through style
Tires: 26" x 4.0" Tire
Chain:KMC chain
Brake:Line hydraulic 160MM
Suspension: Sensitive cadence sensor and speed sensor
Front Suspension Fork:80mm Amazing damping effect
Throttle:Half twist throttle
Pedal:Alloy pedal with reflectors
Bike Frame:Aluminum frame
Front Light:48V LED light
Saddle:Sturdy and soft saddle
Seat Post:Iron
Spokes:13–G stainless steel
Handlebar Diameter:620mm*25.4*20H*6

Overall,Electric wide–tire bicycles are suitable for all–terrain travel, making travel more comfortable. They offer greater stability and maneuverability, are easier to ride, and are more environmentally friendly than traditional bicycles. Whether you're looking for recreational riding, a commuter bike, or off–road adventure, there's an e–bike with fat tires to suit your needs. So if you are looking for a comfortable, convenient and eco–friendly way to get around, an electric bike with wide tires is the best choice for you.