It might be tempting to limit yourself to simple undertakings that require standard power equipment while looking for novel new artistic concepts. The types of materials you may deal with are qualified by these instruments, although they can produce excellent results. Top-notch machinery is used to cut and engrave various materials, including steel, alloy steels, acrylic, foam, glass, aluminium, rubber, leatherette, and wood.
A laser cutter cuts a variety of materials for both practical and aesthetically pleasing reasons, such as engraving. A powerful laser's beam is guided via optical and automated numerical control (CNC). Cutting the layout onto the material is often followed by a CNC or G-code using a motion control system.
Applications for Laser Cutters and Engravers
Individuals can use laser cutters and engravers to create a variety of inventive and useful items based on original ideas. The applications of laser cutters and engravers are listed below:
Laser Wall Art
Cut art might only come to mind after considering decorating options, but it can be the ideal accent for your house. Services may use various materials and make unique designs to produce textured, eye-catching wall art. When it comes to wooden or metal wall decor, geometric patterns and shapes are very well-liked.
Wall Panels
Using wall screens is a novel method to decorate and divide open spaces in your house. They can be utilised to provide a discrete barrier between areas or encourage privacy, but they are more frequently used to liven up a dull or neutral space.
Garden Art
Although having an outdoor space is fantastic, deciding what to do with it may be challenging. Simple garden art may give your backyard a well-curated, individual appeal. However, a laser cutter can create any laser-cut pattern. Many people choose natural designs and materials to complement their plants.
Templates & Stencils That Are Customised
Personalised stencils or templates streamline your creative process. These instruments' sturdy construction makes them ideal for drilling and artistic and architectural work.
Jewellery
Even though it is one of the most unexpected laser-cut ideas, this one is nonetheless well-liked. Anyone wishing to spice up their jewellery collection with new textures, shapes, and patterns will love the cutting and engraving services. Your fantasy jewellery designs may come to life thanks to the attention to detail displayed by our laser cutter experts.
Engravings
Customers may customise objects of different sizes and materials with the help of laser cutter and laser engraver services. You can also add a personalised touch to your possessions, from dog collars and key chains to substantial items used for signs. In advance of important occasions like weddings, engraving services are frequently sought.
Learn About the Advantages of Laser Cutting
Laser cutting is very effective and can create precise reproductions of any design. They can also cut through any material and don't require expensive equipment. Learn more about the advantages of laser cutting below:
Accurate & Precise Using a Variety of Materials.
It is possible to use computer programming to properly carve intricate shapes out of almost any material, regardless of how dense it is.
Fast for More Efficient Production.
It is essential to the success of the laser cutter that the production process may be completed in a concise amount of time. The laser makes the cutting process straightforward and quick, eliminating the need for more powerful instruments or more employees.
Variability & Flexibility for a Wider Range.
In addition to cutting a diverse range of materials, laser cutters give producers more freedom in producing items. When a firm wants to grow its product line, laser-cutting designs may be swiftly created and changed as needed, benefiting small and large enterprises.
Clean and Low Upkeep.
In contrast to welding, laser cutting rarely uses gas and produces little waste. As a consequence, compared to other solutions, laser cutters make minimal to no mess and require less cleaning and upkeep.
If you desire one, you may choose from a wide range of flux laser cutter and engraver models, including the FLUX Beamo CO2 Laser Cutter & Engraver and the FLUX Beambox CO2 Laser Cutter & Engraver, has the same features as any other laser cutter and laser engraver, including the following: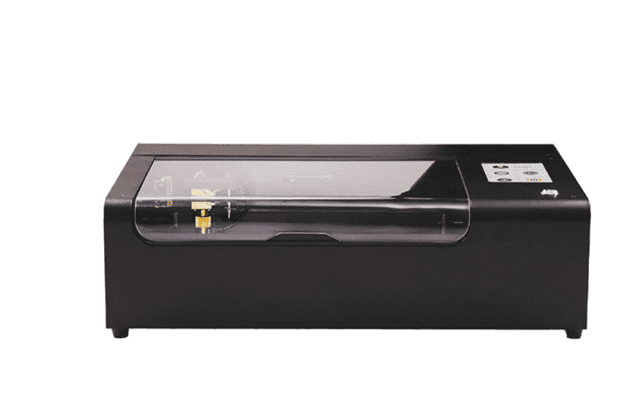 1. Camera Positioning.
Using the built-in HD camera, users can preview the work area and the material used from the convenience of their laptop or cellphone.
2. Internal Cooling Using Water.
Beambox's internal water circulation cooling system, which circulates water throughout the device, ensures that all parts are kept at the correct operating temperature.
3. Laser With High Resolution.
The CO2 laser tube in Beambox works at a wavelength of 10,640 nm.
4. Ventilation System Integrated.
The absorption of smoke and gases that could arise during the cutting operation is aided by the ventilation fan's 340 CMH (200 CFM) output.
5. Sophisticated Safety Measures.
The Beambox will automatically cease tasks if the lid is opened during a job (Smart lid sensor) in addition to being wholly enclosed (protecting users from laser light and toxins).
Conclusion
A laser cutter cuts a variety of materials for both practical and aesthetic reasons, such as engraving. A powerful laser's beam is guided via optical and computerised numerical control (CNC). The design to be cut into the material is often followed by a CNC or G-code using a motion control system.