Stables, a blockchain-based fantasy horse racing game, recently launched an exciting NFT sale featuring 6666 unique NFTs available for minting. Each NFT, priced at €99 with the payment to be made in the $XTZ equivalent, is unique and therefore highly valuable, making it a must-have for collectors and fans of the game.
As part of the project's 12-month roadmap detailing its plans for the future, the NFT drop which occurred on March 27th, will be followed by the launch of a fantasy game in Q2/Q3-2023 and international development in Q1-2024.
Stables is making a name for itself in the blockchain gaming industry with its unique concept of fantasy racing. Players can buy, sell, and trade digital horses based on their real-world twin, each with its own unique attributes and stats, and race them against other players' horses. The game has already gained a loyal following, and the succesful NFT sale is expected to further strengthen its position in the market.
A Reliable Base
Stables chose​​ Tezos as the technological backbone for its NFTs due to its unique combination of features that align with the brand's aspirations. Tezos is known for being an energy-efficient blockchain that allows developers, artists, entrepreneurs, and brands to engage in a network of decentralized applications.
What truly sets Tezos apart from other blockchains is its commitment to engagement and responsibility, which is reflected in its five key criteria. It all starts with Tezos' high level of security, which ensures that Stables' users can confidently engage with the platform. Next comes its low energy cost, an essential consideration for any platform that seeks to be sustainable and responsible.
Another key factor that led Stables to choose Tezos is the low transaction costs associated with the platform, as it enables Stables' users to participate in the platform without being burdened by high fees. Tezos' strong community and important partners, too, played a crucial role in Stables choosing it, as it provides a robust ecosystem for Stables to build and grow.
On top of it all, Tezos' long-term expectation of operation means that Stables can rely on the platform to be available and operational for years to come, providing a stable foundation for the development and growth of the platform.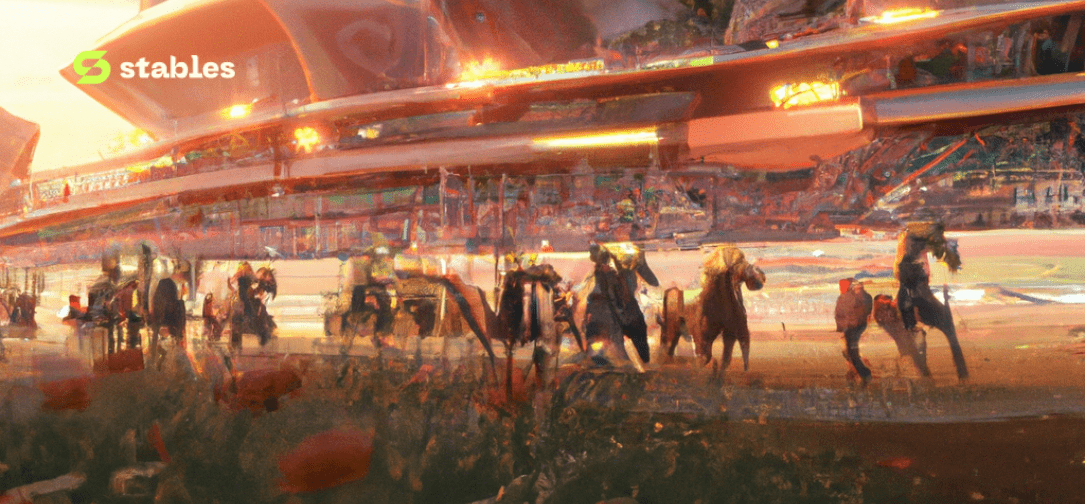 Web3 Platform Building the Future of Gaming
Stables is a pioneering French Fantasy Game Web3 platform that aims to revolutionize the world of horse racing. The platform has the official licenses of France Galop and Le Trot, two of France's leading horse racing organizations, and has an ambitious international expansion plan.
The visionary behind Stables is Constantin Garreau, a seasoned professional who previously led the digital teams at PMU, the organization responsible for managing horse racing betting in France. Before that, Constantin worked in sales roles for software giants Salesforce and Contentsquare.
Now with Stables, he brings together the world of horse racing and the Web3 universe within the same ecosystem. The project relies on an innovative game based on real racehorses and an ambitious and emotionally charged industry, the French horse racing industry. 
The platform allows players who make the best choices to become the community's MVP (Most Valuable Player) by combining the intensity of horse racing and the infinite possibilities of Web3.
Led by PMU, the European leader and ranked third worldwide in horse betting, Stable's economic mission is to finance the French horse racing industry. In association with 321founded, the first French corporate start-up studio, the team at Stables consists of a group of entrepreneurs, Web3 experts, professionals from the horse racing world, and a video game studio. 
Together they are creating a new gaming experience based on NFT and Web3 that promises to be one of the most exciting developments in the world of gaming and horse racing.
An Exciting & Invigorating Game
The innovative Fantasy Game platform is set to revolutionize the gaming world with its unique concept that combines the excitement of horse racing with the possibilities of Web3. 
Starting this year, players can purchase Stables NFT, a one-of-a-kind digital horse. These 3D horses are exclusively produced for Stables by skilled artists, and owning an NFT gives players access to not only the rewards of winning races but also the opportunity to join a thriving online and physical community actively contributing to the development of the game.
It is not just a game, though, but an ambitious and innovative gaming platform that capitalizes on the rich world of horse racing and racing data. NFT owners will receive Stables Points at each race based on the actual results of the race. This distribution will be determined by an algorithm that uses ten years of racing history. Moreover, the sales of NFTs will generate proceeds that will be used to animate the game and the community.
Starting in mid-2023, the game will expand, allowing players to intervene on their NFTs and modify their performance and the scoreboard. Players must make the right decisions and use the correct items to become the best in the community. Stables' innovative gameplay ensures that players have a rewarding experience.
With its Web3 fantasy game, Stables is poised to make a significant impact in the world of horse racing, thanks to its innovative approach and official licenses. Already generating quite a significant interest, this unique and exciting project has the potential to revolutionize Web3 gaming and set new industry standards. 
Overall, backed by an experienced team and an ambitious roadmap, Stables promises to be a game-changer in the industry, signaling a new era of innovation and user engagement.