A website can be a great tool for a small business to establish a marketing strategy. But it's also important to understand how visitors interact with your site and what they're clicking on to convert them into loyal followers.
Web analytics is a tool that helps you measure the various activities of your site. It can be used to analyze the number of views and pages visited and the time of day people spend on your site. Having the proper knowledge about web analytics can help you improve the effectiveness of your website.
Best Practices of Web Analytics
In addition to being able to support qualitative research, web analytics can also help in testing and evaluating the findings. Some of the best practices to follow when it comes to this field are:
#1. Having a data-driven environment can help make informed decisions. After collecting all of the necessary information, analyze the data to determine if you have met or failed to meet your goals. For instance, is there high-value content that is not generating any traffic?
Through an engagement or user path analysis, you can identify the factors contributing to the low traffic and increasing the number of people engaging with a particular page. Use the tools available to test different strategies and find the best place to place the content.
#2. Don't stop with traffic analysis only. Although it is important to keep in mind that these numbers are only a part of the picture, they can also be misleading. For instance, if you have 10 million visits a month and low revenue, traffic won't be the indicator of a marketing campaign's success, as their end goal is usually revenue generation.
#3. One of the most important factors that you should consider when it comes to analyzing and reporting on web analytics is the relevance of the data. It can be hard to provide meaningful insight without the necessary tie-ins to your goals and business. Having the necessary data can help you make informed decisions.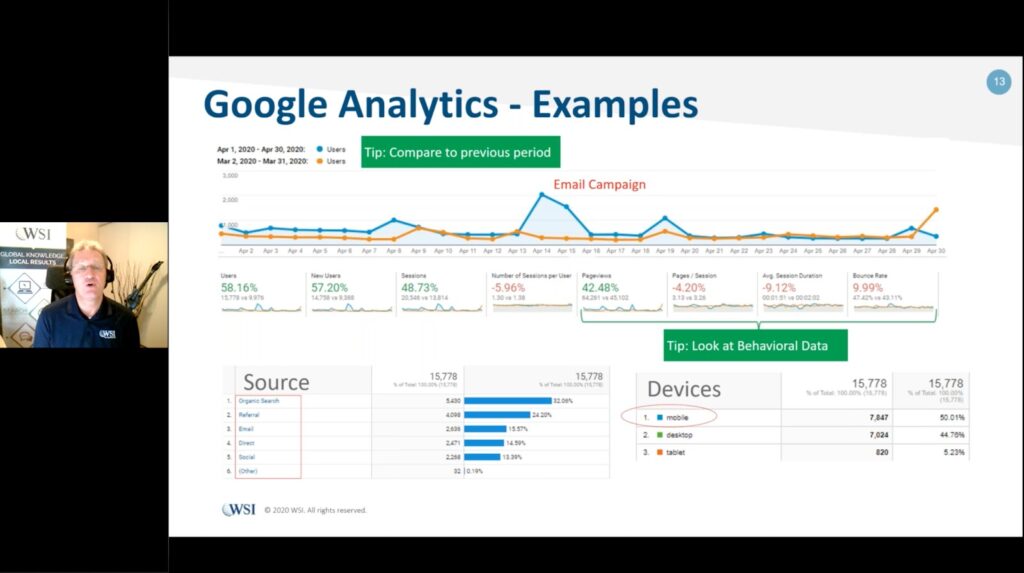 Webinar recording — "Web Analytics: Tracking the Insights that Matter Most to Your Business".
Credit: WSI World
Check this: Andreas Mueller-Schubert, a digital marketing consultant for WSI, showed the various tools and techniques that he uses to help his clients get informed insights from Web analytics. He also talked about the importance of having the necessary data to make informed decisions. In addition to sharing his expertise, he also discussed the concept of SMART goals — Specific, Measurable, Achievable, Relevant, and Time-Bound.
#4. Instead of focusing on numbers, consider the various factors driving the web experience, what your user funnel and how it is evolving. Having a comprehensive view of the web experience is very important to ensure that you can make informed decisions and improve the efficiency of your marketing efforts. One of the most important factors you should consider when providing traffic reports is the use of pan-session metrics (multiple visits by the same person). These allow you to analyze the data to provide a longer-term view of the website's performance.
I can recommend using Finteza analytics for measuring and analyzing user funnels. With this tool, you can track all of the actions your users perform before a purchase is made — visualized as a funnel flow. With the help of Finteza, you can create and manage multiple stages and workflows and then automatically generate reports.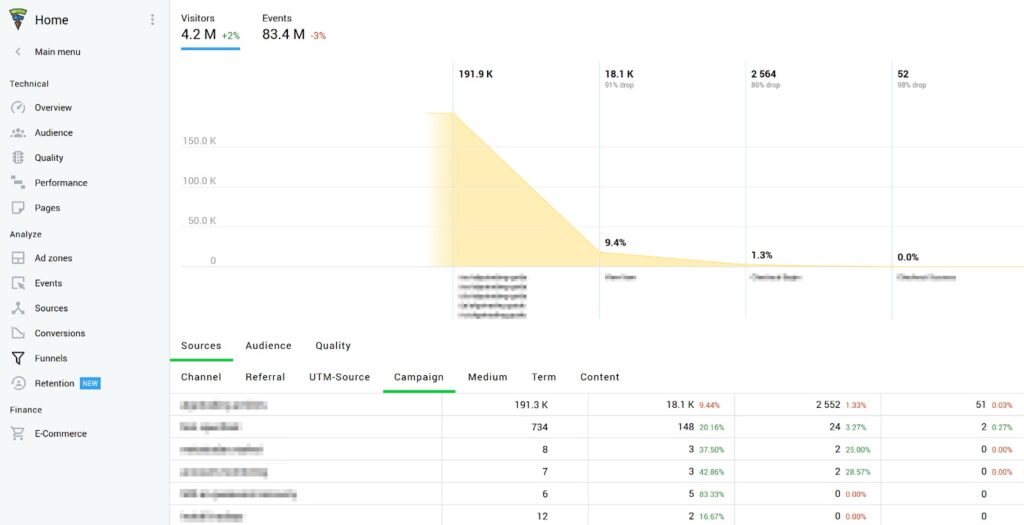 User funnel report example made via Finteza
The process of setting up and using Web analytics
In general, the web analytics process involves the following steps:
Before the start of the web analytics process, businesses should set goals. These can be quantitative or qualitative goals. For instance, increasing sales or improving customer satisfaction are both quantitative and qualitative goals.
The second step in the web analytics process is the collection of data. This process can be carried out through a variety of tools, such as Google Analytics. Through Hypertext Transfer Protocol requests, businesses can collect data about their website's users. This data can then be combined with other information to improve the performance of their website. For instance, the Internet Protocol address of a user can be associated with various factors such as clickthrough rates and geographic location.
After collecting data, businesses then process it into actionable information. One of the next steps is to identify key performance indicators (KPIs). These measures can be used to analyze and improve a website's performance. Some of these include on-site search queries, bounce rates, and unique users.
The next step involves developing a strategy that will help the organization achieve its goals. This process can be carried out through the use of insights gathered during the web analytics process. For instance, by conducting search queries, an organization can develop a content strategy that will be based on what users are looking for.
"In simple terms, it means developing content using an approach built on user information. This can include information like demographics, survey answers, consumer preferences, etc.
You probably don't need to be told why this is important, but just to make sure there's no doubt, let's be clear: Using a data-driven content strategy helps you decide where to spend your time, effort, and money." — Kristi Hines @ SEJ
One of the most important steps that businesses can take to improve their website's performance is to experiment with different strategies. For instance, A/B testing can be a simple way to test the effectiveness of different content. This process involves creating multiple versions of the same content and then displaying them to different audiences.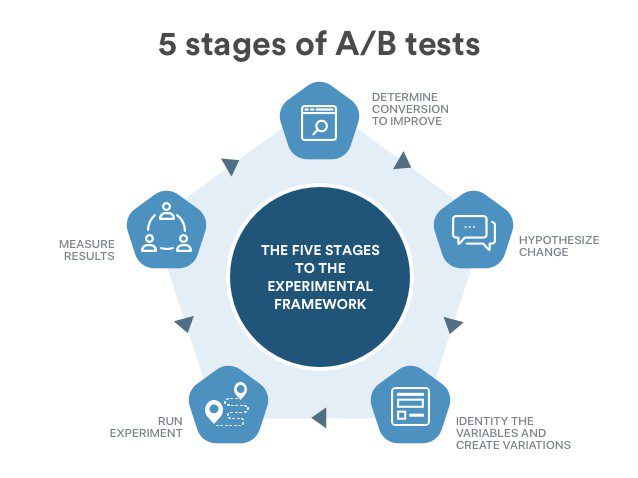 The A/B Testing Process — credit: CIN7.com
Remember about privacy
Unkept or overly exposed data can lead to security vulnerabilities and privacy issues. For instance, people could reveal their personal information on your websites, such as their address and credit card details. A breach of an analytics service provider can affect your reputation.
Due to the rise of privacy laws, paying attention to your website's security is important. Having the proper tools and procedures in place can help protect your data.
In May 2020, Google's parent company, Alphabet, was sued by the state of Arizona for $85 million for violating the state's consumer fraud act. The lawsuit accused the search engine of misleading consumers about its data collection and use practices. It also claimed that the company continued to collect and use location data without users' consent to increase its ad revenue.
Conclusion
Web Analytics is an essential part when it comes to developing your marketing and business development strategy. Plenty of tools can help you analyze the data, but they are not always able to provide actionable information. This is why you must focus on the metrics that are directly related to your return on investment.
Having the necessary tools and resources to do this can help you meet your goals and improve the efficiency of your company.